Showers are changing and improving all the time. So, if you haven't upgraded yours for years, it might be time to do so. Here are some things to take into consideration.
Choose the Type of Shower
You have to think about the style and the practical considerations of the shower you buy. If you want a shower that's quick and easy to install, you should use a manual mixer shower. They work by mixing together the cold and hot water to deliver the temperature of water you're looking for.
Electric showers are, arguably, even easier to install though. They work by using their own heating units. This means that they don't need to be connected up to your hot water supply. You should also think about the shape and size of the enclosure you choose and be sure that it will fit in your bathroom.
Choose the Shower Head
The shower head you buy is just as important as the type of shower you choose, so don't neglect this decision. Different shower heads can create very different experiences, and there are lots of different options out there to consider. A Fixed shower head, for example, gives a minimalist, designer feel because the shower head is attached to the wall.
Riser kit shower heads are the cheaper option and they are good for people who like to move the head of the shower up and down. It gives you more flexibility. A combination shower head combines the two different options I've mentioned already.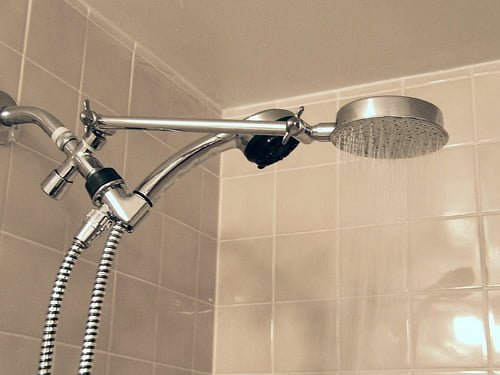 The Extras
There are lots of different types of other things that you have to take into consideration. First of all, you need to consider whether you need to buy a separate shower tray for the shower. You can find out more about these and the different types that are available by visiting www.bellabathrooms.co.uk.
There are also added extras that can add a little more luxury to your existing shower unit. For example, if you have the right water system to support it, you could install some body jets. These spray out water at different heights down the shower cubicle. There are lots of options like this to explore.
Think About How to Be More Efficient
Water efficiency is important if you want to save money on your water bill. Of course, using showers uses a lot less water than having baths, but there are other things that you can do to make your shower system even more efficient. This will help your family as well as the wider world.
This first thing I'd recommend doing is buying an aerating shower system. This works by injecting bubbles of air into the water. The bubbles burst as they fall onto you, giving you a refreshing kick. But this also means that up 75% less water is used and your energy needs are reduced as well.
Choosing a shower is more complicated that you thought! So, use this guide to help you out when it comes to buying one.