Easter can be a time when even the air ends up smelling of chocolate. Do you know what I mean? When you almost have a headache from breathing in the scent of the overwhelming amount of chocolate that is in the house.
Now, as much as most people love a bit of chocolate, like most things, you can have too much of a good thing. Easter doesn't have to be all about a chocolate overload though, there are alternatives to chocolate eggs that might be worth considering just to get a bit more of a balance.
Plastic eggs and chicks
We love doing egg hunts in the garden at Easter, but the bit the children really like is the hunting and finding of the eggs, meaning they don't always have to be hunting for chocolate eggs.
Why not let them hunt for colourful plastic eggs, or even some little chicks – they will have just as much fun!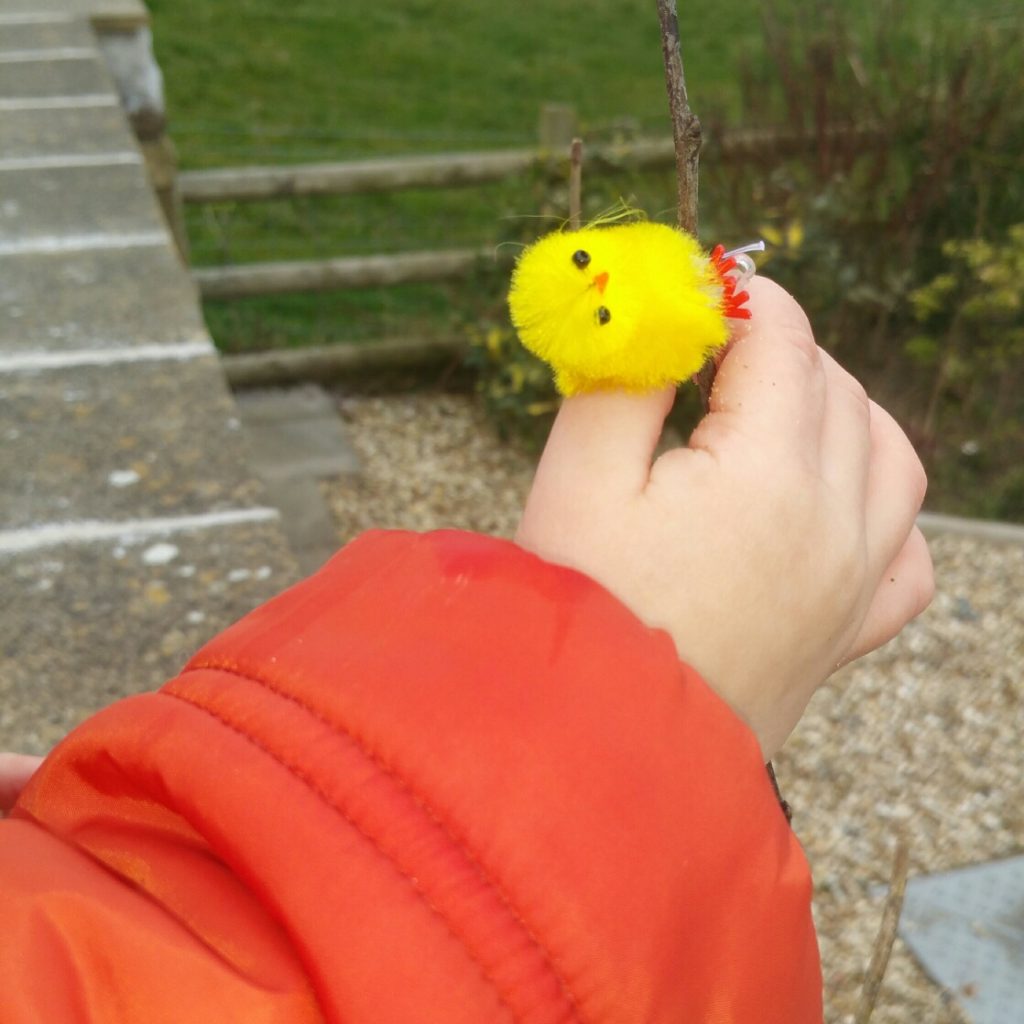 Stationary
Who doesn't love new stationary? New pens and pencils can prove very popular, especially if you have a budding writer or artist in the house.  The bonus of a gift like this is that children will then be able to use them for any Easter craft you do as well.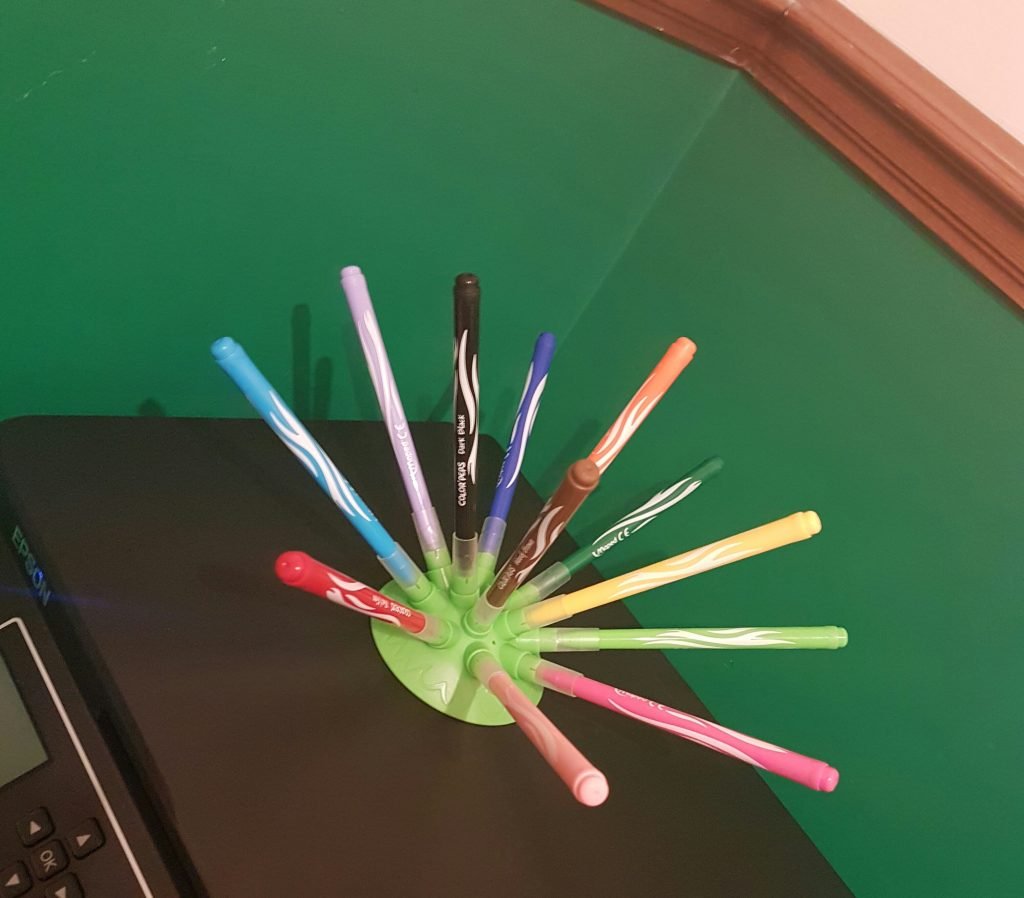 What about something a little different like this 'Jungle Innovation' felt tip pen set   – a smart and fun way to never lose caps again and something that will last way longer than any chocolate egg.
These are great for using at home and double up as a funky ornament. If this doesn't do the trick, there are loads of other options for fun and practical stationary.
Dinosaurs
If you have a dinosaur fan in the house then why not swap their Easter eggs for Schleich dinosaurs? These are a brilliant way to introduce children to the prehistoric mystery of dinosaurs. These detailed figures are the perfect treat for any child, and the quality is so high you will be passing these down through the generations.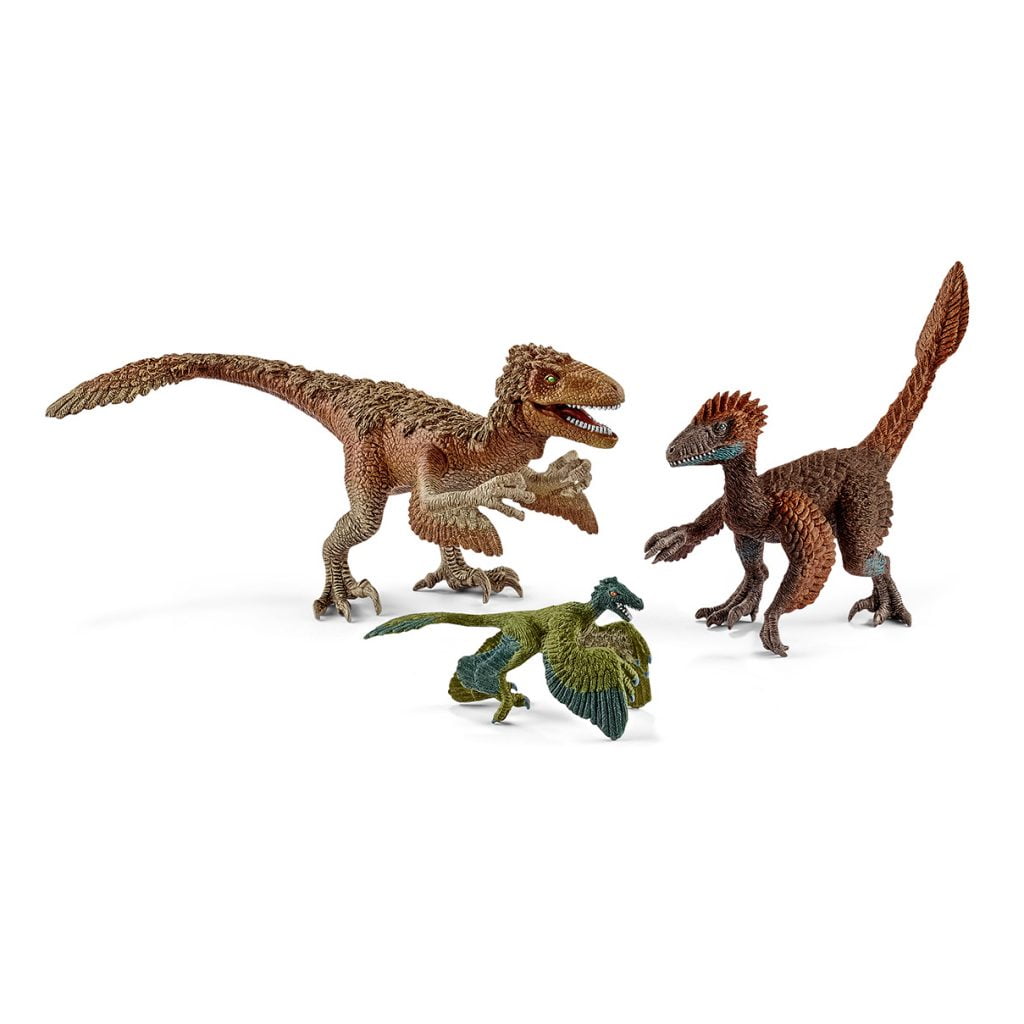 Just look at the detail in them – these are so life like in terms of their features and the detail is impressive. Utahraptor, Velociraptor and Microraptor were feathered raptors. Dinosaur researchers found quills on the arms of a Velociraptor, even flight feathers on Microraptor. They believe that Utahraptor had feathers too. However, none of the three was actually able to fly.
You can get all three Feathered Raptors for £13.99 and then there are mini versions available for £2.99 each. Again, similar prices to lots of Easter eggs out there and in the long term the play and enjoyment factor will be much higher with these.
I love watching the little boys playing dinosaurs because their imaginations run wild. Our two year old wants to be a T-rex when he grows up! He's a huge dinosaur fan and loves setting up the dinosaurs and deciding which are meat-eaters and which are not.
There are so many dinosaurs to collect, why not use Easter as an opportunity to build on the collection. We are slowly being taken over by dinosaurs at our house. An early interest in dinosaurs certainly makes for interesting toddler vocabulary!
If dinosaurs aren't your child's thing, check out the Schleich collection anyway as you can get farm animals, horses and general wildlife as well.
Horses
Not only do Schleich make fantastic dinosaurs, they also have a lovely Schleich Horse Club range. Priced at £13.99, the Showjumper with Horse includes 1x Hanoverian Mare, 1x rider, 1x saddle, 1x reins and bridle. There was also a rug for the horse, carrots and rosettes.
These horses are so well made with superb attention to detail. I'd have loved these as a little girl. You can buy individual horses or sets and these are great for role play. Schleich figures are all about imaginative play and children's imaginations are instantly inspired by these realistic animals. Just like the dinosaurs, these horses are so detailed and would be a fun thing for children to collect.
Children can play imaginatively with Schleich animals on their own, or combine them with their other favourite toys for even more fun. These toys are so robust, compared to so many toys that I feel happy for the children to take them outside for play as well. It means they can explore their imaginative play to a greater level.
Cars
One of the other things we have a lot of in our house is toy cars – you can never have enough cars I'm told. Small cars can be a great alternative to an Easter egg. Tonka Tinys Three Pack and Tonka Tinys Blind Garages are ideal alternative Easter eggs. At £5.99 for the three pack and £2.49 per blind garage these are a reasonable substitute for a  chocolate egg.
The Tonka brand has been around for years and for me has always meant good quality, durable and long-lasting toys. Now Tonka tough kids can collect their favourite Tonka vehicles in miniature, very cute and makes Tonka play much more portable.
The Tonka Tinys range is a collection of palm sizes vehicles that are perfect for small scale adventures.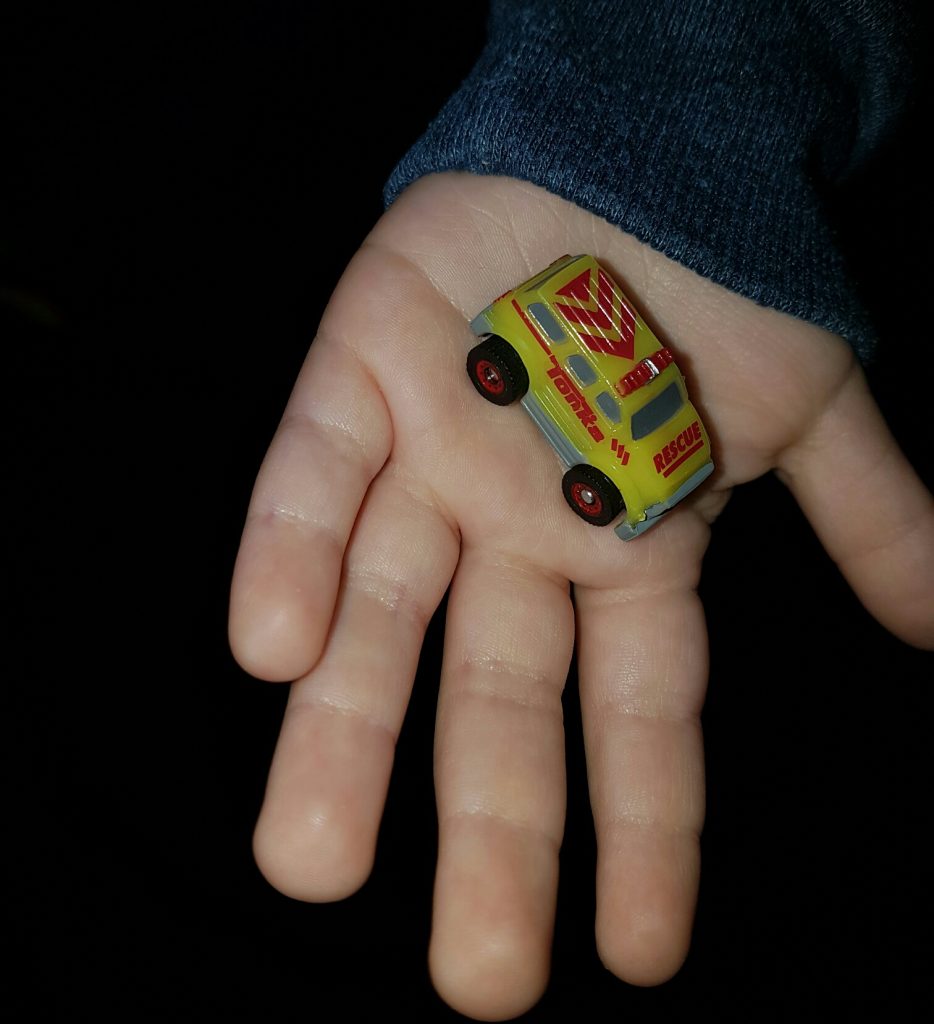 Children can collect Tonka Tinys one by one with the surprise blind box garages or in trios with the NEW Tonka Tinys Three Pack. The Tonka Tinys Three Pack comes with two on display vehicles and a third which is a surprise – and we love a surprise right? This range is new this year.
There are over 20 Tonka Tiny Vehicles to collect including police pickups, quarry dump trucks and even helicopters and new waves are on the way to extend the fun even further.
Books
I think that books are a lovely alternative Easter egg and with so many to choose from, you won't have any trouble finding one which will appeal to your children. If you want something a bit different and interactive, you could try The Amazing Alphabet from TinyMe.
This is a recently launched Augmented Reality children's book. The books are fully personalised, beautifully illustrated and custom made to order. Each book comes with a free app (your choice of iOS or Android) that brings the book to life with pop up like 3D animation, music and sound that jumps out of the printed page.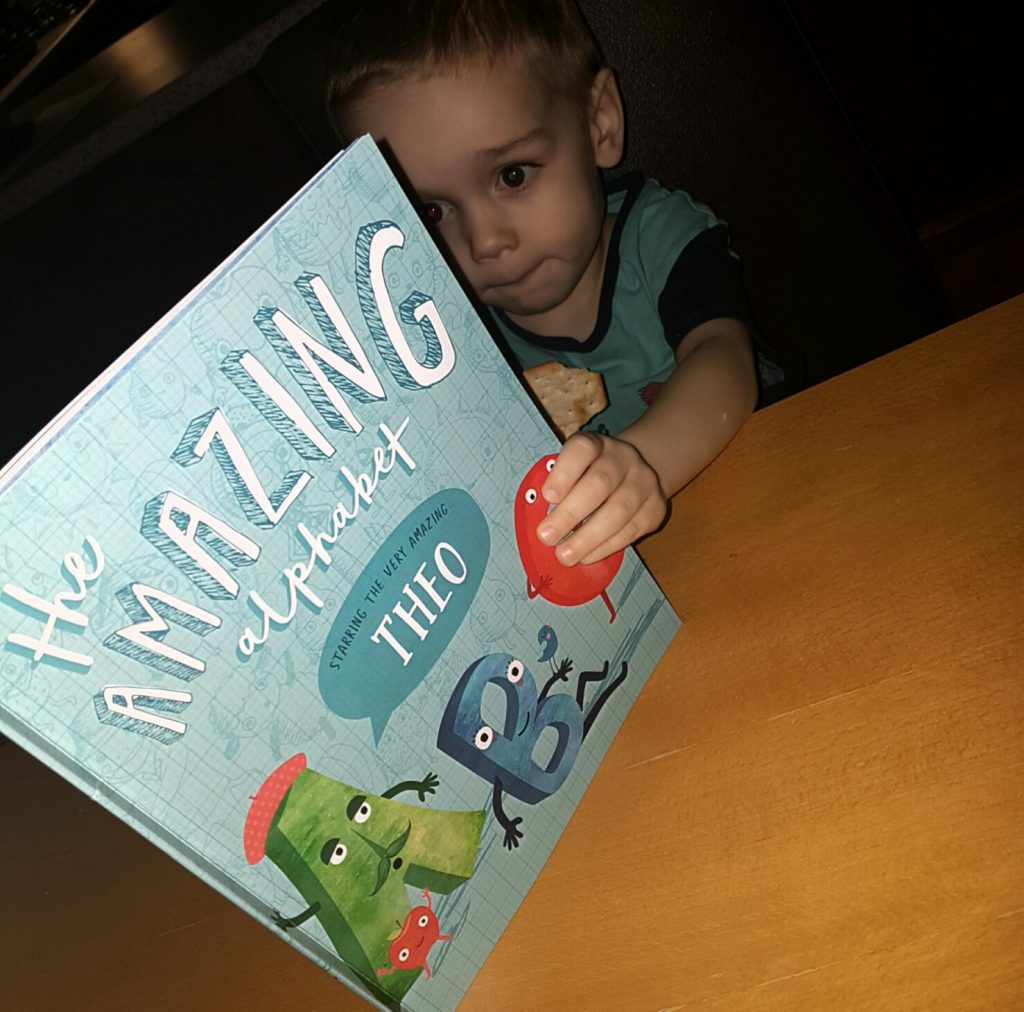 I have to say that we have found the app a bit glitchy, which was a bit frustrating, but when it works it is very entertaining and engaging and certainly adds a new dimension to the reading.
The lovely thing is though, that without the app, the book alone is really gorgeous. The illustrations are first class, the colours make it an engaging read and for a pre-schooler learning all his letters, this was ideal.
The personalisation of the the book is just another lovely feature that helps children become engaged in the story. All our children love books and reading BUT I can imagine that if you had a reluctant reader, they would soon change their mind after seeing one of these books and using the app.
Games
A good board game is always fun to play with family members. Why not get children a joint 'egg' this Easter and pick up a new board game. Perfect for wet days over the holidays or lazy mornings in PJs, or even as an alternative to a family movie night.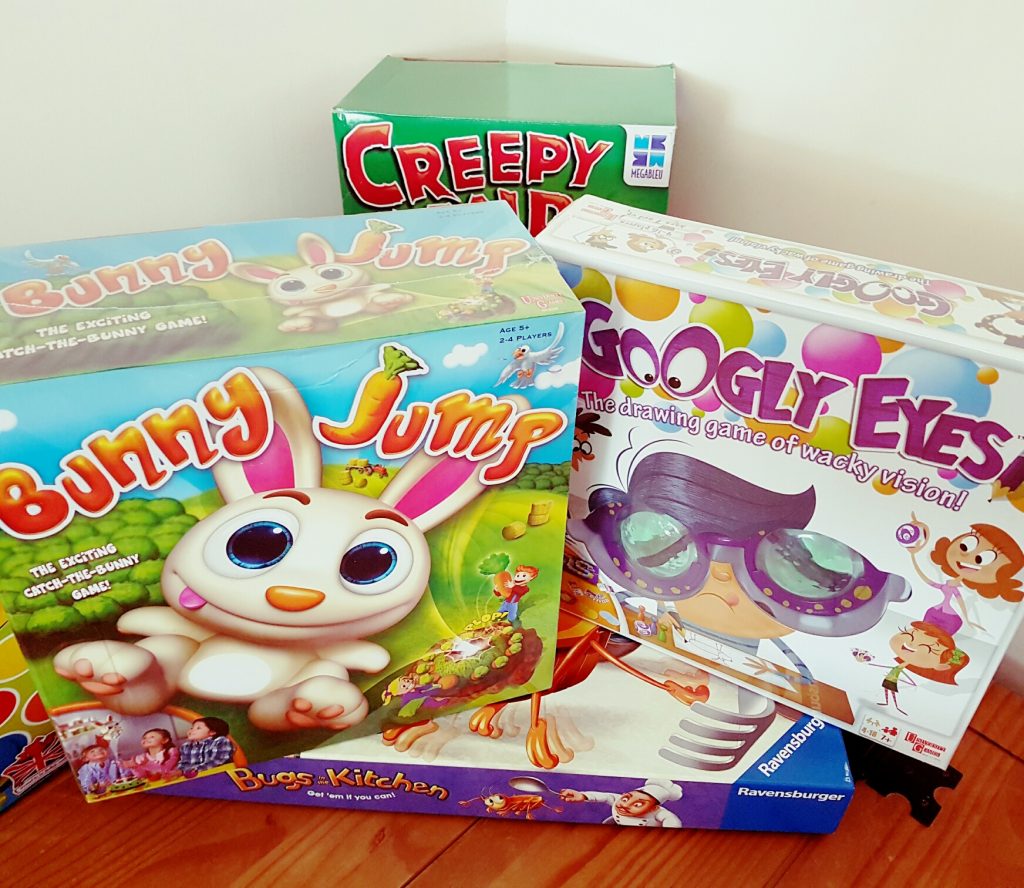 Two suggestions for this Easter will have the whole family giggling. The fast and furious family game Bunny Jump will leave little ones eagerly waiting in anticipation to catch bunny when he randomly jumps from his burrow to protect the carrots growing in his garden! Catch the bunny and gain extra carrots – the player to collect the most, wins. This game is suitable for aged 4+ years but with some help younger children can also play. It can be played with 2+ players and you can pick it up for £19.99 from Toys R Us, Argos and Amazon
Googly Eyes is the hilarious drawing game involving crazy, googly glasses that challenge your vision and leave you googling for more. Simply put on the zany, vision-altering Googly Eye glasses and start to draw whilst the team tries to guess what you're drawing – you have to do all of this on a time limit. This is for ages 7 and up, which I think is pretty accurate. This is also priced at £19.99 from Amazon, Toys R Us and Argos.
These are both great games to play all together as a family or for children to play with each other or their friends, and they will make a great addition to your games cupboard. We also love things like Bugs in the Kitchen and Creepy Hand.