I always thought that if I had ever had twins I wouldn't dress them the same. I know some people like that and that's fine, but I always thought that I would maybe go for the same outfit, but a different colour to add some individuality.
However, I do find the idea of matching or similar outfits in siblings of different ages quite appealing. There is something really cute about that.
I've seen some companies like Lilly and Sid do this really well, in that they are co-ordinated without being matching, so the older child doesn't feel they are wearing 'baby' clothes.
Our two youngest are very close in age, with just 15 months between them, and both boys. Someone even asked me if they were twins! I did laugh out loud but anyway…because they aren't twins it is quite nice to have some matching 'big brother/little brother' outfits for them.
With the warmer weather coming and the fact they both love the water, matching shorts that can double up as swim shorts seemed the order of the day.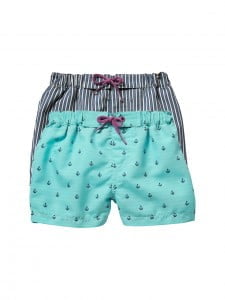 These are so cute, and a pack of two is only £9.00 at the moment from Vertbaudet .The sizing on these goes from 1 month to 3 years. They have a super range of children's swimwear and quite a few items are reduced currently.
Whilst these swim shorts aren't suitable for baby swimming lessons or public pools, they are great for the beach, out and about and of course at home. I am hoping there will be lots of occasions for us to get the paddling pool out this year.
Would you dress your children in matching or similar outfits?