What are your plans for Halloween this year?
Party?
Trick or Treating?
Dressing up or not?
Pumpkin carving?
We are thrilled to be hosting a NickJr Pumpkin Party and you can join us on Twitter between 5-6.30pm on 26th October #NickJrPumpkinParty for a chance to win prizes.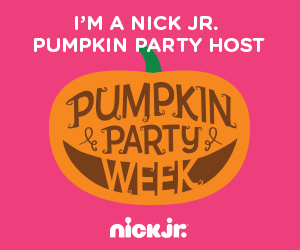 Nick Jr. fans can watch the Halloween premiere episodes from Monday 26th October from 4:30pm – a full schedule is listed below:
Monday 26th – Dora and Friends: Into the City – 4:30pm
Monday 26th – Peppa Pig – Nick Jr. Exclusive Halloween special– 5:30pm
Tuesday 27th – Paw Patrol – 5:30pm
Wednesday 28th – Zack & Quack – 5:30pm
Thursday 29th – Lily's Driftwood Bay – 5:30pm
Friday 30th – Wallykazam! – 5:30pm
We will be playing lots of great games and completing a range of activities on the day, which we will be sharing on Twitter. We will be doing some colouring in, pin the wart on Wallykazam, a Paw Patrol Ghost Hunt, some Halloween baking and sharing out some treats in the party bags.
We also have a treat for you Mummy Fever readers – one of you can win this wonderful bundle of goodies below! Just enter in the easy widget below!
Good Luck and Happy Halloween!