Welcome to part twenty one of our 'Christmas Gift Guide'. We are well into December now and people are talking about how many days there are until Christmas, instead of weeks, gulp!
I don't know where the time goes. How is your shopping and general preparation going? Who are you struggling to buy for the most?
Have you got any 'big' presents left to get? Sometimes it can be easy to find little bits and bobs but it can be more of a struggle to find that main gift, especially if the little darlings haven't asked for anything specific.
Do you know a child or adult that would like to try something new? Perhaps you are looking for a gift to entertain the whole family?
Look no further than this fabulous soft archery set from Decathlon. Perfect for beginners both children and adults, this set comes in its own carry case so you can you pack it away and store it in the garage or a cupboard with ease.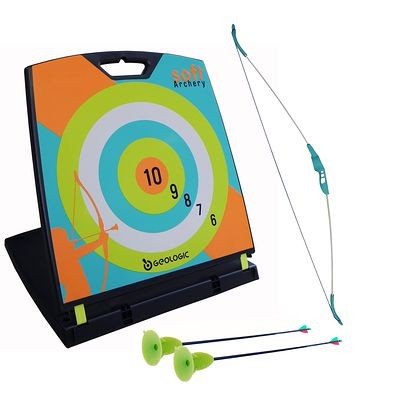 Kits like this make great gifts and at £44.99 I think this is a well priced gift – perhaps you could by it as a joint gift for children to play with, or even give it as a family gift, rather than buy several smaller gifts this year?
This kit is easy to assemble and safe to use. One tip would be to purchase a few extra arrows if you intend more than one person to play with it, as it will make the game a bit more fluid.
This is an excellent activity for promoting concentration, accuracy and hand to eye co-ordination.
If you are looking to release your inner Robin Hood or Katniss, or you know someone who is, then this is the kit for you! It is safe to say that with the release of the Hunger Games movies archery is having a moment, now you can have a go yourself!
Have you ever tried archery?