I don't know about you but we can't seem to move very far without having to take half the contents of the playroom with us. There are toys that the children insist go in the bath with them, some that sometimes have to sit and watch the children eat their lunch, some that have to go to bed with them and others that have to come almost everywhere in the car with us everyday. Then of course there are toys that we have to take away with us, which spark a series of holiday packing negotiations.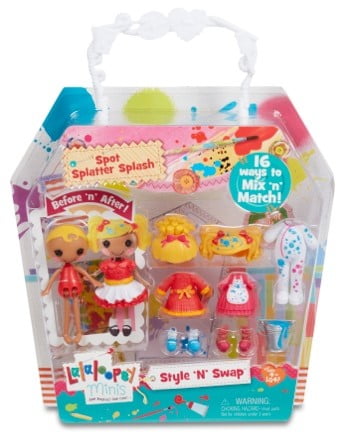 I love it when we come across toys that are designed with all of these daily issues in mind, like the Mini Lalaloopsy Style 'N' Swap Playset Assortment. The Style 'N' Swap Playsets are the perfect places for your Mini Lalaloopsys to have have fun, and they come in these handy carry sets.
This spring, you can switch up the style of your favourite Mini Lalaloopsys with the brand new Style 'N' Swap range. Collect the whole range to Style 'N' Swap across your favourite characters and create new and exciting looks for the Mini Lalaloopsys over and over again. These mini sets are £9.99 with favourite characters – including Crumbs Sugar Cookie, Mittens Fluff 'N' Stuff, Peanut Big Top, and Spot Splatter Splash.
Each set comes with one doll and over 10 removable pieces so you can change wigs, clothes and shoes for creative customisation and endless mix and match fun. Great for any budding little fashionistas!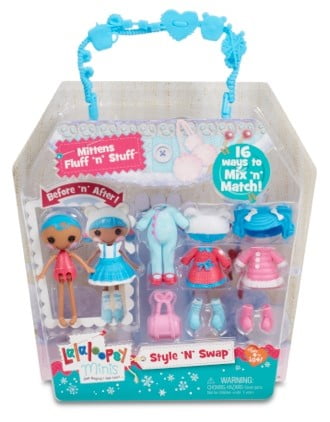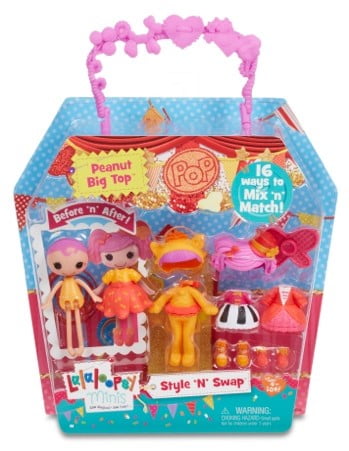 You can also get the Mini Lalaloopsy Carry Along House, for £24.99 – Mini Lalaloopsy Cinder Slippers is so excited to have all her friends over to her new shop. Now she just has to decide between her two new dresses for the grand opening!
This set is the perfect way to carry around all your Mini Lalaloopsys on the go. With a signature handle for easy carrying, the Carry Around House zips open to reveal five different play areas for upto sixteen Mini Lalaloopsys. It also includes an exclusive Mini Lalaloopsy doll and a host of fashion accessories.
Mini Lalaloopsy Style 'N' Swap is suitable for ages 4 to 104! Available from all good toy retailers.