Welcome to part three of our active children series. The summer term at school is always a busy one sports wise for the big kids, with all sorts going on.
Sports days are of course the things that come around every year. I know they aren't for everyone but I think there are lots of benefits in terms of encouraging everyone to be more active and also work together as a team and support each other. I even took part in the parents egg and spoon race this year with our little one strapped to me in the BabyBjorn.
Our big girl has been extra busy this term. She is super active out of school anyway, but has been picked to represent school at pretty much everything over the last two years.
From swimming galas, to cross country, to area athletics, to an inter-schools triathlon, to a ballet show for a dance festival – she has done it all. She even represented the school at netball when someone else was ill …she doesn't even play netball.
It has been a very busy time for her and for all us supporters as well.
I know that there are lots of people out there who think that children shouldn't do too much, but I have to say that as long as she is enjoying herself and these experiences then I will support her all the way.
We make sure she has time to just relax and be a normal eight year old too. She just happens to be an eight year old who loves to be active and seems to be really good at everything she does.
She loves the nerves before a race or show, talking tactics, and the races or shows themselves, and she is proud of herself and all of her friends.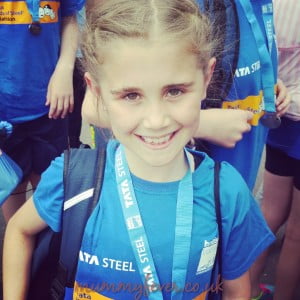 She is developing into quite the sports star but with such a wonderful attitude.
She has confidence without arrogance, determination, perseverance and she is a real team player. Not to mention the sheer joy and buzz she gets from taking on a challenge.
Are your children sporty? How do they deal with competition?