Welcome to part two in our series of Family-friendly days out. We've recently been to Greenwood Forest Park in North Wales, to see how it fairs for a fun family day out.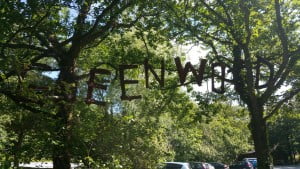 The story behind the park is really interesting in itself – this video is worth a watch.
What to expect:
There is lots of free parking within easy walking distance of the park itself
If you need to go back to your car for anything during the day you will need a stamp to be able to return to the park
You can take a picnic but there are also places to buy food and snacks, drinks and ice creams
Whilst most rides and activities are covered in the price of a ticket, there are some that you have to pay extra for such as the donkey rides (£2) and the mini tractors which take a £1 coin
Take a change of clothes for the children just in case, we left ours in the car and didn't need them in the end but we could have quite easily needed them all
The majority of the park is pushchair-friendly and there are plenty of places to park up if you need to
Check the boards for time of shows on the day – when we were there there was a pirate show which involved audience participation
There are stands for face painting, hair braiding and airbrush tattoos , which are all extra and range in price
What they have spot on:
Pushchair-friendly
Baby change facilities
Several food a d drink outlets
Highchairs available
Plenty of picnic benches and areas
Wet and dry options for play
Plenty of inclusive play options
Lots of options for the whole family to stay together or close by each other
Lots of different activities that children may not have tried before such as archery and stilt walking
Unusual family activities such as the barefoot walk – we loved this and this is great for the whole family from tiny tots in baby carriers to curious and independent toddlers, older children and adults, although anyone with mobility problems may struggle with this. There is a place to wash and dry your feet afterwards
A real variety activities
What they need to work on:
Dogs

are

allowed on site and whilst they have to stay on leads, the fact they are allowed at all seemed a little odd to me – having said that, we are not dog people and lots of families had brought them so this was obviously a popular rule
Despite a designated smoking area, there were people smoking around the park which was disappointing and particularly unpleasant whilst watching the pirate show
Not great baby food and drink warming facilities around the park.  In order to get milk for our toddler we had to walk back to the main café and then as you couldn't just buy a carton or milk and the staff were unsure how much to charge – there weren't any warming facilities available either
Overall this is a fantastic family day out which we would give a 4 out of 5 rating to and we would highly recommend, particularly if you have children of a range of ages as there is something everyone.