Welcome to part six of our series on family-friendly days out. For this we headed to the Crocky Trail in Cheshire, not too far from us. Having looked at the website this looked right up the big kids street as they are very adventurous and not afraid to get wet and muddy. It is a good job as well, as although it was July it was actually more like November and they wore their ski jackets for a large part of the day.
This is the kind of place though where although you are outside, it really doesn't matter what the weather is doing and if i'm honest the horrific weather that day just added to the excitement and adventure. For anyone not taking part, there are places to shelter so just make sure you have your wellies and waterproof to hand and you'll be fine.
The Crocky Trail is open 7 days a week until the end of October. It is described as the brainchild of Cheshire farmer, Edward Walley who designed the trail to give kids of today a slice of the magic he enjoyed in his childhood.
Ed says that when he was growing up there were neither the video games nor the worry that parents of today face when letting their children outdoors, so he was allowed to run free in the fields that surrounded his house and play games in the woods, using his imagination to have fun and play with his friends. That was the inspiration for the Crocky Trail.
The Crocky Trail provides kids with good old fashioned fun and allows them to play in a way that many children simply do not have the opportunity to do so today.
What to expect
The Crocky Trail is easy to find and there is a big sign at the gate so you know you are in the right place
There is a large free car park and you may well be advised where to park by an attendant
Pay at the desk on the way in
You can pay with cash and credit/debit card
There are two prices depending on whether you want the full or restricted access
You will be required to wear a wristband
You are free to wander around at your own leisure and pace, there is no rush, so take your time and make sure you see everything you want to and try everything out – of course this means you can try your favourite things again and again if you wish
Don't leave home without a spare change of clothes for everyone – you WILL need them
There is a changing room onsite so you won't be wriggling around on the back seat of your car or hiding behind a bush getting out of your dirty clothes at the end
You can take a picnic and their are loads of places to eat your picnic, covered and open air
There are other facilities if you do want to purchase, food, drinks, slush or ice creams
Expect to come home with the odd bump, bruise or scrape – but that's all part of the adventure!
If you have babies or small children you would be better taking a baby carrier – although you can access many of the activities with a pushchair it is not entirely straightforward. I would normally just take the baby carrier but took the pushchair as the weather was so bad and it made a little difficult (but not impossible) at times
If you are very health and safety conscious and prefer your children to be bubble wrapped it's probably not for you
If you have a busy toddler who isn't keen on sitting and watching then you might need to make alternative arrangements for them.
What they have spot on:
Superb value for money – you can stay all day for your entry price
You can walk around at your own pace
Great for adventure
Great for challenging yourself and your children
Great for some good old fashioned fun getting wet and muddy
Changing rooms available
Lots of picnic areas – covered and open air, plenty of options
Still open in wet weather – just take wellies and waterproofs
Covered seating areas if spectators wish to shelter from bad weather
First aid centre available
Parents and children can join in together – a great family activity
Perfect for 5 years plus I would say
Set in the gorgeous Cheshire countryside
Friendly staff and plenty of them around
Lots of bins and recycling points
Free parking for the duration of your visit
 What they need to work on:
Perhaps a couple of small activities for very young children would be good, just to make it more inclusive for families
People with mobility difficulties would struggle here so perhaps they might want to look at this in the future
With a few minor alterations more of the trail could be pushchair friendly
Some none slip matting in some areas would help in wet weather.
We loved the Crocky Trail – the children were able to challenge themselves and push their limits. The skipping challenge was a big favourite as were the slides. The highest slide was the first thing the children headed for on arrival but only one of them was able to complete it. My second eldest came back down the steps as he felt it was too high for him. As his confidence built during the day though he was determined to give it another go and came down it three times before we left. This quote from Winnie the Pooh is what springs to mind after our visit.
We give the Crocky Trail a Mummy Fever rating of 4.5/5 .
We are very excited to announce that we are giving one lucky Mummy Fever reader the chance to win tickets for two adults and two children to visit and try it out for yourselves.
Just read on and enter the easy widget below – good luck!
Winner must use their ticket before the end of the school summer holidays 2015!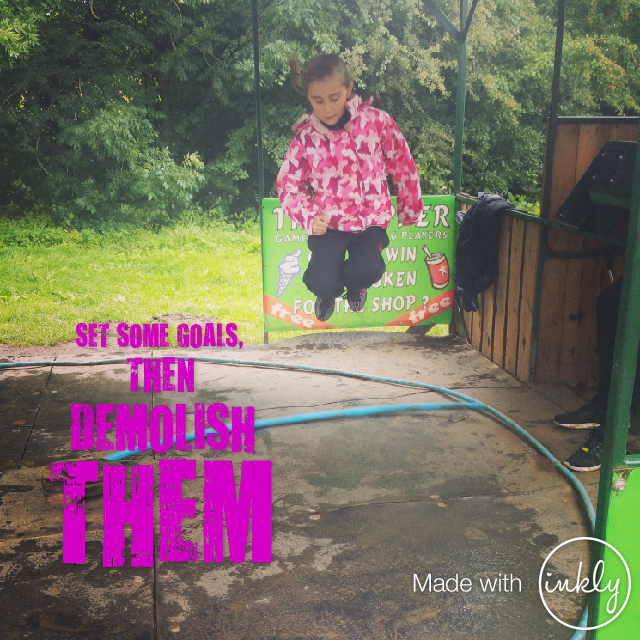 Win tickets for 2 adults and 2 children to The Crocky Trail (Cheshire)