As your children grow and mature they will naturally outgrow their bedroom. Your child's bedroom is a space to call their own so it's essential that the space reflects both their personality and their age. However, this can be tough on a parent: emotionally, and more importantly, financially. Consequently, it's helpful to stick to designs that your child won't outgrow too quickly and keeping an eye on the furniture your child will need once they're no longer a toddler. Luckily for you, I've compiled a few key ideas to help you in this essential process, to take some of the strain off of you and your wallet!
Putting the fun back into bedtime
As your child matures, they may be more likely to want to put off going to bed. Fearful that they will be missing out on something by going to bed early! But as we all know, sleep is essential for your child's development and so it may be an idea to get your child excited about their bedtime.  One way to do this is to invest in a new bed for them.  With a range of designs, sizes, and colours to suit your taste and space, Bedstar may be worth a visit to find a perfect sleeping environment for your loved one.
Moreish Storage
As your child grows, so will all of the bits and bobs that they need. Consequently, you can never have too much storage. Whether your child's bedroom is little or large there is such a wide range of storage options out there you are bound to find something perfect for their space. Stacking boxes work perfectly in smaller bedrooms as they take up less room.
Clever Furniture Solutions
Okay, so you've found the perfect bed, but if you're looking for something more long term there are a wide range of products that are designed to adapt to your child's needs as they grow. Thankfully ElleDecor have assembled some of them, but if you're on a smaller budget, it can be helpful to keep in mind what purpose the furniture can be put to when your child's outgrown its original purpose.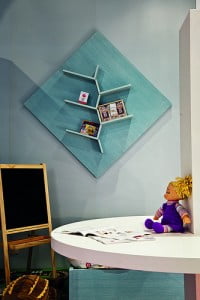 Removable Wall Decorations
As your child grows so will their interests. One day they're obsessed with Peppa Pig, the next they've moved on to something new. Whilst it's nice to decorate their bedroom with posters and images of their favourite characters or celebrities it's best to keep these in a frame, rather than pinning them directly to the wall. This way they're easily updated, they will make minimal damage to their wall and will still keep the room looking smart!