Do you enjoy a good carnival? Do you like festivals? Fancy putting the two together this summer?
You can at Camp Bestival. We love festivals but we've only ever been to one-day events before. This summer we'll be heading to Camp Bestival for four days and camping with the children. Crazy? perhaps. Exciting, very! There will be more on the blog about that in the next few weeks. We'll be sharing our plans, hints and tips for doing a festival with a large family and of course sharing the spectacular sights of Camp Bestival with you too.
For now, I just wanted to share with you the plans for the carnival element of Camp Bestival.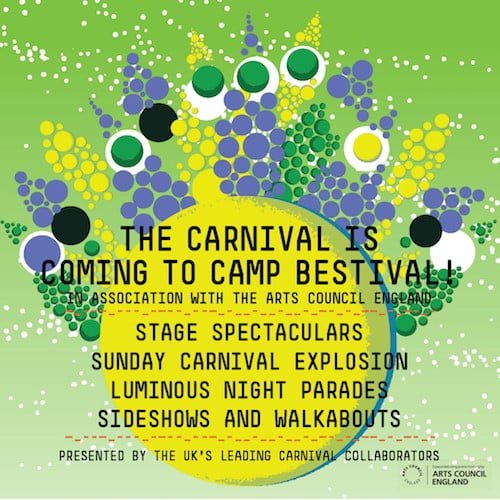 Prepare to be dazzled and amazed, for in among all the intergalactic action and Outer Space adventures, team CB's roustabouts have once again teamed up with Arts Council England to gather together a whole galaxy of eye-popping amusements for your delight on the Shadylady Stage which will be making its debut at Lulworth Castle, this July.
There will be bounteous colourful collaborations, costumes and chaos featuring the Isle of Wight's Shademakers, kaleidoscopic umbrella troupe Cirque Bijou, hula-hooping marvels Marawa's Majorettes, musical mash-up merchants Kinetika Bloco and storytellers Metamorphosis, whose giant butterflies and caterpillar are not to be missed.
There will be fire shows and stilt action from Area 51, drum madness from Batala Portsmouth, skanking workouts from Reggae Aerobics, body moving from Isle of Wight dance school Dance Vibez, steel pan joy from The Steelers, proto-rock n roll from The Happy Skifflers, gala Dimanche Gras style behaviour from the Shademakers Show, disco planets from the Energizer Space Base and dance and aerial shenanigans from LBV Dance.
Plus, there will be performances from Gork and Gimble, Urban Astronaut, Junior Jungle and Ryde Extreme Performers.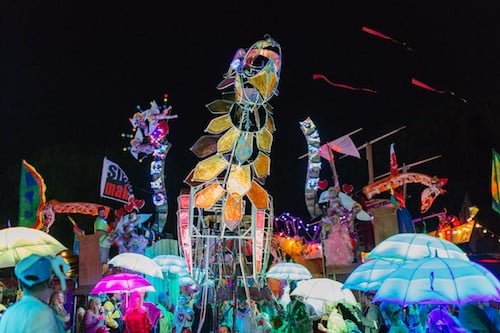 Image credit: Camp Bestival
That's not all, as there will be sideshows and walkabouts all weekend long from Jurassic CSI, Igor Rasputin's Caravan of Lost Souls, Kapow, Horns of Plenty, Pelican Post, Ladies of The Lawn, Virevolante and the Skip Team.
Don't miss the enormous Day Parade on Sunday or the luminous Night Parades on Friday and Saturday evening. If you do, don't worry because you can head to the Shadylady Stage every day to catch a bit of the action! This year's Carnival line-up has been produced by Kirsty Henderson in collaboration with Camp Bestival and one of Europe's leading and most original carnival groups, Shademakers.
Ticket details are below if you fancy taking your family this summer.
Camp Bestival Festival DAY Ticket Info:
Tickets are on sale now via: Ticketline / 0844 888 4410
Lulworth Heritage Centre, Lulworth Cove
Discover Purbeck Information Centre, Warhead
Adult £70.00
Student £62.00
Age 13-17 £40.00
Age 10-12 £31.00
Age 5-9 £15.00
Age 4 & Under £5.00
Babes in Arms £0.00
Camp Bestival Festival WEEKEND Ticket Info:
Camp Bestival 2016 Weekend Tickets are on sale now via: Ticketline / 0844 888 4410
Camp Bestival 2016 Weekend Ticket Prices:
Adult Weekend Ticket – £197.50*
Student Weekend Ticket – £185*
Age 13 to 17 Weekend Ticket – £118*
Age 10 to 12 Weekend Ticket – £93*
Age 5 to 9 Weekend Ticket – £45*
Age 4 & Under Weekend Ticket – £15*
Babes in Arms (1 & Under) – FREE (but ticket required) *
All tickets include camping from Thursday or Friday.
*NB: please refer to the Camp Bestival Ticket Terms & Conditions
Car Parking – £20 in advance
Campervan Ticket (Field A) – £85 – SOLD OUT
Campervan Ticket (Field B) – £60 – please read Campervan T&Cs before booking
Here's a little taster!