*Disclosure: We will be provided with a sample Little Passports box to review as a result of this post*
My children love to travel.They love new experiences and visiting new places.They are lucky to have already been to quite a few countries in their short lives and they certainly have the travel 'bug'.
They are fascinated about different languages and cultures and travel has made them hungry to learn more about the world around them.
Sadly life can't be one long exploration of the world …. (how nice it would be if it could) … we have to go to work and school, we only have a few days a year when we can go out of the country and then of course there is the sheer cost of all these experiences!
I recently heard about a fantastic subscription service for children called Little Passports. You select your package on their website according to age/interest area and then each month your package arrives and your children can explore the world from the comfort of home. 
We would go for the World Edition which includes:
The signature blue suitcase
Your very own passport
Wall-sized world map
A welcome letter from new pen pals Sam & Sofia
Stickers, photo and activity sheet
Plus access to online games in the Boarding Zone
We are excited to tell you that Little Passports have a great promotion about to start … 15% off! Why not take advantage of this offer and place your first order? We think this makes a really good gift idea.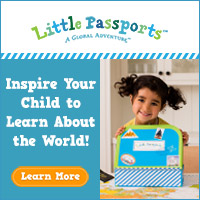 *This promotion is valid online only at www.littlepassports.com. To redeem enter code CHEER15 at checkout. Offer valid on new subscriptions only and cannot be combined with any other offers and/or applied retroactively to previously placed orders. On a Monthly Plan, offer applies only to the first month. Offer not valid on Personalized items. Offer excludes shipping and taxes. Offer valid from December 5, 2014 at 8:00AM EST to December 15, 2014 at 11:59PM EST.