Christmas has been and gone, went quickly didn't it?
You are no doubt trying to find homes for all the new things and if you didn't get around to it before, you are probably in need of a clear out or at least some reorganisation.
January is also a time for lots of thank yous. I remember as a child always getting a new stationary set for Christmas for me to write all my thank you letters on. At times this seemed like so much effort and wasn't always something that filled me with excitement. However, it taught me the importance of being grateful and reminded me how lucky I was.
Saying thank you is obviously important but going to a bit more effort than that is something I have consciously tried to instill in my children.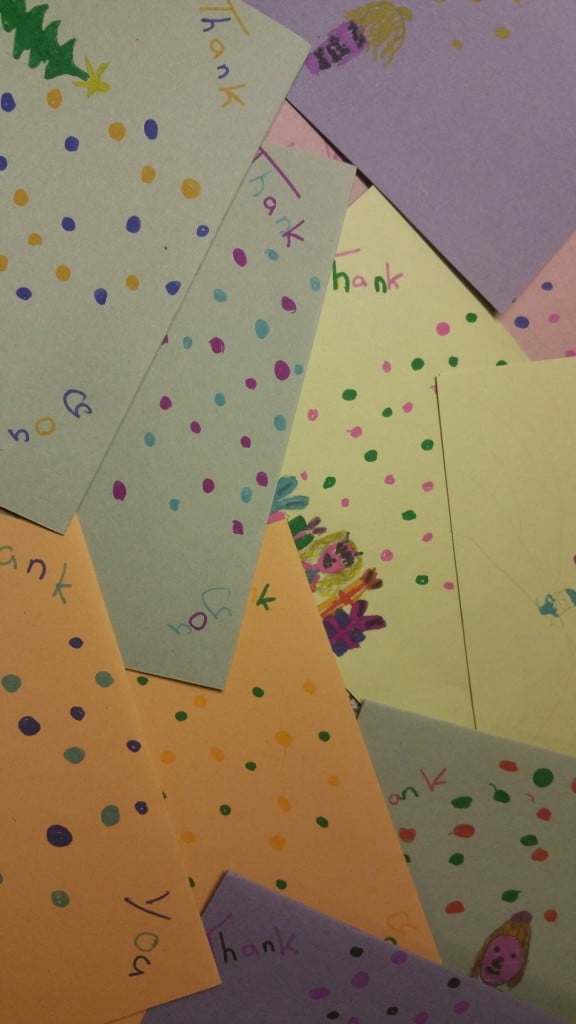 We've used all sorts of approaches over the years depending on the age of the children at the time and often we've used several in a year, here are a few examples:
Painted hand and foot prints of the children made into cards
A photo of the children holding a sign saying "thank you"
A photo card
A picture drawn by the the children
A letter written by the children
A handmade card
A bought card written by the children
An electronic card
A drawing scanned and emailed
Photos of the children using their gifts
Of course you can phone, text and email as well but we have often done that as well.
Do you encourage your children to write or draw thank you letters and cards? What is your approach?