When it comes to storage, the use of the right storage items in the right space tends to make the otherwise overwhelming exercise easy. Proper storage of items makes your room tidy and gives it an attractive look. A decent arrangement calls for one to think outside the box. You can think of incorporating additional storage items such as baskets to suit your various needs. The use of storage baskets has gained popularity owing to the fact they give your room a welcoming feel and a timeless look. Read on to get an idea of how you can use baskets for storage.
Places to Use the Storage Baskets
There is no limitation as to where you can use baskets for storage. They come in different sizes, shapes, and materials to fit your needs and to go in line with the theme of your room. They are known to add a sense of richness to the appearance of your room. Below are some of the places where the baskets can be used.
Kitchen
The kitchen space is never enough. Given the high number of kitchen items that are not used daily like the extra food items, kitchen towels, excess utensils, or spices, a basket may come in handy here. You may get one or more baskets and place them on top of your cupboard or anywhere that you are comfortable with and use them for your storage needs. Such baskets make it easy to sort similar items and to have a decent kitchen arrangement.
Living Room
Most people often overlook the living room when it comes to storage issues. Getting a decent looking basket and placing it in a strategic position, like next to a sofa can give your room a more appealing look. In the living room, baskets can be used in storing extra throw pillows, magazines, books, and even flower vases. In some cases, baskets tend to replace bookshelves and coffee tables.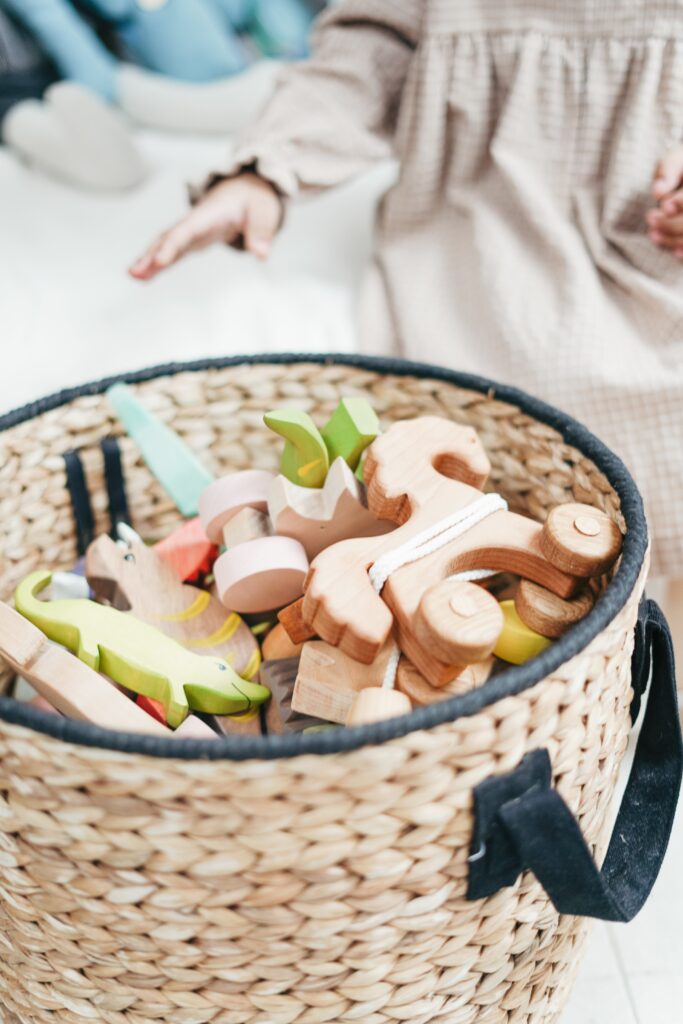 Bedroom
Bedrooms are the homes of some small things such as extra chargers, cables, and clothes which all appear to be on the move. If not properly arranged, these items may clutter your bedroom. To declutter your room, you may consider picking some baskets that you can use to arrange and store items according to their similarities. This basket arrangement not only makes your room tidy but also makes the picking of items easy and fast.
Bathroom
Your bathroom contains extra towels and some toiletries that tend to occupy much of its space. Getting a basket to store these excess items is an effective way of saving your bathroom space in addition to making it neat.
Hallway or Home Office
The hallway can house a lot of spillovers from other rooms in the house. You may find some electrical devices or even paperwork from the home office placed on shelves in the hallway. Rather than using bookshelves, you can go for baskets that are more appealing and use them for storage
Advantages of Storage Baskets
They are handy
They are versatile; can be used for different purposes
They have an aspect of decorative value
They are readily available in the market
Get some today for yourself or your friend and start the journey towards tidying up your home.
The Holding Company
We have teamed up with The Holding Company to give away a set of their fantastic Inge storage boxes. Simply enter below for your chance to win!
Mummy Fever Competition
TERMS AND CONDITIONS:
Giveaway will run until August 24th 2020.
There is one prize to be won.
The prize is non-transferable and no cash alternative is offered.
This giveaway is open to UK entries only.
Entrants must be age 18 or over.
Data controller for the purposes of this giveaway is Mummy Fever. Your details will not be used for any other purpose than selecting/informing a winner.
Winner's details will be passed to itsepic.co.uk, who are responsible for sending out the prize.
All entries will be checked.
The winner will be chosen at random from valid entries after the closing date.
The winner will be informed via email.
Failure to respond within two days may result in a new winner being drawn.
Once drawn, the winner's name may be displayed on this blog post.
Entry into the giveaway will be deemed as acceptance of these terms and conditions.
This is a collaborative post.