You may have been reading our series of articles focused on learning beginning at home.
So far we have looked at: Learning Sacks ; Song and Dance; and Science Kits .
Reading together is a big focus of learning at home and you may have read our other post recently on encouraging independent readers.
When the children are really young, one of the things that I have found that really helps when encouraging an interest in books is linking into a particular interest of the child. So for example our toddler loves In the Night Garden and the first books he showed an interest in were In the Night Garden books.
The other thing I have found that helps initially engage them is when the books are personalised. I have made several photo books online over the last few years centered around our holidays, birthdays or other topics. The children love these and it helps encourage their interest when they see themselves in the books.
I have recently come across penwizard – they create personalised books for children, starring your child in the story. I love the idea of this.
The website is really easy to use and navigate.
You can select the character that best resembles your child, which I just think is so cute! You can choose the gender, eye colour, hair style and colour.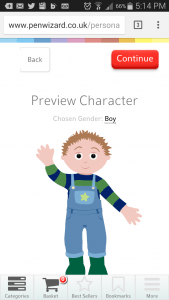 You enter in your child's name and you can see a preview of the cover of the book. This is the one that I created. The result is a lovely story about all the characters attending Theo's birthday party.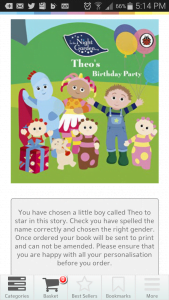 I really think that things like this can enhance learning and act as a hook for children to engage in reading.
What do you think? Have you ever created personalised books to encourage your children's interest in reading?