Live theatre with children
Live theatre with children can be really special. You might think your little ones won't sit through a whole show but they might just surprise you. Most live shows aimed at pre-schoolers are around an hour in length as lots of production teams understand that pre-schoolers just won't sit still for that long.
The other thing is that most have great opportunities for audience participation as well, so they don't actually have to sit still all the time, dancing in the isles is positively encouraged!
There are loads of shows out there, some better than others, but here is what's coming up.
Ben and Holly
From the producers of the hugely successful Peppa Pig theatre tours, Fiery Light Productions, comes the welcome return visit of the live stage show,
This new tour opened at the Churchill Theatre, Bromley 27 January and visits 51 theatres across Ireland and the UK booking through till summer 2017.
Entertainment One's (eOne) Ben and Holly's Little Kingdom hails from the award-winning animation studio Astley Baker Davies, creators of the global preschool phenomenon Peppa Pig.  Currently a top rated show for pre-schoolers Ben and Holly's Little Kingdom airs daily on Nick Jr and on 5's Milkshake and has picked up numerous accolades including a BAFTA award, British Animation Award and an Emmy Award.
Fiery Light Productions have brought all the magic of the show on the small screen to the stage in this exciting musical adventure. Ben and Holly have fun and games helping Gaston clean up his messy cave; they go on a trip to The Big World with tooth-fairy Nanny Plum; and still have time to plan a surprise for King Elf's birthday party, complete with an unplanned jelly flood.
Packed full of games, songs and laughter, this is an enchanting and magical visit to the Little Kingdom. This beautiful story of elves, princesses and childhood innocence will delight all the family.
Richard Lewis has adapted the TV animation for the stage and also directs. He also adapted and directed the five highly popular Peppa Pig theatre tours (four of which had sell-out West End Christmas), two LazyTown Live! tours (2007 – 2009) and Octonauts and the Deep Sea Volcano Adventure (2014 – 2015).  The composer is the highly talented Mani Svavarsson who has composed the music for a number of FieryLight shows including LazyTown Live!, Octonauts and the Deep Sea Volcano Adventure and all of the live Peppa Pig shows.
Ben & Holly's Little Kingdom is produced by Fiery Light Productions (Fiery Angel and Limelight Productions) who also produced LazyTown Live!, Roald Dahl's The BFG, Octonauts and the Deep Sea Volcano Adventure and the five Peppa Pig stage tours, Peppa Pig's Party and Peppa Pig's Treasure Hunt, Peppa Pig's Big Splash and the current Peppa Pig's Surprise. 
Book your tickets now.
Mr Bloom
Mr Bloom, as seen on CBeebies, is hitting the road on his first ever live UK theatre tour in 2017 and is visiting Liverpool Empire and Manchester Palace Theatre. 'Tiddlers' of all ages are invited to come and see their favourite gardener and his veggie friends in their brand-new stage version of Mr Bloom's Nursery.
As well as featuring Mr Bloom himself (Ben Faulks) the show will also star Colin the Runner Bean, Margaret the Cabbage, Joan the Fennel, Raymond the Butternut Squash, Sebastian the Aubergine and the Wee McGregors, not forgetting Mr Bloom's trusty Compostarium too.
Mr Bloom and his Veggies are getting ready for a very special occasion – a member of the Royal family is paying them visit. Can you lend a hand and help them get the Allotment ready in time? They certainly hope so! Come and sing along to all your favourite songs: 'This Is My Allotment', 'Meet The Veggies, 'The Compo Song' and' Night Night Veggies'.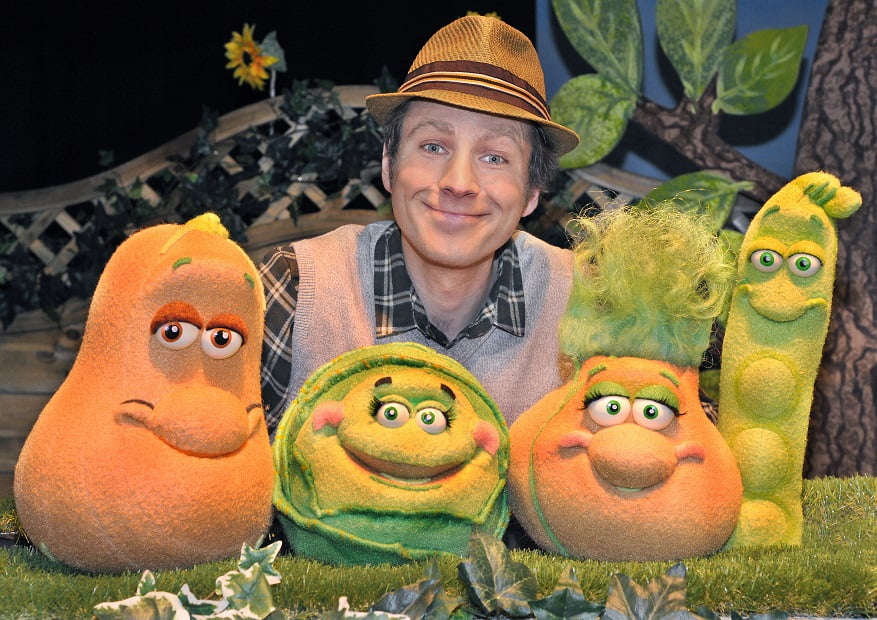 Using song, play and interaction Mr Bloom's Nursery is a fun and inspiring show with strong educational values which will entertain parents and Tiddlers alike. North West performances are 29th March 2017 at Liverpool Empire and 17th April 2017 at Manchester Palace Theatre, overall the show will visit over 40 venues nationwide until 30th April 2017.
Mr Bloom needs no introduction to children under the age of seven.  Since 2011 he has appeared regularly on BBC's pre-school TV channel CBeebies. The character evolved from an original concept created by Ben Faulks called the Vegetable Nannies, an innovative piece of street theatre consisting of real fresh vegetables being dressed in nappies and looked after by their friendly gardener!  The BBC picked up the idea, and the first episode of Mr Bloom's Nursery was transmitted in 2011 – the show was an instant success.  Since then there have been five further series, establishing Mr Bloom as a popular CBeebies character. This live version of Mr Bloom's Nursery is being produced by Munchkin Entertainment, a brand new theatrical production company.
Follow on Twitter @MrBloomLive
In the Night Garden
We are big fans of this live show, truly some of the best pre-school theatre I have ever seen.
To date over 800,000 people have seen IN THE NIGHT GARDEN LIVE, the world's only live production of the CBeebies top-rated show. 96% of parents would recommend it, according to 2016 audience surveys, and they give an average of 4.8 out of 5 stars in 8,766 parents' reviews on www.NightGardenLive.com.
IN THE NIGHT GARDEN LIVE is an amazing musical theatre experience for all the family. Children's favourite CBeebies' stars – Igglepiggle, Upsy Daisy, Makka Pakka and friends – are all brought beautifully to life on stage using full-size costumes, magical puppets, enchanting music and breathtaking projections.
IN THE NIGHT GARDEN LIVE takes place in its own all-weather, purpose-built inflatable Showdome with many family-friendly facilities. This site-specific structure is a huge hit with children and parents and its immersive theatrical experience makes audiences feel they are actually entering the magical world of the TV show In the Night Garden.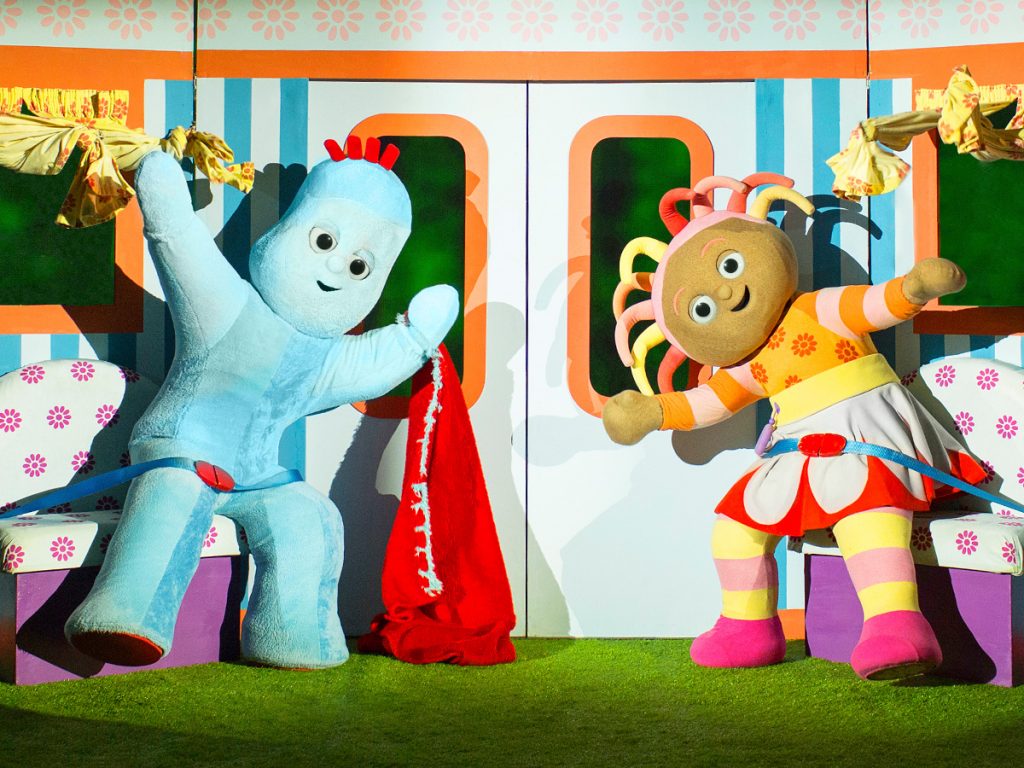 The delightful children's classic returns for its eighth consecutive summer tour, which also coincides with In the Night Garden's 10th anniversary celebrations.
Blackheath, LONDON: 25 May – 10 June
Richmond Old Deer Park, LONDON: 17 June – 5 July
Cannon Hill Park, BIRMINGHAM: 12 – 30 July
intu Trafford Centre, MANCHESTER: 5 – 28 August
TICKETS ON SALE NOW and we have a discount code for you to use below.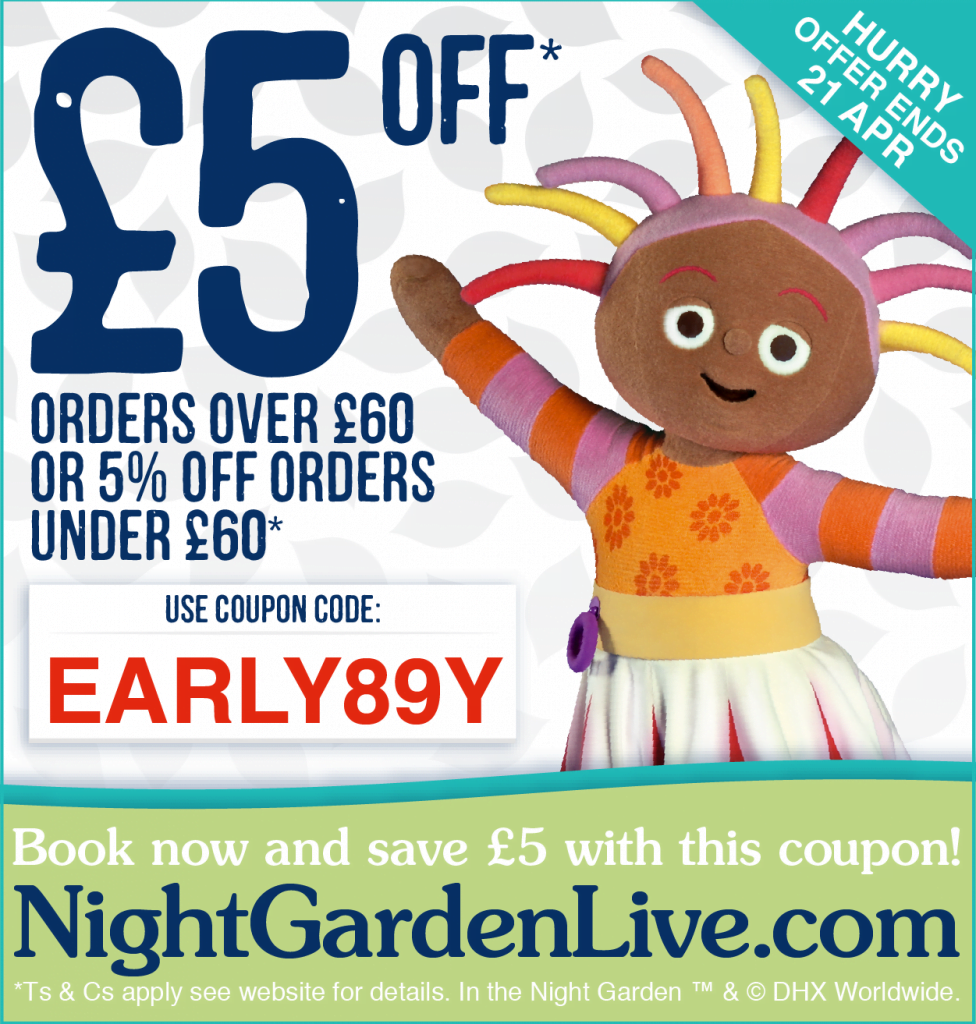 Follow the action on@NightGardenLive #inthenightgardenlive
What pre-school theatre have you seen with your children? Any recommendations?