The approach so far
I've written on the blog many times about how I've found it hard to get back my pre-pregnancy body. It's not through lack of trying or effort that's for sure.
Time, or lack of it has had a huge impact over the years but I try to use time creatively to fit things in, making sure I fit in some exercise every day.
I've talking in the past about my marathon running, about things like the benefits of skipping, using kettle bells and generally being creative with workouts to make sure I can maximise the small amount of time available.
What about food?
Alongside this I've always felt I have a good approach to food the bulk of the time. I put a lot of time and effort into getting the food 'right' and making sure everyone in the family has what their bodies need to fuel them.
Us grown ups eat a lean diet, high in protein with very little bread, pasta, rice, potatoes etc. I'm certainly not the kind of person that will go 'on a diet'. I don't like the word if I'm honest. To me it suggests something that is temporary, and really I don't want temporary, I want to be able to sustain any change that occurs. It's about being in it for the long term goals, as frustrating as it can be not to see instant ones, I want them to stay.
Achievable workouts
I'm always searching for new workouts on You Tube that I can try. Towards the end of 2016 I found a brilliant kettle bell workout on a channel called Live Lean TV. It was such a great workout and at 10 minutes long it was brilliant for me, as I could fit it in around the children and various cries from family members for my services.
I really felt the benefits so did it a few times over before I began looking for a new one to try.
That kettle bell workout led me to the main Live Lean TV channel where I suddenly found tons and tons of achievable workouts I could do at home. The explanations are clear and everything is really easy to follow, which many other channels are not.
There were exercises I had never tried before, and not just that, but really useful nutrition advice and general tips and tricks for living lean.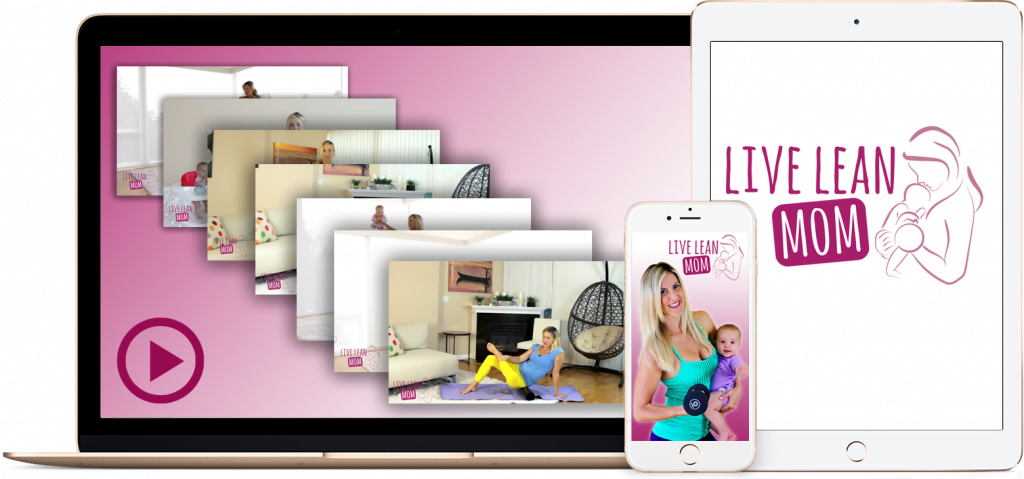 In it for the long haul
The bit that struck a chord with me the most was that the overall theme of the channel is not promoting some faddy diet or something you can only sustain for a month. It's about approaching life like this forever, complete with built in 'cheats' along the way. It's about eating proper food and exercising well to give your body the best chance it has long term and I love that mindset.
It's not about going on a green tea 'diet', it's about drinking green tea every day. It's not about a thirty day squat programme, it's about building squats into your workouts forever…you get the picture. There are no quick fixes, just ideas for a new lifestyle approach.
The hosts
Live Lean TV is hosted by Brad and Jessica Gouthro, not forgetting their baby Kyla and dog Bruno of course! They show you via a series of workouts, demonstrations and showcases what works for them in their mission to live lean. You can even tune in once a week to their Q and A sessions where they answer fan questions relating to fitness and nutrition.
Brad and Jess have a wealth of knowledge and experience between them, so take a look and learn something new!
The competition
I'm super excited to tell you that I have teamed up with Live Lean TV to offer you the chance to win a copy of Jessica Gouthro's "Live Lean Mom" programme.
Live Lean Mom is a 6 week training guide designed specifically for new mums, who have given birth in the last 6 weeks to 2 years. With this program you'll receive 6 different workouts, using only bodyweight exercises, baby weight exercises, or 1 pair of dumbbells. It comes complete with a nutrition guide, sharing all of Jessica's favorite new mummy meals and supplements.
Sounds good right?
All you have to do to get your hands on Jessica's top tips for mums is complete the widget below.
Good Luck, but if you aren't lucky enough to win do check out all the Live Lean programmes, including a specific programme for pregnancy, and of course there are plenty of free tips and workouts online so you can start living lean.
WIN a copy of Jessica Gouthro's "Live Lean Mom" 6 week training guide

Find more competitions on Superluckyme