You might have already read part one of our 'making bathtime a sensory experience' article a while ago. We love bathtime in our house, especially when lots of bubbles are involved.
I wrote in that article, that I am always on the look out for products to enhance the bathtime experience and appeal to the senses – I am still yet to find the glow sticks I was talking about though.
The first part of this series focussed on colour and the wonderful deep blue of the Mustela bubble bath we were using.
Moving on to thinking about the sense of smell, we have been using Paddy's Bathroom products to fill the bathroom with the wonderful fruity smells of: pineapples; mangoes; lemons and tangerines.
Some people think that smell is the most powerful of all our senses and I have to agree with this. A smell has the power to transport you to a different time or place, spark a memory, make you really want to eat something or equally really put you off something. Babies identify their mothers by smell, so we shouldn't underplay the significance of this sense.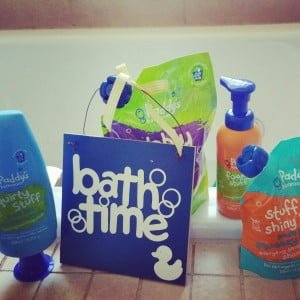 If you haven't tried this range yet you should give it a go. Imagine Ella's Kitchen for the bathroom and you can't go far wrong. If you love Ella's you will love Paddy's too.
What I love about Ella's Kitchen are the practical pouches, ease of use and the fact they are organic. Paddy's Bathroom products are all of those things, combined with the most amazing smells. These really do make bathtime a sensory experience.
The funky bright coloured packaging is just like Ella's Kitchen … because Paddy is Ella's brother! Products made by a family, for families.