For the little ones in your life how about this yummy selection box from Organix? This makes a great alternative to the traditional chocolate selection box and is much better for them too! We love these!
Ben and Holly: Christmas at the North Pole is the latest board book Join Ben and Holly and their friends on an exciting visit to the North Pole, and find out whether they get to meet a rather famous bearded gentleman in a red outfit … Father Christmas! Enjoy an avalanche of Little Kingdom Christmas fun in this magical book – and sing along with the umpah-umpah song at the end!
This book is the ideal stocking filler this Christmas OR if you have the tradition of a Christmas Eve box in your house this would be a great book to include in such a box and keep the magic alive for the little people in your life!

Ella's Kitchen has teamed up with Charity Kids Company to help provide meals for hungry and vulnerable children across the UK. At least 30p from each of our 'Jingle Belly Christmas Dinner' pouches will be donated to Kids Company, for food for the children and their families on Christmas Day.For more information on how you can donate to help feed vulnerable children in the UK this Christmas, go to www.ellaskitchen.co.ukor www.kidsco.org.uk
Providing the perfect meal for little ones from 7 months +, Jingle Belly is literally a special Christmas dinner in a pouch – sprouts and trimmings included!
To buy the Ella's Kitchen jingle belly Christmas dinner or to donate to Kids Company, readers can go to: www.ellaskitchen.co.uk Peppa Pig Golden Anniversary Wellies

£8.00Available in sizes 4 – 10Available at TescoBen and Holly's Little Kingdom: The Magic Test DVD

£9.99Available at ToysRUs, Homebase, Argos, BHS, B&M, The Range, Co-Op, Primark, WHSmith, Debenhams, Matalan, AmazonThe Very Hungry Caterpillar Apron £5.99

A smart white apron featuring the plump green caterpillar and the beautiful butterfly. The perfect little apron to keep little ones clean on those creative but messy moments.Available at Amazon

I Love You To The Moon And BackLittle Tiger PressIllustrated by Tim WarnesWhen the sun comes up, Big Bear and Little Bear think of new ways to share their love. Big Bear loves Little Bear more and more as each day passes, right up to each new moon – and back.A joyful celebration of the love between parent and child, this lovely chunky board book is perfect for reading with your special little person. With sturdy pages that are easy for little hands to turn and beautiful illustrations by Tim Warnes, I Love You to the Moon and Back will soon become a firm bedtime favourite.Pub Date: 2 February 2015 Price: £4.99ISBN: 9781848690691

£4.95
www.mamasandpapas.com

£12.50
www.mamasandpapas.comAs a stocking filler treat for mums we love this Infacare Baby Bath. It promotes great sleep so mum will love you for this if it helps with the bedtime routine! Available in Asda and Boots.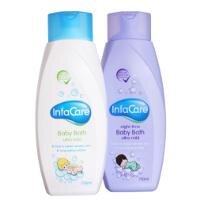 You can read more about it here
Bathtime should be fun for everyone – even those with sensitive and eczema proneskin. Award-winning British brand Childs Farm is delighted to announce the launch of a NEW Top-to-toesie cleaning kit for kids offering three hero products in one handy reusable pack: perfect presents for any little one and oh-so handy for the swimming and for weekends and holidays away.
Containing x3 100ml bottles of our best selling products, each of which is so mild kind and safe for young skin, they are even suitable for those with sensitive and eczema prone skin:
Contents:
Mini Caked in mud! Hair & body wash for dirty rascals with organic sweet orange and Argan oil to wash away grime
Mini Hand & body lotion for silky skin with grapefruit & organic tea tree oil for moisturising & hydrating
Mini Clean, calm & collected. Bubble bath for sweet dreams with organic tangerine for soothing bath time bubbles
Top-to-toesie cleaning kit for kids, 3x100ml £8.99, is available in selected Boots UK stores nationwide, boots.com, independent retailers and childsfarm.com from 1st October 2014Also from Childs Farm this Christmas comes a fantastic set for the bathroom, great for cleaning and moisturising those chocolaty fingers on Christmas morning, why not pop one of these under the tree or in someone's stocking? 

Childs Farm Hand care gift set contains full sized 250ml bottles of the Hand washfor mucky mitts and Hand & body lotion for silky skin! in one smart set, making it the perfect gift for little ones and grown-ups alike.
As with all Childs Farm products, this cute Christmas treat has undergone clinical testing and user trials making them mild, kind and safe for all skin, while also smelling delicious of grapefruit and organic tea tree and being wonderfully moisturising! www.childsfarm.com
We love how the Childs Farm products are gentle yet effective at the same time and they look pretty funky in the bathroom too.
One of the very practical things about these bottles is how stable they are – so many hand washes topple over and constantly end up in the sink! Not these!
A lovely stocking filler for mums this year would be one of these gorgeous stars from Aromatherapy Associates this is £10 and comes with the feel good factor as well – 10% of the proceeds from these go to the charity Defence Against Cancer. This smells lovely and brings a sense of calm! What's more the packaging is really gorgeous so it makes a great gift.