Our school run is different every day.
After loading the four children into the car and checking for the third or forth time that we have everything we need, we set of on our magical mystery tour.
It is so entertaining for us all because we just never know what we will see on the way.
We have daily traffic jams, but they aren't your regular sort of traffic jams, ours typically involve:
sheep
cows
pheasants
rabbits
squirrels
horses
tractors
and the odd group of ramblers
Today though, we had a first… meet Mr Ferret, our road blockage of the day! He really did not want to move and decided to rest in the middle of the road.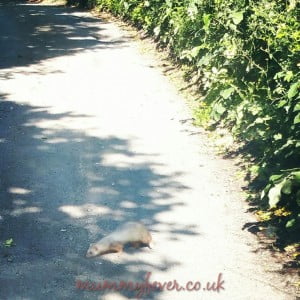 What is your school run like?