One of the books we took away with us on our recent ski trip was Peppa Goes Skiing. Who knew Peppa could ski? She really gets around that little pig.
It's safe to say that Peppa and George and family always go down well here and we were really pleased to learn of a brilliant new range of toys to help children act out her adventures overseas and camping at home. Some of the items from the range include:
Holiday Grandpa Pig's Holiday Boat – £19.99
Ahoy there maties! Little Peppa fans can join Peppa and George on their Grandpa's boat and sail the high seas. This lovely holiday playset comes with a removable exclusively-dressed Peppa, George and Grandpa figure. We love that this playset is specially designed to float in water for great bath time fun!!
Bath toys never seem to last quite as long as other toys and they can get quite yucky, so it's good to have a throw out every so often and replace a few. This is a super bath toy, although sharing it might prove problematic methinks! At least there is more than one figure in the pack, a real bonus of this as so many sets like this just come with one figure and you have to purchase additional ones to bulk out the set.
We love the Peppa Pig shows that include trips on Grandpa Pig's Boat, so it is great to be able to act this out with such a great toy.
Holiday Time Splash Speedboat – £14.99
For more fun on the sea, Peppa fans can take a thrilling ride in the Splash Speedboat with Daddy Pig and George, who dressed in his wetsuit is ready for his water ski ride!
Holiday Time Ice Cream Van – £14.99
Help Rebecca Rabbit sell some yummy ice cream to all her friends down by the beach. This bright and cheery van attaches to the tricycle Rebecca can deliver ice cream. A table with sun umbrella and A-Board sign is also included to bring in the customers!
One of the boys has a thing about ice cream vans at the moment, so I  might have to get this for his birthday.
Holiday Sunshine Villa – £29.99
Little ones can make up delightful Peppa Pig and George adventures in the Holiday Sunshine Villa. This brilliant playset will open up and reveal all the rooms within. There are lots of accessories included such as the barbeque, sun lounger and also a paddling pool for George. There's even a useful carry handle and the accessories will pack away nice and neatly for storage.
Air Peppa Holiday Jet – £19.99
Take off in Peppa's jet for the holidays and some sunshine! Includes articulated Peppa figure and 2 suitcases. The Jet has free-wheeling wheels; the door opens and the luggage compartment opens up too!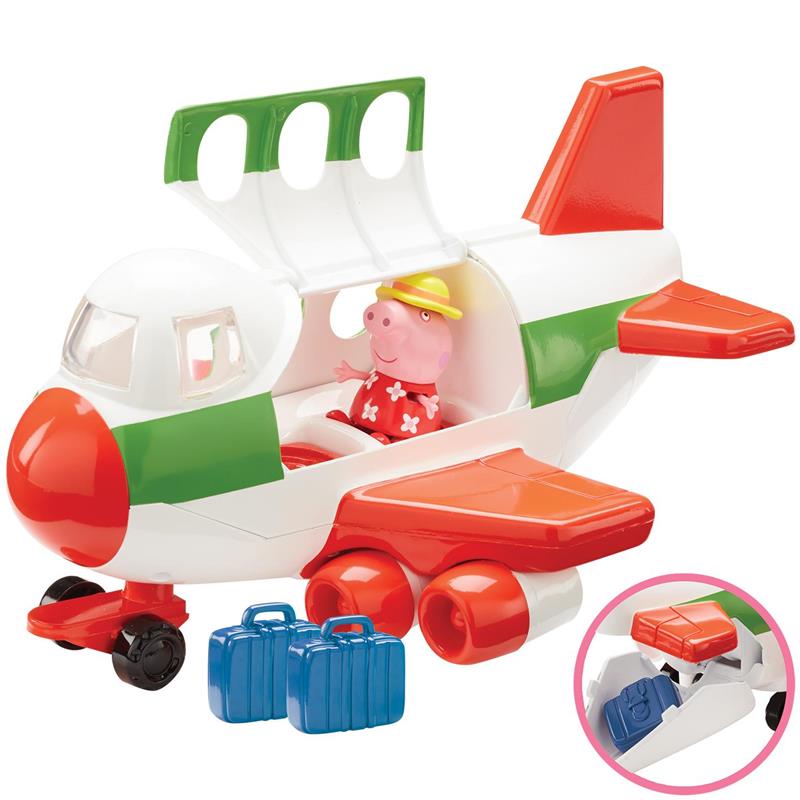 Holiday Campervan Playset – £29.99
Go camping with Peppa and her family in the cool Campervan Playset. This chunky and versatile vehicle can be pushed along with the free-wheeling wheels and has a removable top and an extendable awning for added play value. The benches are removable and along with a folding table and BBQ, it's perfect for pretend picnics! Peppa, George, Mummy and Daddy Pig are all included!
Of course a Peppa Pig toy collection would not be complete without all the little Peppa figures to collect! There are twin packs and five packs available including all the characters from the hit TV show and what's more, they are each dressed in beachwear and holiday clothes ready for playtime on the beach.
We are really excited about this new range and I'm sure these are going to feature on some birthday lists this year!
Role play is so much fun with the children and watching them re-create scenes from their favourite shows, demonstrates developing memory skills and creativity.
To see the entire collection visit www.character-online.co.uk