On 5th August between 2-4pm we will be hosting a Plasticine Softeeze Twitter Party and we would love for you to join us on the #PlasticineSofteez hashtag.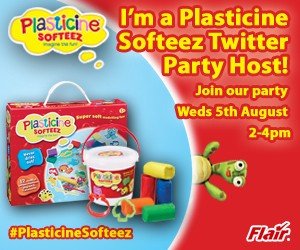 There will be lots of opportunities to win prizes during the party and we will be sharing our creations with you as well.
This plasticine is great stuff as it never dries out. It is most suited to children three years and over but with supervision I think toddlers can also enjoy playing with it and making things.
We will be playing a range of games at our party, starting with an underwater creation challenge in two teams. We'll also be seeing if we can colour a cupcake and then recreate it using plasticine.
We will be creating underwater themed party food and treating guests to a few goodies.
We can't wait to get stuck into the creations.
Pop 5th August in your calendar and join us #PlasticineSofteez