So, there is a new Peppa Pig Live stage show currently on tour, PEPPA PIG'S SURPRISE. Produced by leading children's theatre team Fiery Light, in partnership with licensor Entertainment One, this brand new show marks the seventh consecutive year of Peppa Pig live theatre tours (first tour in 2009) and the fourth Peppa Pig stage production in total.
What is it about?
It's a lovely day and Peppa is playing outside with her friends. Mummy Pig and Daddy Pig have got a surprise for her and her younger brother George but no matter how hard they try, they cannot guess what it is. In PEPPA PIG'S SURPRISE audiences will enjoy interactive fun, games and, of course, surprises. This charming, colourful new show features new songs and new life-size puppets.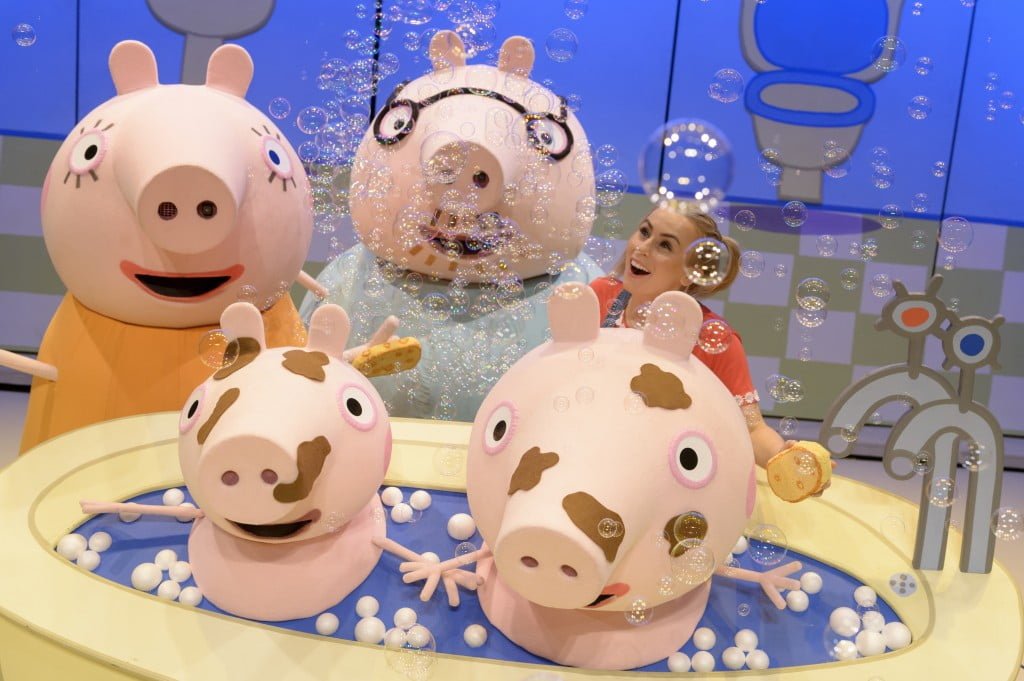 What we thought
I am quite sure if you have a little Peppa Pig fan then they will love this show. This is a really lively show with lots of singing and music, keeping even the most fidgety of bottoms in their seats and engaged throughout.
The songs are largely sung to familiar tunes that both you and your little ones will recognise, which I think really helps with engaging families in the performance.
The set is very effective, the colours are bright, and George even cries real tears, making it quite a sensory experience for children. This was a real surprise and the audience reacted really well each time!
The large costumes for Mummy and Daddy Pig and Mr Potatoe were superb and looked great.
The images of the show are, I feel, a little misleading. The only characters that are full size, life like (with people inside the suits) are Mummy and Daddy Pig, Monkey and Mr Potatoe. The other characters, Peppa and George included, are medium sized puppets.
Whilst this works fine for some scenes, like the two pictured above, the rest of the time it will be very obvious to little ones that they are not watching 'the real Peppa and George'. The puppeteers, whilst incredibly talented, are very obvious for the bulk of the show. They are dressed in black, but with most scenes having bright backgrounds, they stand out in a big way. It is actually a little distracting, as when the characters speak you end up watching the puppeteers faces, rather than the puppets.
We found this a little disappointing, as had the characters all had people inside them it would have been totally sold on the children. I'm sure there must be a way around this as lots of other shows achieve this.
Having said that, everything I stated first absolutely applies still and it shouldn't put anyone off attending what is a fantastic family show. Just don't tell your little ones they are off to see the real Peppa or George!