Welcome to part four of our postpartum diaries series. Part one focused on hair loss, part two on weak nails and part three looked at skin changes. Over the course of this series we will be looking at a range of issues that can affect women in the postpartum period. This period is normally talked about as beginning the moment after the birth of your child and lasting six weeks after birth. The reality is however, that many of the issues we will be highlighting are far more long lasting than that.
The fourth issue we are looking at relates to changes that can occur to your thyroid after pregnancy, called postpartum thyroiditis.
What is it?
Postpartum thyroiditis is an autoimmune condition, but it only happens in women who have recently given birth. In post-partum thyroiditis, your immune system attacks your thyroid gland within around six months of giving birth, causing a temporary rise in thyroid hormone levels (thyrotoxicosis) and symptoms of an overactive thyroid gland.
It is then possible that after a few weeks, your thyroid gland becomes depleted of thyroid hormone, leading to low levels of thyroid hormone and symptoms of an underactive thyroid gland.
Not all women will go through both of these phases, but these are some of the things you might experience:
Hyperthyroidism (overactive thyroid)
Sudden weight loss
Rapid heartbeat and palpitations
Nervousness, anxiety and irritability
Sweating
More frequent bowel movements
Fatigue
Muscle weakness
Difficulty sleeping
Hypothyroidism (underactive thyroid)
Fatigue
Unexplained weight gain
Constipation
Pale, dry skin
Elevated blood cholesterol level
Puffy face
Increased sensitivity to cold
Muscle aches and weakness
Heavier than normal menstrual periods
Brittle fingernails and hair
Depression
What can you do about it?
Firstly, establish what your levels are buy booking in for a blood test. If low thyroid hormone levels are causing severe symptoms, you may need to take thyroid hormone replacement until the condition gets better. Consult your GP and let them advise you.
In most women with the condition, thyroid function returns to normal within 12 months after the baby is born, although this is not always the case and abnormal hormone levels can sometimes be permanent.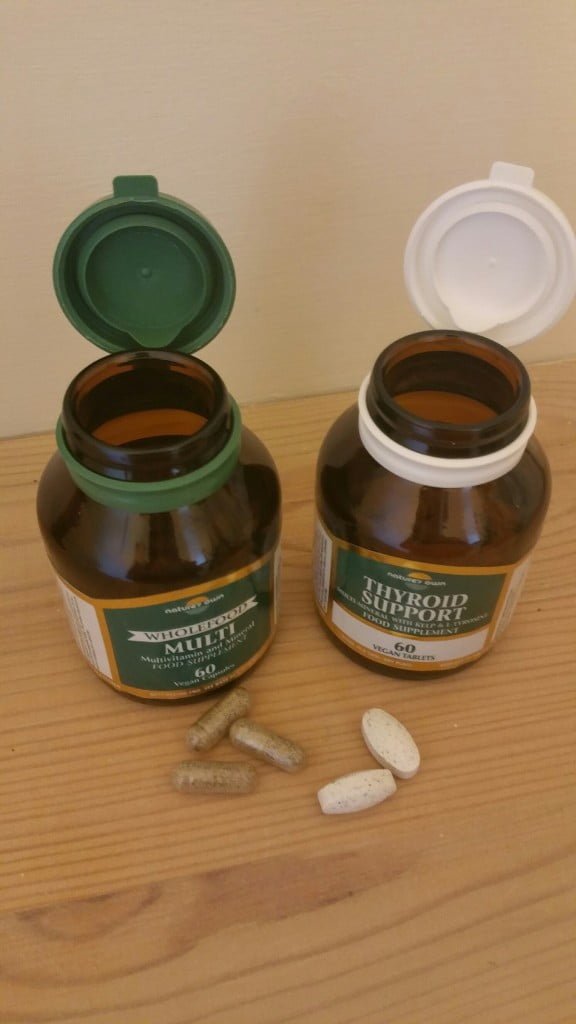 Do a bit of a diet check and see how you can support your body naturally. You can find some useful tips about diet and thyroid function here, which include, eating a gluten free diet and increasing the amount of protein you eat. Protein transports thyroid hormone to your tissues so eating it in sufficient quantities is vital. Eating a good amount of Vitamin C is also important as the thyroid gland needs this to stay healthy.
You can help your body by taking suitable supplements, but always read the label as many of these cannot be taken when breastfeeding. A good thyroid support supplement, combined with a multivitamin, like the ones above from Nature's Own could help you get back on track with your thyroid health and function.
Exercise is also important with thyroid issues and doing the right exercise can help a lot – you can find some ideas about the types of exercises you should be doing here.
Inversion tables are also thought to stimulate the thyroid gland.
Have you had any issues with your thyroid after pregnancy? How has it affected you?