Potty training can be one of those things parents look forward to and dread in equal measure.
Potty training signifies the onset of a greater independence and development in your child and a huge cost saving for you – no more nappies.
However, it isn't a quick process normally and getting through it can be very tough and long-winded for some families.
I have been through this twice so far, we are on the verge of this for the third time and then we still have one more to go after that.
For each child and each parent it is often a different experience and what works for one child or family might not work for another.
There is often great debate over when is the right time, how you should go about it and how long the process should last. All I can say for sure is that there is no exact science and no real right time. My prefered approach is to go with your gut and have a few tools up your sleeve to try.
For example at about 14 months our toddler started taking his nappy off constantly. He knew when he was wet or dirty and he knew that the nappy should come off. He would take off all his clothes, day and night just to get his nappy off. Now, lots of the advice will tell you that he was ready to potty train at this point. Whilst I accept that he was showing some of the signs my gut told me he wasn't ready and it was too early. We rode this period out and he stopped. He is now at 20 months taking an interest in the toilet and what it is for and watching everyone else. He will flush the toilet and wave as the seat goes down and then enjoy washing his hands.
For me this feels more as if he is ready to potty train but he has shown little interest in the potty and much more in the toilet as that is where everyone else goes. We have opted for the 2 in 1 Go Potty by OXO Tot. This means your toddler can sit on the toilet like the rest of the family but then you can also easily use it when out and about.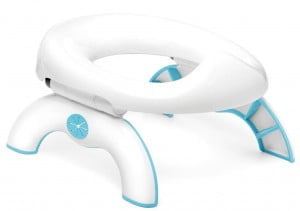 Opens quickly and easily for on-the-go potty emergencies
Legs fold in for compact storage in cars, pushchairs or nappy/change bags
Legs lock securely for use as a stand-alone potty or on public restroom toilets
Soft, flexible flaps hold disposable bags securely in place
For some children, once you start the potty training process they will respond well to tools like sticker charts. My eldest two did not take any notice of these and I did not find them useful. Instead we used their potty time as a time to read a book or sing a song and this meant they were stationary for long enough to concentrate. The reward system just did nothing for us.
Some people opt to go straight to underwear, some try pull ups – there really is no right answer, just go with what you feel is best and will be best for your family.
Whenever you decide it is the right time, try not to rush things. You will get frustrated, even cross maybe sometimes but just remember it isn't forever. It is just one of the many stages we go through on the parenting journey.
Looking to update your toilet during this process? Find out more here: https://toiletplanner.com/