If you have been reading the blog lately you might have seen our series on preserving memories. This is part three in that series and this time we will be focusing on printed cushions, something that I have been wanting to get done for quite a while now.
We have already looked at how to utilise your Instagram photos as well as printed mugs for Easter or indeed as a keepsake or gift.
How do you preserve your memories?
I tell my children I photograph them constantly because I don't want to miss anything and it is an important part of preserving my memories.
I try to keep all their special certificates, record milestones and so on and I try to remember to back my photos up in various locations. I saw some gorgeous keepsake boxes today which I was tempted by. I am struggling to find anything big enough to hold all the bits and bobs as I want to be able to store things like their first pair of shoes and such in the boxes as well. I need to keep searching for something along those lines.
As much as digital photos and video are amazing, I still love photos around the house, in memory books and also to give to grandparents.
I might see their little faces every day but as a parent you don't always see how quickly children change….everything happens pretty fast!
So how do you go on remembering that special moment, favourite outfit, great day out or holiday?
I have recently had a cushion made with one of my favourite photos of all the children (a rare thing as they don't sit still for very long). If you are redecorating or just looking at putting the finishing touches to a room these are ideal.  I'd love to get individual ones done for each of the children.
If you fancy one of these fab cushions, or indeed anything else from Wrappz just click here and use code FBFAN20 for a 20% discount.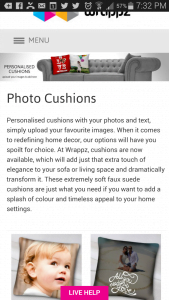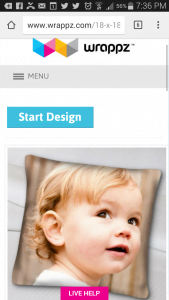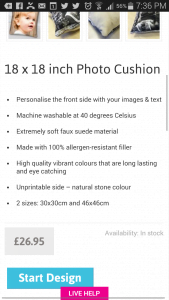 This website is really easy to use from both phone or laptop/PC and also easy to navigate. I was hoping I would be able to create a phone case on here but sadly my phone is not one they cover – shame.
The cushion is nice quality and you get a choice of background colour options as well which adds a bit of flare.