Welcome to part five of our series on things to do in the school holiday.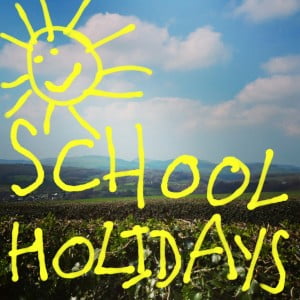 With a girl and three boys I do like to do activities that suit them all. We love to cook for example, as you will know if you are a regular reader.
Sometimes though it is good to mix things up a bit and give the children activities they can do on their own without the interference or 'help' from siblings.
I feel that as the only girl this is especially important for my daughter so I do try to ensure she has some 'big girl' time.
She loves making pretty things and despite being very active, sporty and a full on thrill seeker she is also a girly girl. I wrote about her perfect blend of personality a while back here.
She loves colourful sets of things to make like these from strand bands. The trend at the moment seems to be to wear loads all at the same time. Getting changed for swimming club takes forever as she has to take off all her bands.
These are ideal for mixing a love of crafting with a love of pretty things. Great for rainy days, but also for sitting on the beach or poolside when they want a break from swimming.
These kits are also great to have in for play dates as well or you could even set this up as an activity at a girly birthday party. If your little on is having a pamper party for example these would give the other children things to do whilst they wait to be pampered.
There are loads of creative options which my daughter loves and I've also bought things like this as birthday gifts for her friends and they always seem to go down well.
How's your summer holiday going? How have you been keeping the children busy?