Welcome to part three of our school holiday activities series. The summer holidays are here! If you have been reading the series so far you will have seen that we have so far covered a couple of wet day options. UK weather can be so temperamental I always feel I need these options available.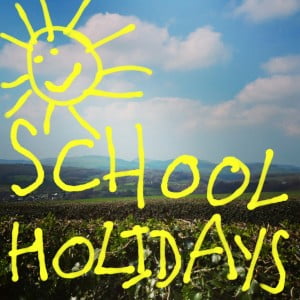 These are the summer holidays however, and we are hoping for at least some nice sunny days.
A picnic is a wonderful option for a sunny day. You can take a picnic to the beach, the park, on a woodland walk or even just set up in your back garden.
If you can face it (I know many parents can't) take the children to the shop to choose their picnic and then get them to help you prepare it.
If you don't have a picnic set why not pack some left over party cups and plates? Simple things like this can make the children feel it is more of an adventure and you are having a different sort of day.
Maybe pack a game you can play together on your picnic. Two of our very simple but very popular picnic items are always a ball and a pack of top trump cards. The big kids especially love the Harry Potter Top Trumps.
My essential picnic pack is a bottle of Aquaint. This stuff is fantastic. I keep a small bottle in the change bag as well for every day out and about needs.
Aquaint is a 100 per cent natural, eco-friendly sanitising water that kills 99.9 per cent of bacteria in seconds, and its only other ingredient, Hypochlorous Acid, is a harmless, natural acid produced by the human body to kill bacteria.
With just a simple spritz from the handy 50ml bottle (£2.49), hands, surfaces, cutlery, tupperware, crockery, picnic equipment and even some foods can be free of harmful bacteria in seconds. Because it's water-based, it doesn't leave a residue and is even completely harmless if ingested.
For me this is a must have when you have children, it is super practical and helps keep the family safe from bacteria both out and about and at home.
Aquaint is stocked in Boots, Ocado, JoJo Maman Bebe, and Amazon and in selected Babies R Us stores. It is also available to purchase online at www.aquaint-uk.com.
As well as the 50ml travel-sized bottle, Aquaint is available in a 500ml trigger spray bottle (£4.99) – a must for the kitchen!
Where is your favourite place to picnic? What are your essential items?