Do you need a second skin?
Who doesn't want flawless younger looking skin? We'd all love this right? It doesn't always seem achievable though does it?
Both women and men are looking for perfection in their appearance, meanwhile they are juggling work, a family, running a home trying to exercise and maintain a healthy lifestyle and deal with the day-to-day issues live throws in the way.
A while ago I tried ACTIVE GOLD COLLAGEN® liquid beauty supplement. ACTIVE GOLD COLLAGEN® is a multitasking beauty solution designed to offer you more than just skincare.
It is specifically formulated to promote younger and healthier looking skin, hair and nails whilst looking after muscles, joints, bones and your overall well-being so you can carry on with your busy life looking and feeling great. Even better still, it incorporates Stevia for natural sweetness and has an improved apple and mango flavour.
This daily shot, like all GOLD COLLAGEN products is, apparently up to 20 times more effective than using a topical collagen cream or pill. It comes in cute little glass bottles, meaning all the packaging can be easily recycled.
I loved this stuff, so I was keen to try out another product from Gold Collagen, the Hydrogel Mask.
It's formulated with antioxidant-rich Pearl Extract and infused with Hyaluronic Acid, this pre-soaked sheet mask supports skin's moisture retention, helping to leave it looking plump and moisturised. A powerful blend of botanical antioxidants including Red Algae and Tea Tree are supposed to leave the skin feeling fresh and hydrated, and all without the addition of any nasties such as parabens, phthalates and sulphates.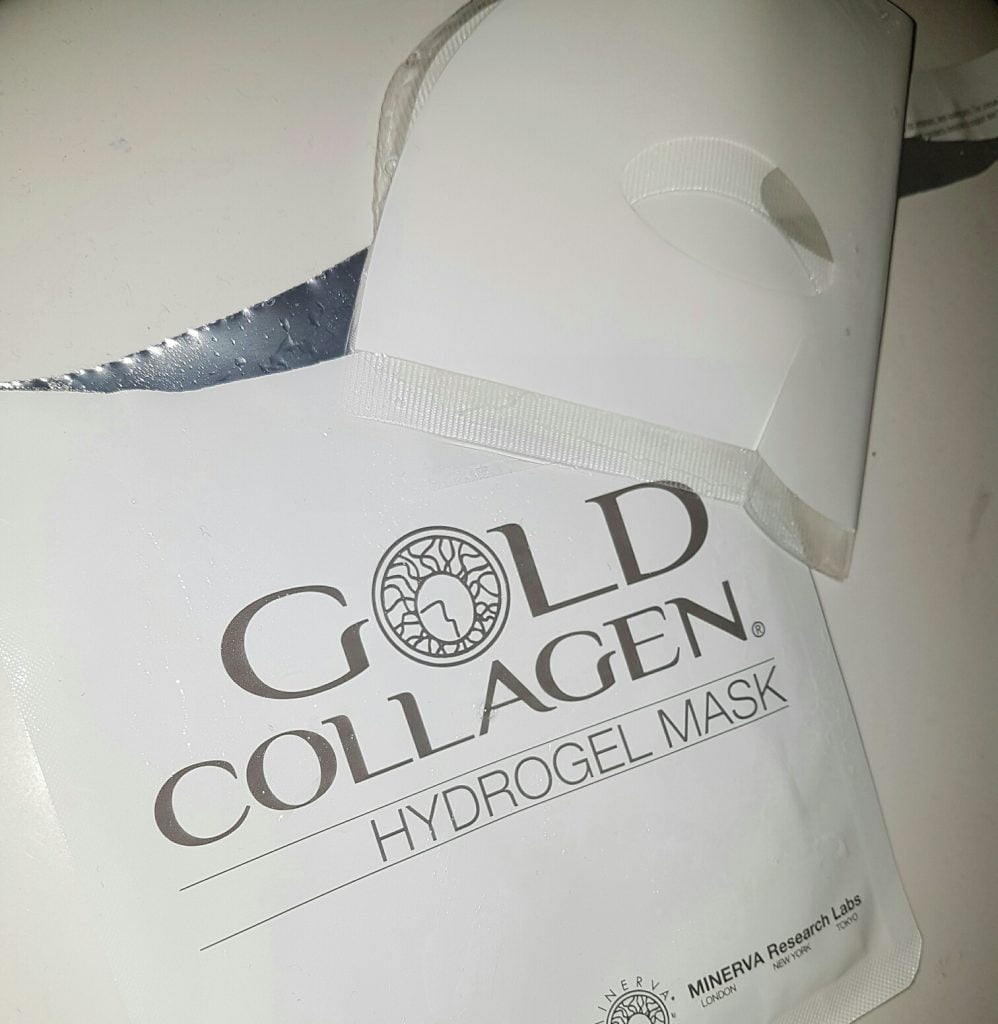 Any good?
It retails at £19.99 for a pack of 4, which is said to be a month's supply.
If you look on Instagram you'll see a lot of celebrities, models and skincare junkies using these. I have to say after one mask I didn't notice any difference and it was incredibly messy and difficult to apply.
It felt nice on the skin and if you are into face masks then you will no doubt enjoy the cooling sensation on the skin. I definitely prefer drinking it from little bottles though.