Who doesn't want flawless younger looking skin? We'd all love this right? It doesn't always seem achievable though does it?
Both women and men are looking for perfection in their appearance, meanwhile they are juggling work, a family, running a home trying to exercise and maintain a healthy lifestyle and deal with the day-to-day issues live throws in the way.
Minerva Research Labs have developed a potential part solution to this with their reformulated ACTIVE GOLD COLLAGEN® liquid beauty supplement. ACTIVE GOLD COLLAGEN® is a multitasking beauty solution designed to offer you more than just skincare. Did someone say multitasking? It's got to be worth a closer look then!
It is specifically formulated to promote younger and healthier looking skin, hair and nails whilst looking after muscles, joints, bones and your overall well-being so you can carry on with your busy life looking and feeling great. Even better still, it incorporates Stevia for natural sweetness and has an improved apple and mango flavour.
The multi-purpose liquid beauty supplement is composed of Hydrolysed Collagen which activates the collagen producing cells to create plump and healthy skin with reduced wrinkles and lines whilst hyaluronic acid boosts skin hydration and smoothness and Vitamin C creates an even skin tone.
If offers more than just a skincare solution, though, its new and improved formulation helps contribute to the growth of muscle mass with L-Carnitine, supports the health of bones and joints with Glucosamine, Vitamin D and **NEW** Chondroitin as well as reduced fatigue with Vitamin B6 – something every parent needs!
This daily shot, like all GOLD COLLAGEN products is, apparently up to 20 times more effective than using a topical collagen cream or pill. It comes in these cute little glass bottles, meaning all the packaging can be easily recycled.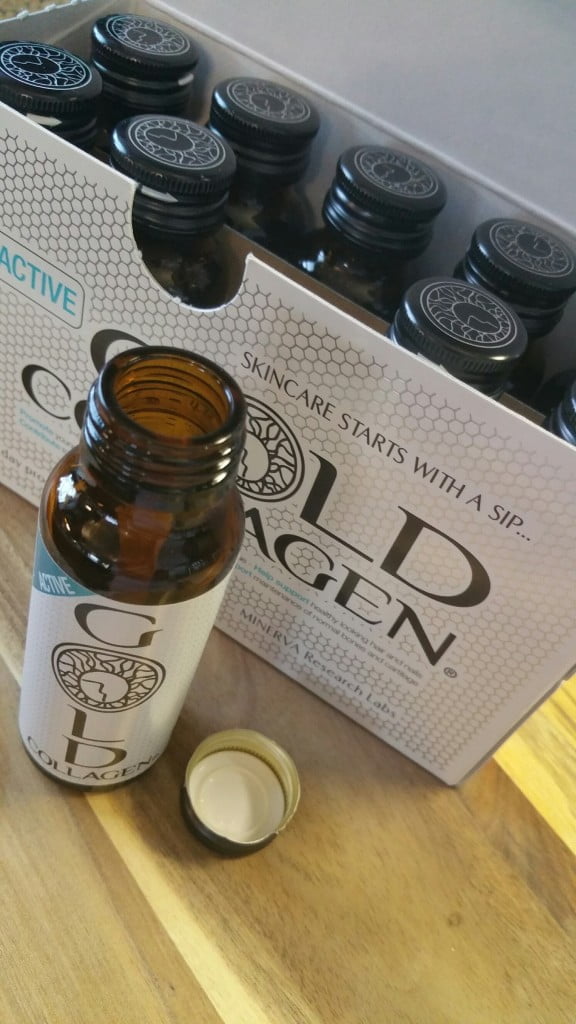 After 30 days you are supposed to be able to begin to notice the benefits and if you continue for 90 days then you should expect to see some real changes to your hair, skin, nails and joints.
I've taken these every day for 30 days and although I didn't notice any changes to my hair, nails and joints, I began to notice skin changes after about ten days. My skin was much smoother all over my body and just felt in much better condition. After ten days of not taking the supplement my skin was back to 'normal'.
What I love about this supplement is that you drink it. I was never really a shots girl but I'm very keen on knocking back a shot of liquid 'gold' every morning. It's a nice routine and one which makes me feel as if I've got a whole lot of goodness going in. Perhaps that's psychological, perhaps not but it certainly doesn't do any harm.
ACTIVE GOLD COLLAGEN® (10 x 50ml bottles) is available from; Boots stores nationwide and online, Harrods, Selfridges www.lookfantastic.com and www.gold-collagen.com. RRP: £35.99.