Albert was an apple.
He was a bright and shiny apple and the envy of the entire fruit basket.
One day Albert was selected by the woman in charge of making packed lunches to go to school with one of the big kids.
It was such an adventure for Albert and he was very excited.
He was carefully placed inside a special bag which was nice and cool and there he met:
Ava Apple Juice
Harry Ham Sandwich
Colin Cucumber slices
Wally Winder
Quincy Quavers
It was cosy in the special bag and everyone was very chatty.
After being in a very cold place overnight Albert and his friends took the ride of their life to a big place called school.
At school they had a good long rest before they rode the rollacoaster to lunch.
Albert was so excited. He was convinced the funny boy with lots of jokes was going to pick him first. He had seen at home the speed in which this boy had munched through the rest of his family. Albert longed to be known as the best apple ever grown.
Every time the boys' hand went into his lunchbox he would shout "pick me" but it was no good. One by one all the others were eaten and Ava was being slurped on throughout lunch. Albert couldn't believe it when the special bag was zipped up.
It was a lonely afternoon for Albert with no one to talk to.
When they arrived home, the one who packs the lunch washed Albert and popped him back in the special bag with some new friends.
The next day was torture and the outcome the same.
Albert felt worthless.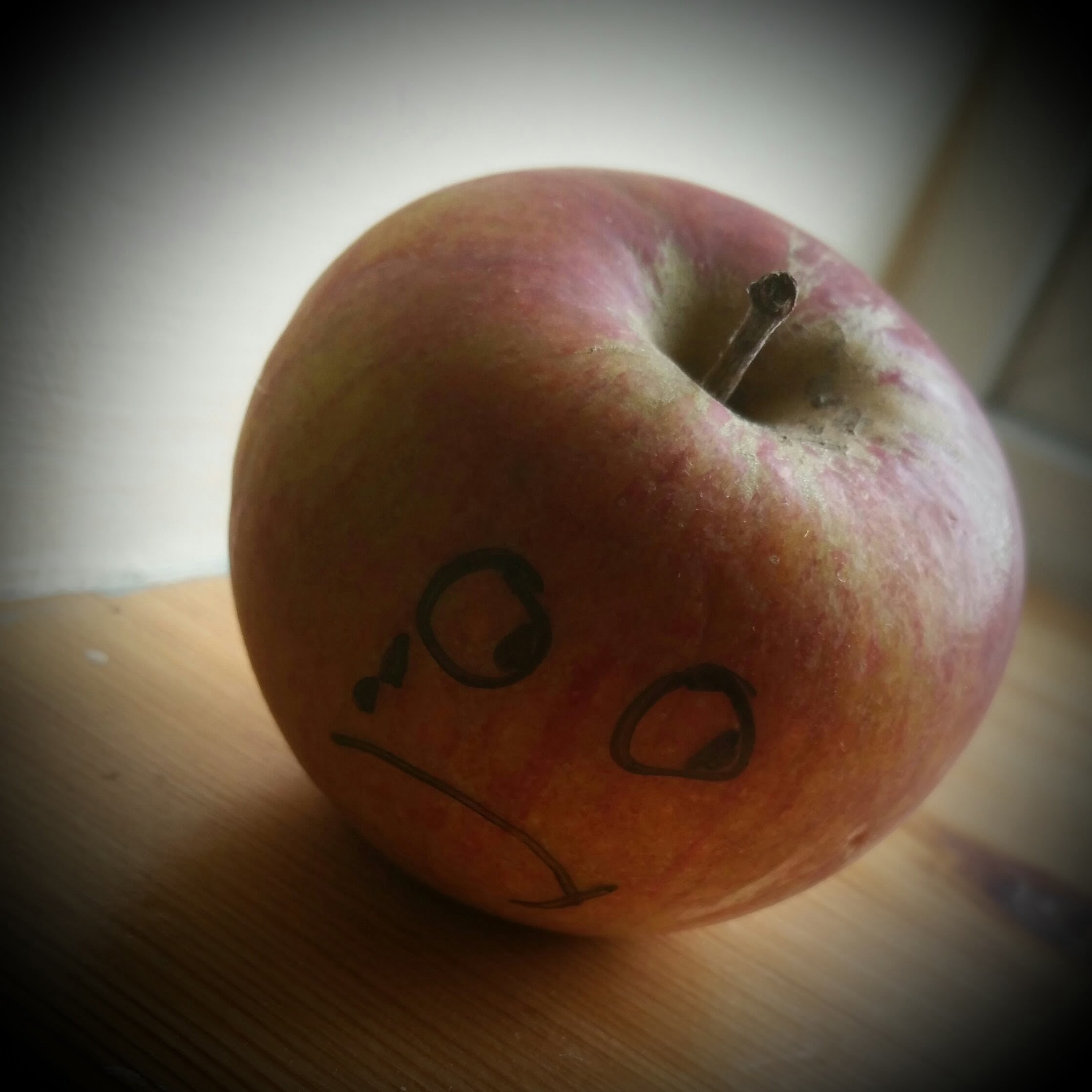 He was no longer idolised by the rest of the fruit bowl.
The day after was the same.
The next day, the one who packed the lunchboxes looked at Albert, no longer bright and shiny and then discarded him in a smelly box full of half eaten things.
Oh the shame, Albert couldn't cope. He lifted the lid of the smelly box to see to his horror the boy who told funny jokes biting into his best friend Alexander Apple."This is the best apple I've ever tasted" said the boy.
Alexander was crowned 'Best Apple Ever' and all Albert could do was to mingle with those in the smelly box.
Poor Albert.
Anyone else's children carry apples backwards and forwards? At least it gets them out of the house I guess!