Sweet dreams with new Infacare Night-time Baby Bath
Bedtime with children can be hard work, especially if you have a few little people in your life. We love products that can help keep bedtime calm because in our experience a calm bedtime promotes better sleep and that's a good thing for everyone right?InfaCare have launched a gorgeous smelling baby bubblebath which is great for the whole family. Slosh some of this in the bath every night to help bedtime go smoothly! We love this because a little bit goes a long way.We plan to feature this in our Christmas Gift Guide because we think it's a great stocking filler! Quite frankly if I was handed a tank of the stuff I'd be eternally grateful and think it was the best gift ever!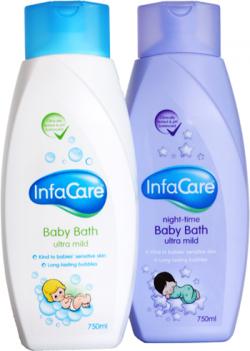 In trials 70% of mums say InfaCare Night-time Baby Bath is ideal to use as part of baby's bedtime routine, as the gentle powdery oriental fragrance helps baby relax. And the more relaxed your little one is, the more likely he or she is to go to bed easily and fall asleep quickly.
Mums can trust InfaCare for their baby's delicate skin because it's so ultra-mild.  In fact mums say it works brilliantly on little ones with allergies.
We have found this is great on dry skin or skin prone to eczema.
InfaCare Night-time Baby Bath is clinically tested, reassurance for mums that the formulation isn't irritating on delicate baby skin.  Plus, it is pH balanced, so it matches the natural pH balance of your baby's skin and hair, making it super kind and gentle on even the most sensitive of skins.
A little InfaCare Night-time Baby Bath is all that's needed to form loads of long-lasting bubbles – just what babies love at bath time.  A lovely warm bubbly bath is a soothing experience, and getting your baby warm, clean and dry is a great way to ease him into bedtime.
InfaCare Night-time Baby Bath comes in a bumper 750ml bottle and costs £3.49.   You'll find InfaCare Night-time Baby Bath in Asda and Boots.