I have written quite a lot over the last few months about the importance of sensory play and it's benefits. I honestly think it is one of those things that is over complicated. I think sometimes as parents we hear these terms and think we have no idea where to start, when in reality it is really very simple.
In the past I have talked about how to make bathtime a sensory experience, the part cooking can play in learning about textures and smells, and even making your own play dough and involving the children in that.
Now the summer is here, we have been able to move some of our sensory play outside. One little chap was very lucky to receive a sandpit for his second birthday and the minis have practically lived in it since.
Sand in between the toes, brings a whole new meaning to sensory play. Lots of little ones love the feel of the sand and it is unlike anything else.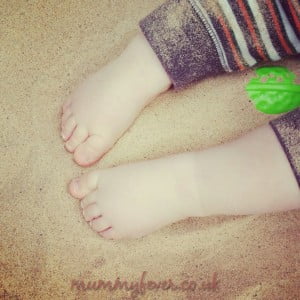 Sometimes we add water to the sand so we can build with it and that again brings a whole new sensory experience as it feels very different to little fingers and toes. The only problem we have at the moment is that our smallest little man seems to want to eat all the sand as well, not phased in the slightest by its crunchiness. We might need to add the spare bag of sand at this rate soon.
All the children love the beach but this is our mini beach in the back garden, where they can touch and feel the sand and let it run over their fingers and toes. Bathtime is always interesting after a sandpit session as their nappies are full of sand as well.
Do your children like the sand?