"That gives me an idea"
How do you feel when you hear these words?Inspired?Excited?ORAre you filled with an overwhelming desire to distract your children with their scooter, a film or a snack?The catchphrase is of course fast becoming iconic … in the parenting world of course that is. I doubt my childless friends would understand the significance of this! This is of course the familiar phrase used by Mister Maker several times a day.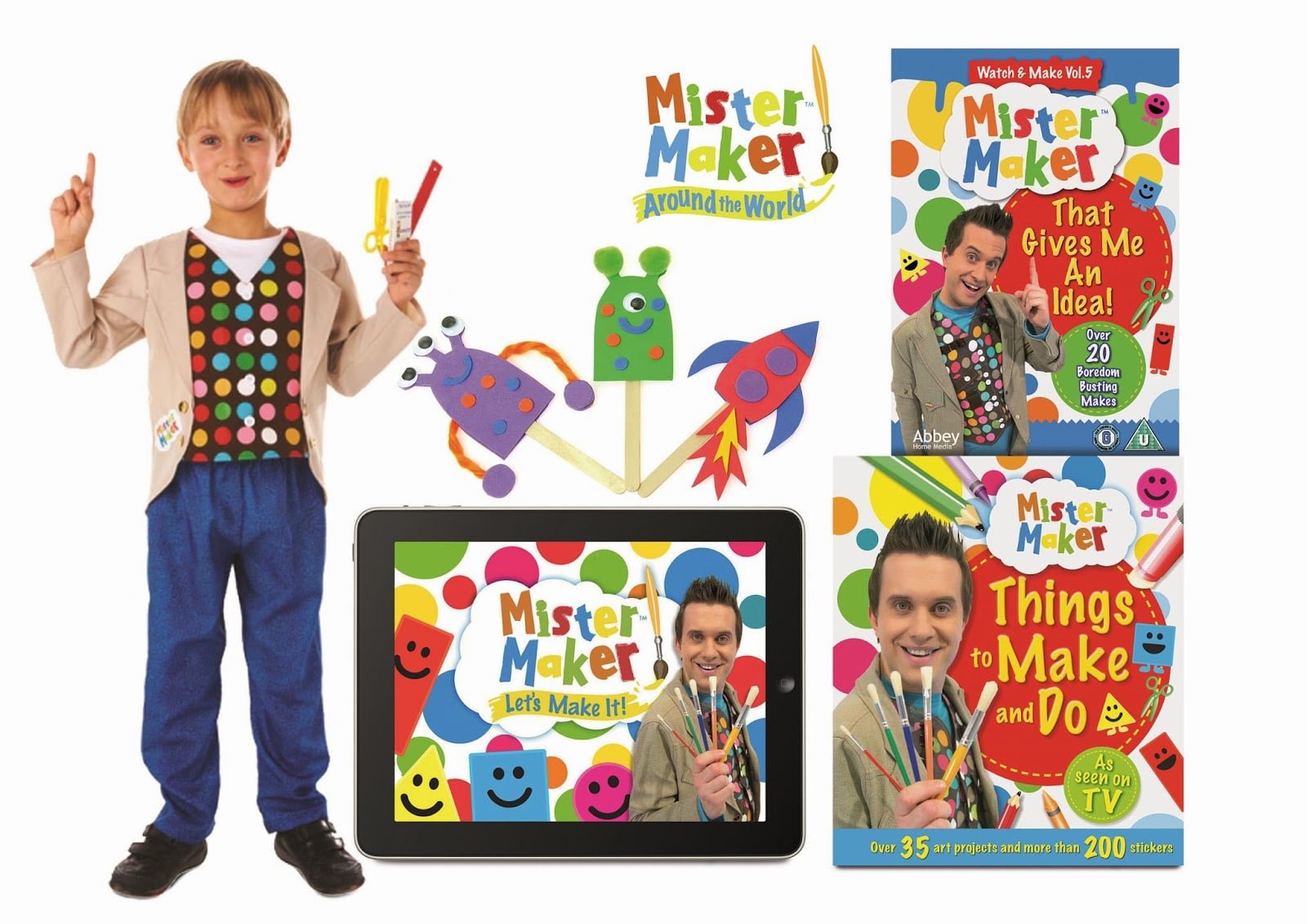 My 3 eldest children all LOVE Mister Maker and my second eldest has adopted his catchphrase for himself. He always has an 'idea' of some sort and is always looking to make or create something. He loves this super Mister Maker outfit and DVD, complete with craft supplies – a great gift idea for a budding young artist!Now I have to admit that occasionally I do curse Mister Maker for his ideas (normally because I don't have in one of the items we need) – however, most of the time it is so lovely to see the children want to recreate what they have seen, or indeed get a new idea, inspired by Mister Maker.Now if you have been watching Mister Maker lately you will know he has been very busy travelling around the world. He has been to Hong Kong and South Africa for starters and when he was in Hong Kong the children made me ring my university friend who lives there to see if she could see him, shouting down the phone "he is at the marina".You can now travel the world with Mister Maker…by using the new APPOwners of the popular Mister Maker, Let's Make It!  app will be delighted with the launch of a brand new add-on pack this winter. Based on the hit CBeebies TV show, young players can now enjoy even more Mister Maker fun with a brand new collection of craft materials and images, based on an 'Around the World' theme.Now available on iOS for only 69p, this 'Around the World' add-on pack to the number one 'Mister Maker – Let's Make It! App', gives Mini Makers a chance to expand their creative talents with a whole host of new art materials and activities starting with themes across the UK and Australia. 
These extra materials include iconic UK imagery such as red buses, black cabs, raindrops and chips! While kangaroos, boomerangs and cork hats will give fans a chance to get creative 'down under'!
Join Mister Maker on his 'Around the World' adventure and enjoy these bonus materials: 100 new patterns, papers, things to glue, funny faces, bits & pieces and stickers in the much-loved 'Doodle Drawers' activity.
Families can also show off their art skills by taking part in 20 brand new 'Minute Make' challenges, choosing and completing tasks from two additional themes, London and Ayres Rock.
Mister Maker, Let's Make It! is a great digital way for kids to play with messy art and craft materials and with the new 'Around the World' add-on pack, young fans can enjoy even more magic of Mister Maker's art studio!  A responsible In-App Purchase facility has been added to enable the purchase of this additional high-quality content to further enhance the original app.  This add-on pack is available for a one-time purchase basis only. There are no subscriptions or reoccurring charges of any kind. This add-on pack is only available to buy with parental consent.
Visitwww.p2games.co.ukand www.facebook.com/p2games for more information.
Now from my Mini Makers to yours, enter below for you chance to WIN a copy of the APP (only available on iOS)
MISTER MAKER APP GiVEAWAY