Does your child have a favourite TV character? Who is it? Peppa? Dora? One of the Teletubbies? Fireman Sam? Or something else? Do they have toys that match these preferences? How educational do you think these toys are?
I wrote recently about encouraging creativity in children and how character toys that already have personalities and names can hinder the imagination. Whilst I feel this is true, I also feel that these toys have their place and can help to develop other skills. Very creative children also use these toys in a completely different way, allowing them to take on new roles and personas, which is always really interesting to watch.
There are many different varieties of educational TV character toys available on the market. Many are designed to teach basic language and/or number skills. Other TV character toys are designed to be used as part of a larger learning system, where children can learn about colours, sounds, textures and develop their problem solving skills.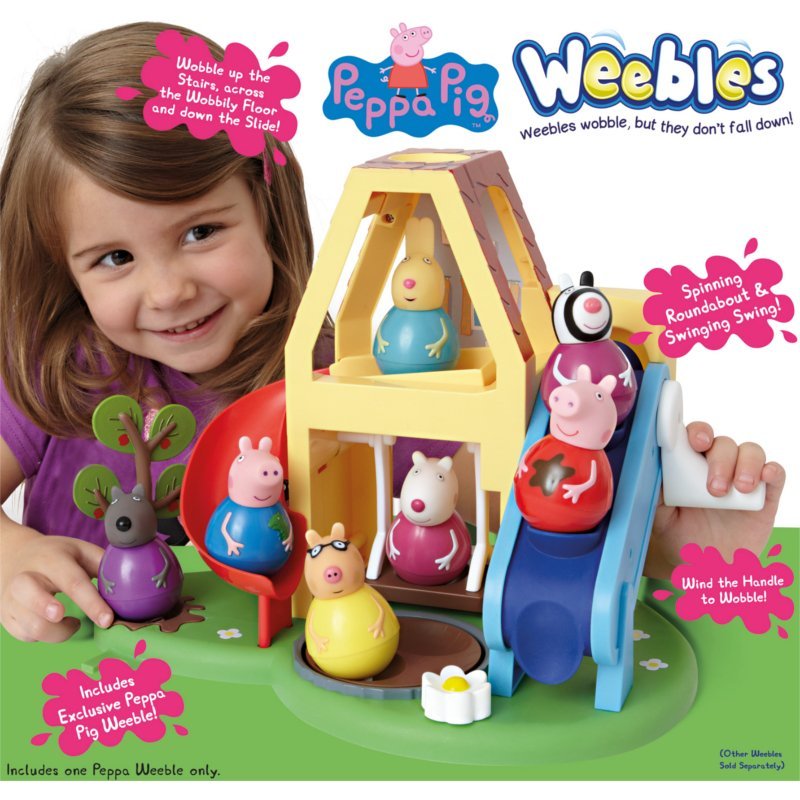 Take this Peppa's Weeble and Wind Playhouse for example, children have to develop their problem solving skills to work out how the characters move around the house. As Weebles never fall down and only wobble, little ones can marvel at how the characters stay upright as they move around the apparatus.
Learning how to differentiate between characters on TV and people in real life is an essential skill that all children must learn. For many children, understanding the difference between reality and fantasy can prove difficult. Most children will find it easier to understand that a beloved TV character isn't real when they can both see that character on the TV and interact with the character using a learning toy. These toys help to reinforce that the character can be put away or turned off at any time. They allow children the enjoyment of interacting with a fantasy character while simultaneously providing grounding in the real world.
Though TV characters are fictional and may not actually have a lot in common with your children, most children do identify to some degree with the characters in their favorite shows. They are open to learning from these characters because they can naturally accept their understanding of the world. Children who seem scared of the learning process will find educational TV character toys particularly non-threatening.
Educational TV character toys are ultimately designed to make learning fun for children. Take a look at how Weebles work in the video below – these toys are lots of fun and as well as a farmyard range, there is also a Peppa Pig range for all Peppa fans.
You can see the full range here . Do your children have many character toys?