If you have been following the blog you will know that we have been on the look out for a large family car .
We have so far reviewed the Mitsubishi Outlander, The Ford Grand Tourneo Connect, the Honda CRV and the Volkswagen Sharan.
I would say that so far the Sharan has scored highest in terms of our needs, but what works for one family might not work for another.
Our next stop was to see what the Citroen Grand C4 Picasso could offer a large family with lots of 'stuff' to transport.
We had some experience of the old model but the new model really is much improved and worth a look. I much prefer this new shape – see below.

The design is very sleek and there are some really great features available, some as standard and some as options. It will depend on your specific needs as a family what you decide to go for and what things you consider as benefits but the design team certainly hand families needs in mind when they designed this car.
The tray tables, complete with reading light are a great feature for older children who might like to read, craft or draw in the car on a long journey. The built in window blinds make life much easier for parents, no more fighting with the blinds you attach yourself, these are specifically made to maximise the amount of sun blockage, keeping sun out of babies and toddlers eyes. This feature is also really beneficial for older children who are affected by the light flickering through the trees. Children with epilepsy or those prone to seizures may especially benefit from this feature.  This also helps children see the screens of tablets or DVD players when using them in the car as well, making for a stress-free journey for all!
One of the things we noticed straight away with this car is how comfy it is. The seats are a really good shape and the headrests are especially supportive. This was noticeable on both long and short journeys and in the front and back seats. Adults can travel comfortably in the back with plenty of legroom.  Heated seats are a nice addition and help you to warm up on a chilly day but we also noticed that the air conditioning system in the car was super efficient, the car warmed up and cooled down fairly instantly, which is another parent-friendly feature given that children expect things to happen straight-away.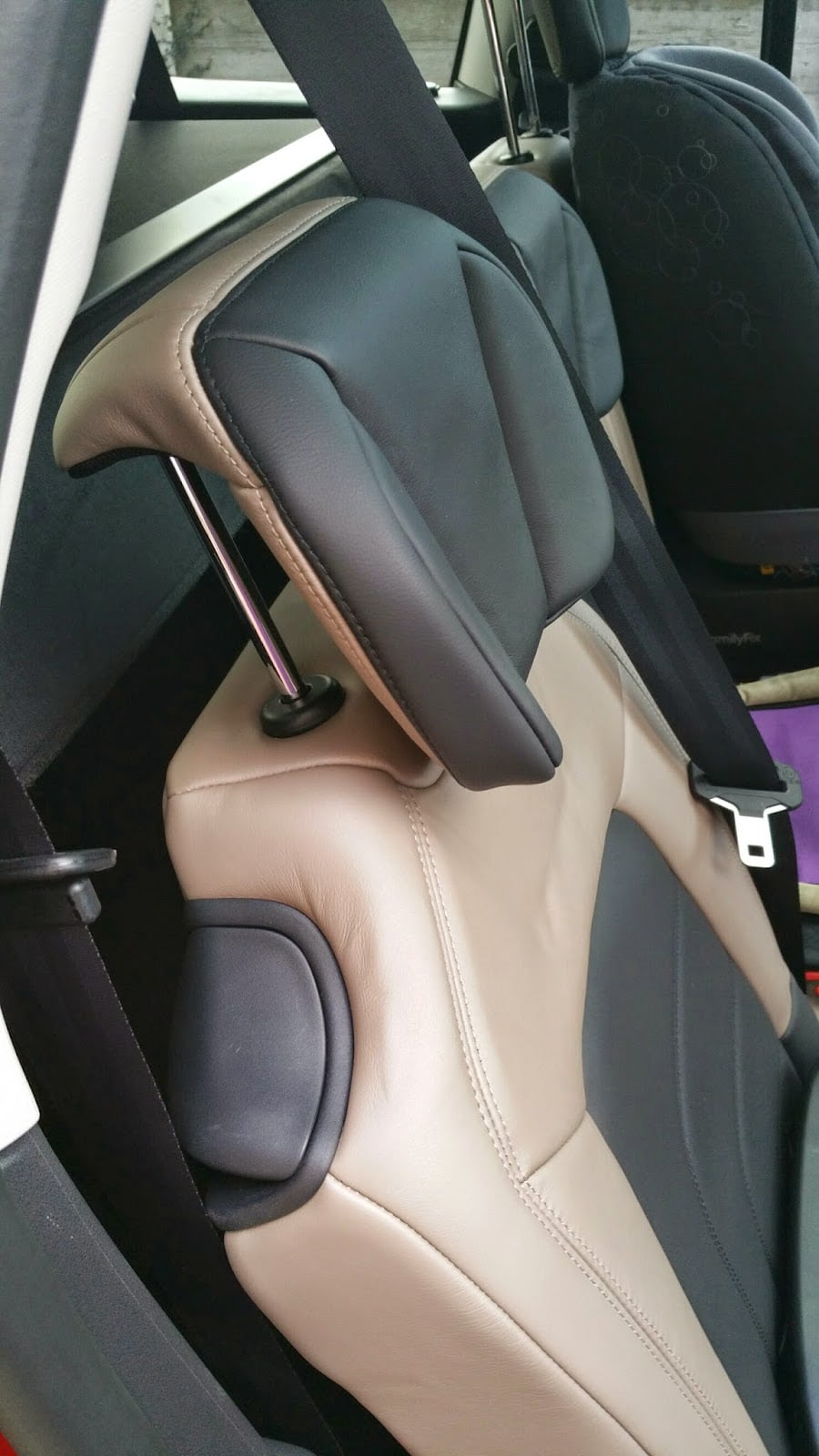 The space in the car is pretty good for day-to-day use. If you were going away you might find you needed to add a roof box if you needed to use 6 or 7 of the seats but if you are a family of five then you will have a huge boot to fill so are unlikely to need the additional space. This is the boot space without using any of the boot seats. You can also fold the middle row of seats, individually or as a two or three, so there are a range of options. If you needed to transport something long (skis, snowboard,surf boards) you could put the middle seat down and use a rear seat. The range of options on this car make it a great choice for families.
Here you can see the car with one rear seat up.There is still a reasonable amount of boot space but in order to create enough legroom for my six year old we moved the middle seat in front forward. This still meant there was enough space and legroom for my eight year old on the seat in front though so this was a good option.

Here you can see the difference that can be made to the amount of legroom in the rear seats. It is quite considerable.

Here you can see the car with the two rear seats up in the boot area. The size of the boot space obviously reduces considerably but it really depends what your day-to-day needs are as to whether this is an issue for you. If you have a large pram or pushchair you will struggle to get it in this boot space. We have a maxi cosi mura and we couldn't fit it in with the seats like this. However, if you have a smaller stroller you will be fine. We could get a mamas & papas armadillo flip in the boot with both boot seats up like this. If you are already beyond the pushchair stage you will be fine! My daughters' guitar fitted in nicely as well.

Our basic Graco booster seat fitted snugly onto the rear seat, see below and the seat belt fed through nicely.

One of the best features that we found was the versatility of the middle row of seats. Three full seats across the back and all with isofix fittings meant that we could really play around with who sat where. As we have two children under two we currently use two isofix bases. In lots of cars the only way to have this would be one on either side and then an older child squashed in the middle. Like the Sharan however, this car has three across the back, meaning that you can have the two babies next to each other if you need to. This makes things like getting in and out at school much easier for older children. Also with the older child sat on the outside you have easy access to getting the other children out of the boot. If you have the isofix bases on the outside seats, the only access out of the car for those in the rear of the car is via the boot.
Below you can see both options. We use a bubble bum, which is a slimline and very comfy inflatable booster.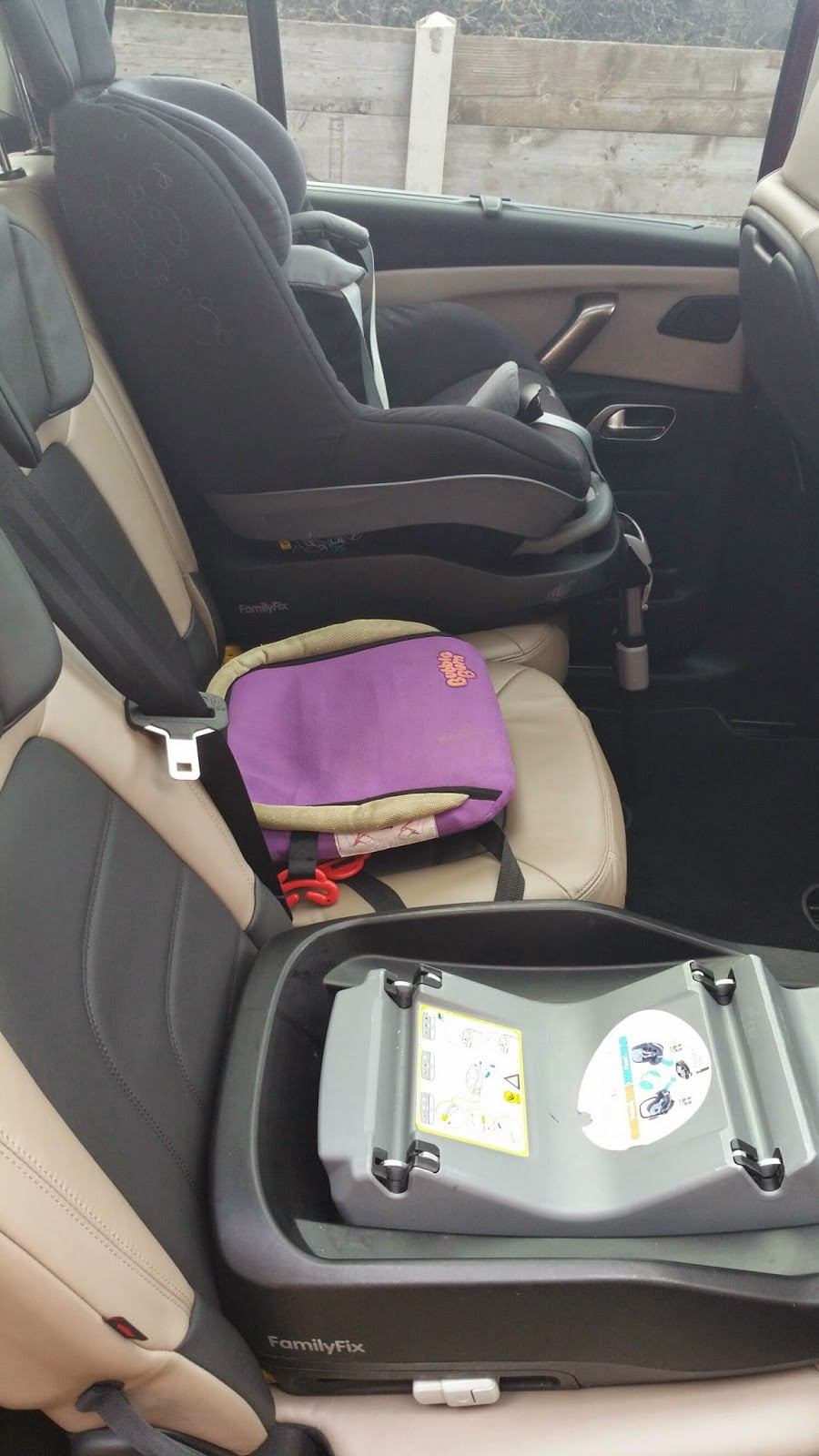 Here you can see how it looks with the two babies side by side. One rear facing and one forward facing currently.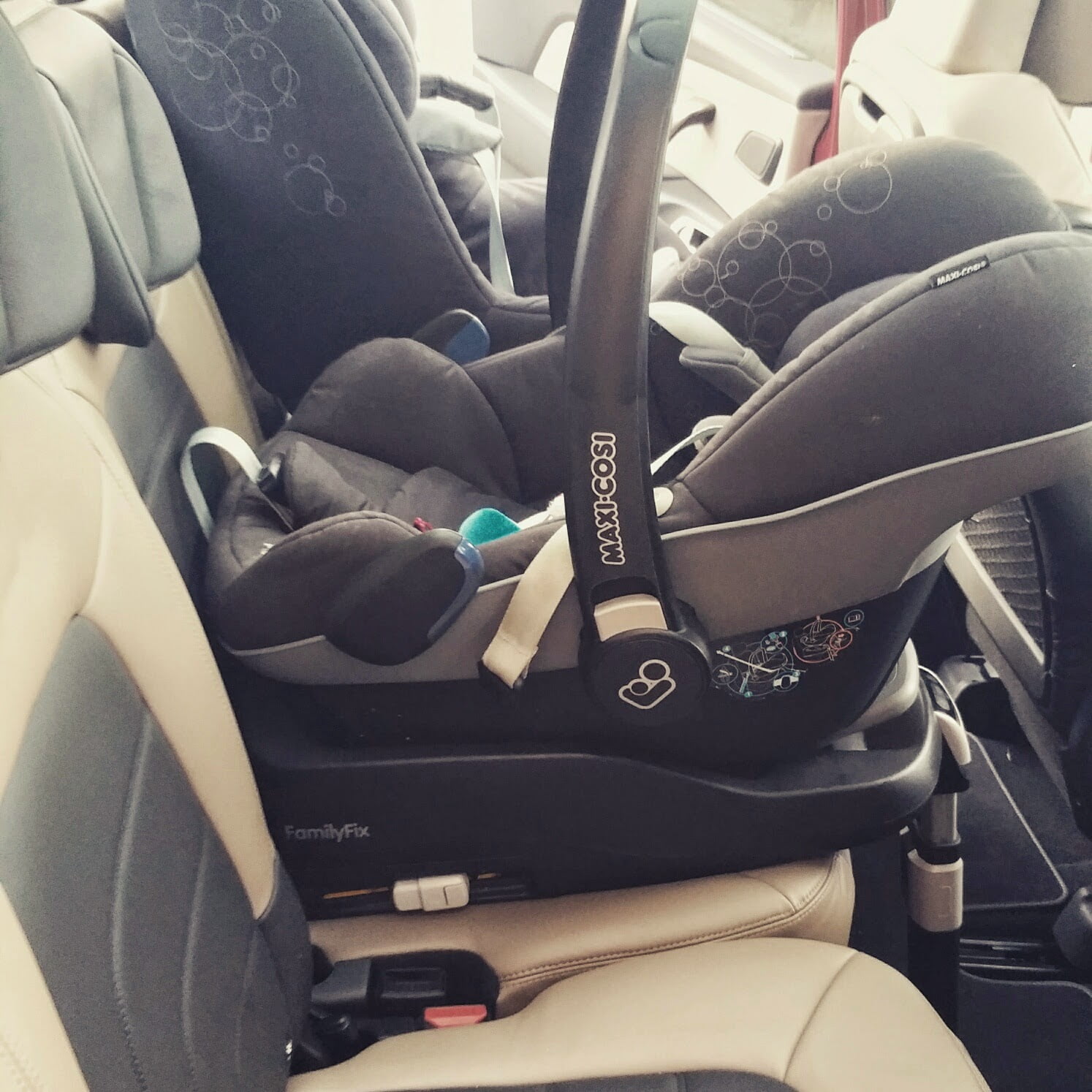 With an older child on the window seat, the boot access is easy. You can see below how you just pull the handle to move the seat forwards and allow the children in the boot to get out without exiting via the boot itself.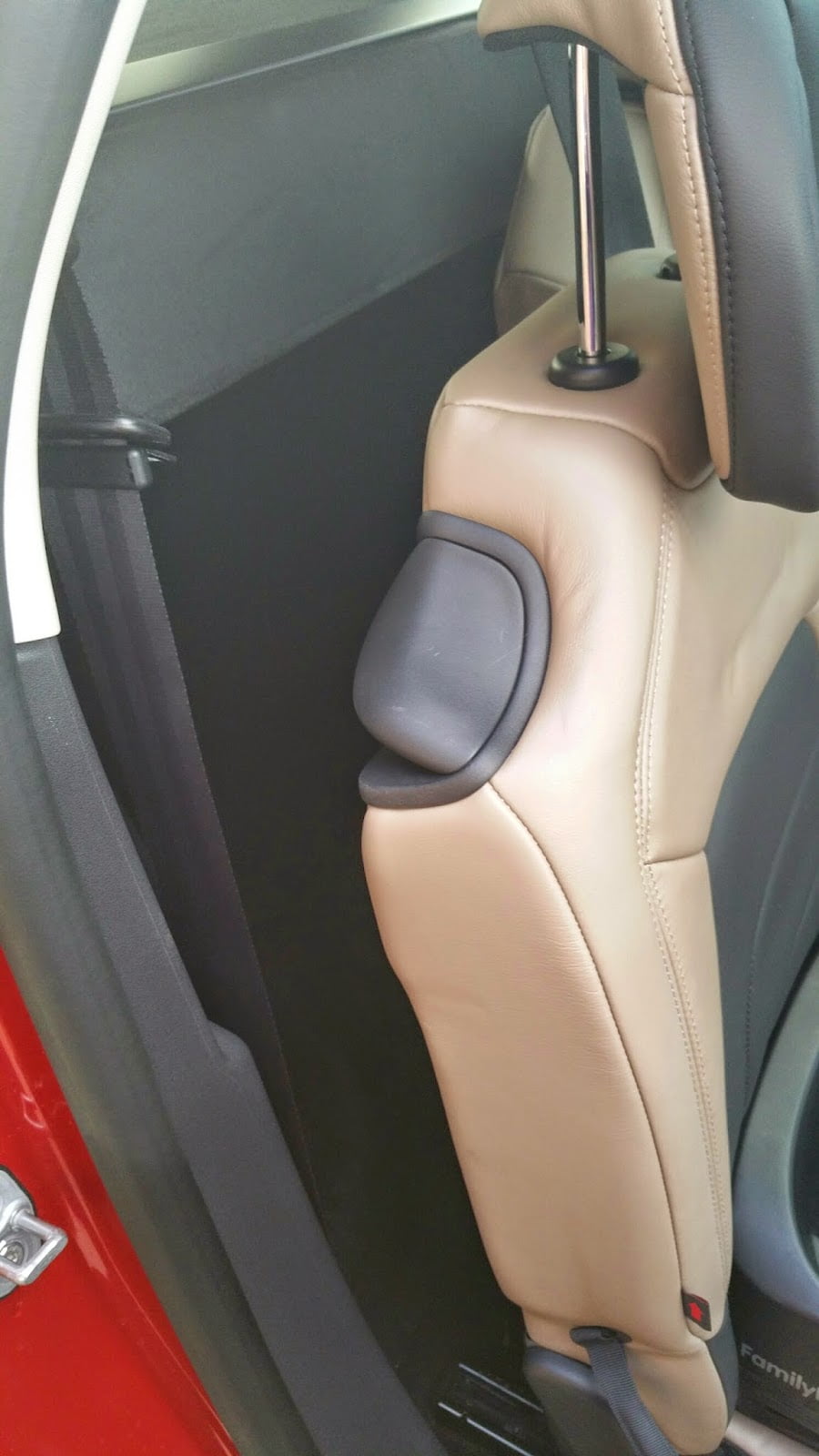 Unlike the Sharan there are no isofix points in the boot seats.
I have included a list of the pros and cons of this car for use by a large family.
Pros:
Family-friendly features such as tray tables with lights and window blinds
Fairly powerful even when fully loaded
Good visibility – like being in the cockpit of a plane!
Good display
3 isofix points across middle row means more options for seat configuration and easier with  children of different ages
Can have two family fix bases side by side so there is still access to the boot seats
Auto boot is a good feature when hands are full
Arm rests in front seats make it comfortable to travel long distances
Lane departure system of tugging at your seat belt is a good safety feature
The facility to move the seats forward and back in the rear of the car means that you can create more legroom or space in the boot
Still plenty of legroom for children on the middle row with the seats all the way forward
Very comfy headrests
Cons:
Cup holders are too small for most drink bottles
Sat nav very difficult to use
Auto wipers too sensitive
No single wipe which is annoying
Not much head room inside the cab
Seems quite badly affected by the wind
Door pockets are too small to be used for much
Little other storage space
Overall this is a really good option for a large family car – any questions please ask!