If you have been keeping up to date with the blog over the last few months you will have seen our reviews of a range of cars suitable for large families. You can see our review of the Honda CRV here and the Skoda Octavia Scout here.
One of the other large family cars we have been trying out is the Volvo XC60 . Volvo pride themselves on their safety record and this car is well up there with safety features.
Here is what Volvo say about the car…
"All roads, all weather, the XC60 is ready. With features like all-wheel drive, hill-descent control and hill-start assist to give you that extra push when you need it.
Your XC60 can sense swerving cyclists and pedestrians and prepares your brakes for a sudden stop. If there's certainly no time to wait, your Volvo can brake for you to avoid impact. Extending your car's safety to the people around you."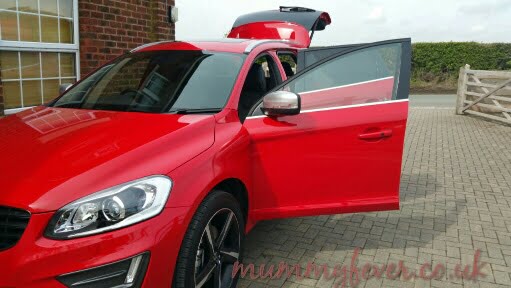 As a teenager I thought Volvos were for old men…having seen the XC60 I don't think that anymore. I was in fact instantly a little bit in love with this car. I love the shape and the general way it looks and all the little features too.
Anyway… enough about how it looks, how does it fair as a family car?
Storage wise there are lots of pockets and places to shove snacks, baby wipes and other family essentials. This central storage is really handy and accessible for both driver and passenger.
If you don't need all three backs seats then the middle one flips down to reveal these handy drinks holders, which are way more secure than any I have seen in the back of a car. These fold out of what is otherwise a large armrest.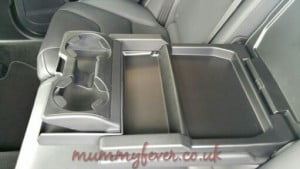 The total genius point in this car for me is in the boot. The boot is huge, but it has this flip up section in the middle of it. It took me a while to figure this out but when I did, I did a little dance on the spot. It is for shopping of course!
Rather than have your shopping all rolling around your very large boot, you secure bottles and cartons behind this large yellow elastic and hang bags on the hooks! Simple, yet mega effective and very useful. You do not have to clamber into the boot to retrieve that bottle of wine or milk carton that has rolled to the back and everything stays in the bags too!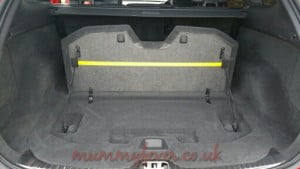 This is what the boot looks like with the shelf down. You will see that there is a huge space for a pushchair, bikes, guitar etc. Or all three even!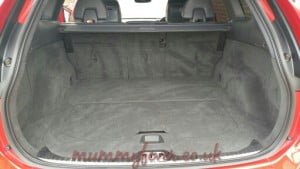 Here it is with a Maxi Cosi Mura in the boot, loads of room still and a great height to lift in and out from.
Now, if your children are out of car seats then this is what the space in the back of the car looks like. Comfortable seating and spacious, even with three in the back.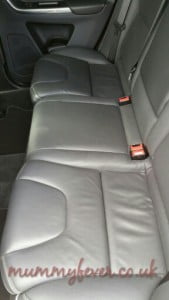 We had two Isofix bases in the back, one with a rear facing and one with a forward facing car seat. You can't put them next to each other in the XC60, so these were on the outside seats, with a BubbleBum booster seat tucked in the middle of them.
The space in the footwell was still reasonable, even with the legs of the Isofix bases extended, so you can still easily pop a change bag or something down there and a trunki just fits in as well.
The place where there is not much room is between the top of the rear-facing car seat and the back of the front seat. This was a bit of a squeeze, even with the front seat fairly well forward.
The cute factor has to go to the air conditioning – I love how you press the body part on the person for the area you want it to focus on!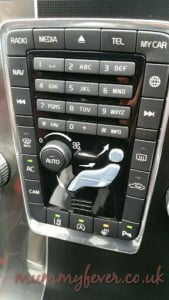 Overall, a nice drive, a safe and good looking car, with some great family features. I have added a list of pros and cons below .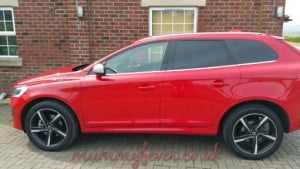 Pros:
Smart, stylish and sporty-looking
Great family features like practical cup holders
Superb for transporting shopping with the special flip up storage and hangers
Massive boot
Large, comfy seats
Superb safety record
Blind spot indicator light on wing mirrors
Lane departure warning system
All-wheel drive
Easy to maneuver
Superb reverse camera, easy to judge
Non key ignition
Great height for lifting children in and out of the car, minimal strain on your back
Good leg room
Cons:
Tight fit for a rear facing car seat
Cannot sit two isofix bases side-by-side
Boot is automatic, whilst this is a pro as well it can be a con in tight spaces
Any questions? Feel free to ask…