Peppa Pig features quite frequently in our home, like many I imagine. We recently took our Peppa Goes Skiing book away with us on our family skiing holiday, we read Peppa at bedtime the other night and this week we have been watching a brand new extended episode of Peppa Around the World.
Now you can join Peppa Pig and friends on an exciting worldwide adventure this spring with the brand new Peppa Pig: Around the World DVD.
Brought to you by Entertainment One (eOne), the DVD features a brand new 15 minute special episode entitled 'Around the World with Peppa'. In the new episode Peppa and her family set off to the park to celebrate the start of the summer holidays but when their car breaks down, Miss Rabbit lends them her plane and they get swept off on an exciting around the world adventure! Miss Rabbit is so cool isn't she?
This is lots of fun but I have to say the best bit about it is that it lasts 15 minutes as Peppa Pig is so short normally.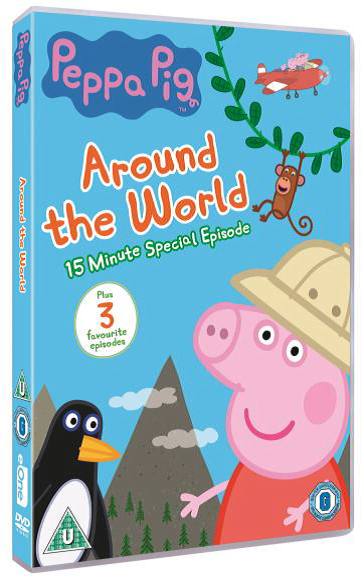 The DVD also includes 3 favourite episodes:
International Day: It's International Day at playgroup so all Peppa's friends dress up in clothes from different countries
At the Beach: Peppa and George visit the beach with their water wings, spotty beach ball and their buckets and spades
Polly's Holiday: When Polly Parrot flies away, George comes up with a very clever plan to get her back.
Peppa Pig: Around the World DVD will be available from 4th April in all major supermarkets and online stores for just £5. Also available with free sticker set while stocks last.
Title: Peppa Pig: Around the World
Running Time: 30 minutes
Classification: U
What's your favourite Peppa Pig episode?