Weaning… have you done it? Are you dreading it? OR do you enjoy moving onto the next stage?
Whatever your feelings it is always good to have some top tips to hand to use yourself or to pass on to others.
Organix have developed their own Little Book of Weaning on their website to help parents get to grips with this important and sometimes challenging milestone.
I have already been through this process with three children and will be weaning my fourth child around March next year – each time I have done things slightly differently, partly learning from previous experiences and partly to fir in with the individual child or whatever else was happening.
If I could describe this stage of development in three words they would be: messy; exciting and wasteful … messy because well you just can't help but get food over you, your baby and most of the kitchen at some point… exciting because your baby has reached a new milestone and is challenging you are their parent to see them through the other side, hopeful with a love for a range of different foods and … wasteful because however hard you try you will end up throwing away more food than you ever imagined OH and the longer you took to prepare it the more likely it is to go in the bin… it is one of the unwritten rules of weaning!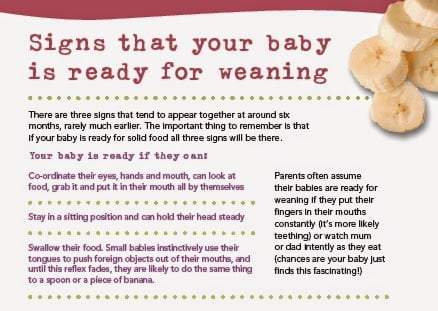 Weaning is the key to developing a healthy and balanced diet
"Playing with your food is crucial" say mums
– Launch of Weaning Survey and 'The Organix Little Book of Weaning' –
Weaning provides the perfect opportunity for developing a healthy and balanced diet for your baby and laying the foundations for a great relationship with food, says survey of Mums across the UK, launched with 'The Organix Little Book of Weaning'.  It be might be messy and challenging, but weaning can also be exciting and full of fun and laughter.
Encouraging babies to experiment with food develops positive relationship with food
Babies who play with their food are likely to grow up with a positive relationship with food.    According to the new Organix World of Weaning Survey:
ž   93% of mums think first year of a baby's life is about fun, playing with food and developing skills.
ž   75% of mums think if children are allowed to play with and experiment with their food they will grow up with positive attitudes towards food – eating more fruit and veg.
Healthy diet with lots of fruit and veg key to changing the tastes of a nation
In fact, amidst the debate and concerns about obesity and the levels of salt, fat and sugar, in food being marketed at children, 68% of mums think that weaning children on healthy food, with lots of fruit and veg and a wide range of tastes and textures, could help tackle the issue of obesity and change the tastes of a nation.
Organix really wanted to hear what mums had to say.  Anna Rosier, Managing Director at Organix, says, "We love making things better for parents and doing our bit in helping mums and dads get the most out of weaning. There is no better time to start on giving your little ones organic fruit and vegetables, foods free from artificial additives and ingredients, and getting their taste buds stimulated.
"We listen to parents and we know what an important milestone – and just how challenging – weaning can be.   We found that lots of parents give up after a handful of goes to introduce some fruit and veg, and we want to encourage parents to keep on going as you'll get there in the end."
To help mums and dads make sense of all the information and give their little one a healthy start in life Organix launches its Little Book of Weaning, available as a free download at www.organix.com/littlebookofweaning 
The messy reality of weaning
But as much as parents want their children to play with food, the messy reality of weaning means it sometimes puts parents off letting their little ones experiment:
ž   94% of mums accept that messy floors, tables and babies are part of the weaning process
ž   79% of mums say they have issues with letting their little ones get messy. 
ž   77% of mums say they sometimes make food choices depending on how messy they are likely to be, and opt for dry food or easier food that requires less cleaning up!
Keep on going – if at first you don't succeed – try, try and try again …
ž   Whilst 94% of mums believe you need to introduce a new food again and again to help your baby become familiar with the look, feel and taste of it, the reality is when it comes to mealtimes, and children are hungry it is easier to give them known favourites. 
ž   A fifth of parents will try a new food five times, and only 13% try more than 15 times.
ž   43% of mums say they find it hard to get their baby to try new foods – yet most are not offering it enough times to see if they truly dislike it or if they are just adjusting to new tastes and textures. 
'The Organix Little Book of Weaning' aims to simplify things so parents and little ones can enjoy their weaning journey, and to encourage mums and dads to help their babies mash, lick, squash, squeeze and play with new foods.
To give more insight into what mums really think about getting ready for weaning, the anxieties they face and their baby's attitude towards food, Organix carried out a survey on the 'World of Weaning'.  The results highlight mums' concerns and helped shape 'The Organix Little Book of Weaning'.
From advice on how to tell when your little one is ready to start weaning, to top tips on making every mealtime fun, The Organix Little Book of Weaning is designed to help at every stage of this exciting time. Plus, you can download the handy weaning guide and print out some of the charts and planners to stick on your fridge!
Frankie Phillips, Nutrition Advisor to Organix, says: "With each new flavour your baby is taking another small step along the path to a lifelong love of good food".   Frankie suggests trying to be relaxed about the stages of weaning – remember you choose what your baby eats, but it's up to them how much they eat.
Try their nutritionist's 10 top tips:
1.        Have fun and play with food: Encourage your baby to experiment – to mash, lick, squash and squeeze, to examine, to play, to try and to taste their food and its flavours.
2.        Sit and eat with your baby and let them share from your plate: Meal times are all about being sociable, sharing good food, talking about it and catching up. 
3.        Don't give up – try, try and try again! It can take up to 14 attempts before a baby learns to like a new food, especially the more challenging ones, so don't worry if your little one grimaces or refuses certain foods at first.
4.        Offer two courses: A savoury food followed by a sweet one is a great way to offer a wide range of tastes and provides variety and interest for your little one.
5.        Let baby enjoy the real taste of vegetables: Don't mask challenging tastes with easier ones, let your baby enjoy the real taste of veggies without the sweetness of fruit, or they may find them difficult to accept later on. For example, don't mix broccoli with apple purée.
6.        Experiment with different tastes: Babies often enjoy bitter or sour tastes such as lemon, kiwi, oranges, peppers and spinach.
7.        Be adventurous with what you serve: It can be too easy to keep serving the same things.
8.        How much to eat: Let your baby decide when they've had enough, rather than encouraging them to clear their plates. You can offer an extra course of a yogurt or fruit-based pudding to get in a greater range of foods and nutrients.
9.        How much milk: Whichever way you decide to wean, either breast milk or formula milk continues alongside solid food as it still provides most of the nutrients your baby needs – as the amount of food your baby eats increases, the amount of milk they take will decrease.
10.     Trust Mother Nature if you're worried about choking: The gag reflex is further forwards in babies' mouths than in adults' mouths. So, if their food slips towards the back of their mouths, they cough it up – they'll do this frequently while learning to manage new textures.
Boosting babies' development
It's not just about developing good eating habits, meal times are all about being sociable, sharing good food, talking about it and catching up – even for babies! 
'The Little Book of Weaning' from Organix covers how weaning boosts your baby's development, from picking up foods to chewing, helping speech and expanding language. Nicola Lathey, a speech and weaning therapist, who has helped with the little book says:  "As babies munch and crunch different tastes, textures and shapes, they are building up facial muscles ready for talking, as well as developing a wide palate."
Overcoming Anxieties About Weaning – Mums Say It is Daunting
Just when you and your baby are in a confident routine with milk feeds, the prospect of beginning weaning can be daunting, say 69% of mums.
Top 10 Weaning Challenges – Say Mums
1.        Frustration when babies reject the food you have prepared (77%)
2.        Not knowing what food you can and can't feed your baby (74%)
3.        It can feel like a race to get your baby started on solid foods (67%)
4.        Just thinking about when to start weaning, before you even make the food or start the       feeding, can be stressful (62%)
5.        Dealing with choking (59%)
6.        Recognising the signs your baby is ready for weaning (57%)
7.        Choosing how much to feed and when (55%)
8.        My child takes so long that sometimes I feel I rush him/her to eat (43%)
9.        Getting your child to try new foods (43%)
10.     Getting your baby to eat a variety of greens and healthy veg (41%)
Online weaning support from Organix:
Weaning is about having an adventure and helping to build your baby's confidence and enjoyment with food.  As well as the Organix Little Book of Weaning at www.organix.com/discover you'll find more advice and creative resources to help your baby enjoy the shape, texture and taste of new foods, as well as activity sheets and videos.  
The Organix recipe team is continually creating delicious new and easy to follow recipes to help parents feed their families a wide range of foods.  You'll find recipes including lots of purées at www.organix.com
Notes to Editors
About Organix: 
Organix wants a world where healthy, nutritious food is a real choice for everyone.  Our mission is to champion the right thing for children's food – by working with parents to demand a better food environment, and supporting them to make good food choices, through honest advice about growing, cooking, and eating great food. 
 We are committed to setting standards in our foods, never adding anything unnecessary, and providing parents with peace of mind through our No Junk Promise. We make weaning and finger foods to help little ones discover new shapes, textures and tastes in the early stages of their development, as well as a range of Goodies toddler foods that help make exploring all kinds of food fun, safe and enjoyable as they grow up.
All Organix foods come with the Organix No Junk Promise – which means no added sugar, salt, or artificial colours or flavours, just honest organic ingredients.  Organix runs No Junk Campaigns to call on the food industry and government to do more in protecting children's food.