Hands up who loves LEGO? Who would love four new packs of LEGO?
Yes, yes, I know, as parents we hate it as well because it gets vacuumed and kills when you step on it BUT, we also love it don't we?
My children love LEGO and even the little ones gravitate towards it, wanting to build various things, and leaving me constantly checking there isn't any being chewed!
We have a fantastic competition for you, the winner will be able to really surprise their LEGO fan. One winner will receive all four of the sets below!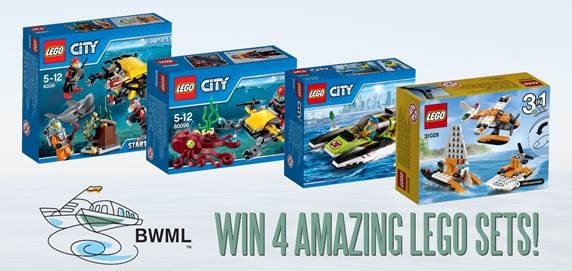 This prize is supplied by BWML, who deal in nationwide narrowboat moorings.
The prize includes four different LEGO sets:
LEGO City Deep Sea Explorers
LEGO City Deep Sea Scuba Scooter
LEGO City Race Boat
LEGO 3 in 1 Sea Plane
UK entrants only please. Just enter the easy widget below.
Good Luck!