I've always wanted to take the children to Lapland. It's up there with things like Disneyland and skiing in Canada on the bucket list. I still hope that we will get there one day, as some of the itineraries I have seen look amazing.
There is no doubt though that a trip to Lapland is a huge expense and is certainly one of those once in a lifetime sort of trips.
What if you could visit Lapland for a fraction of the cost? Would you fancy it? I can't promise you an ice hotel, a sleigh ride pulled by huskies or exploring on skidoo, but I can promise a magical day out and a few huskies to stroke.
Interested? Read on…
Have you heard of LaplandUK?
LaplandUK began in 2006, when husband and wife team Mike and Alison Battle developed the original and innovative idea of recreating Father Christmas' mythical Arctic homeland here in the UK.
The company was born out of their personal frustration at the lack of quality magical Christmas experiences on offer to their own four children in the UK when first venturing into the world of Father Christmas visits with their young sons.
Now in its ninth year, award winning LaplandUK has entranced and captivated thousands of young children receiving national and international acclaim together with royal and celebrity patronage for its unique Christmas experience. Described by Mumsnet founder Carrie Longton as 'the Rolls Royce of Christmas experiences', LaplandUK is regularly featured on national TV and in the press and is widely regarded as the company putting the magic back into Christmas.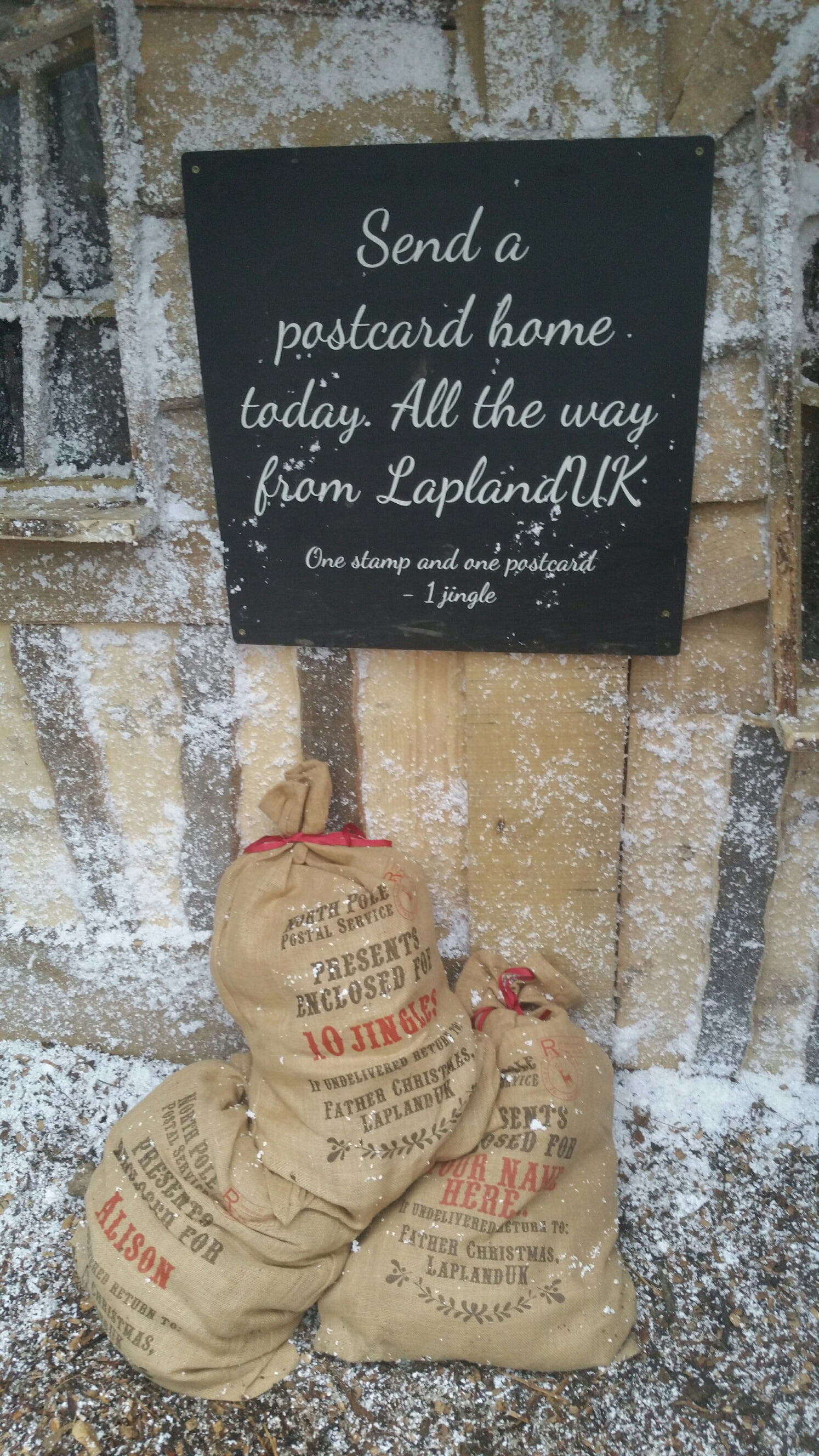 What to expect:
Expect your tickets to arrive in the post along with a special note to each child and a separate note for you to give to your child on Christmas Eve
Pop everyone in wellies or boots and if little ones have all-in-one suits they are a great option as you are likely to get a bit muddy
Plan your journey well, especially if you have a reasonable distance to go, as you will have been allocated a set time slot and you must arrive 30 mins before that time slot which is perfect for parking, wrestling everyone into coats and hats and going to check in
You can change money into elf jingles if you wish to and spend these throughout your visit, although cards are also accepted without a charge
If you need refreshing after a long journey then you should have time for a drink from the check in area before you enter The Enchanted Forest
If at any time you need to use the toilets, just ask one of the friendly elves and they will direct you to your nearest one
You tour LaplandUK with the others in your group and you will be given a sticker to tell you which group you are in
Each child receives an elf passport which will be stamped by an elf at various points along your tour
Adults are referred to as big folk and children as little folk
You can take pushchairs but I wouldn't take one unless you feel it is absolutely necessary as in some of the areas the space is rather tight
Expect your time at LaplandUK to last around four hours
Expect to travel through the Enchanted Forest visiting a number of different places including: a woodland; The Toy Factory; Mother Christmas' Kitchen; The Elf Village (including the ice rink); and finally to see Father Christmas
In order to get the best seats you need to make sure you are at the front of your group – it seemed that many people who had been before knew this and we're pushing to get to the front – as first timers we weren't clued up, but equally pushing to the front isn't really our style anyway
The group sizes are large and it can feel quite crowded
After 'The Kitchen', you make you way to the Elf Village where you can be at your leisure until it's time to see Father Christmas – there you will find an ice rink for all the family to enjoy plus drink and food outlets and a few special guests
At your allotted time you make to way though The Enchanted Forest again to check in to see Father Christmas
Your children's names will be called when Father Christmas is ready for you, and you follow your own elf through The Enchanted Forest to see Father Christmas
After a good chat and a photo with the big guy himself he gives each child a gift
You are not allowed to take photos whilst with Father Christmas but you can film
Each child receives a gorgeous gift and after that it's back to look at your photos – there are various packages to choose from but a single image is £15

What they have got spot on:
The personal invitation is a lovely touch and helps with the magic
You can update personal information about each child online before your visit, this is checked and you have the opportunity to make changes before you see Father Christmas, this makes the visit incredibly personal and adds to the magic
Lots of staff who are all in character and very helpful and attentive
Well organised slick operation
Perfect setting, very magical
The scenery, costumes and props are all superb
Very authentic, the attention to detail is just incredible, everything is taken care of, there are even small doors and big doors
Lots to get involved in such as toy making and gingerbread decorating
Nice mixture of indoor and outdoor activities
Very inclusive ice skating experience with no lower age limit – if your child can walk and is wearing shoes then they have blades that strap over their shoes. These have two blades to help with stability. Older children and adults get normal skates and penguins are available to help children skate
Good quality food and drink
Good quality gifts and other items
Nice addition to have huskies to see
Father Christmas is excellent and I think that children will be convinced they have now finally met the real Father Christmas
The gifts from Father Christmas are not like the plastic rubbish you will be used to at other visits to see the big guy – each child is given a beautiful husky dog in the form of a soft toy

One of the greatest moments in life is realising that two weeks ago your little body couldn't do what it just did
What they need to work on:
Too many people in a group.
OK if you are on the first and second row but any further back the magic is a bit diluted (particularly in the woodland where the tour begins)
Expensive food and drinks, gifts and sweets
Sometimes it felt a little rushed, especially The Toy Workshop and the Kitchen. In contrast the Woodland felt too long and little ones were quite restless so some tinkering with the timings could prove beneficial
The cost of the experience itself (tickets cost £45.00 – £89.50 (premium tickets) per person depending on the date and time of your visit + booking fee) although if you add up how much you've spent on rubbish trips to Santa over the years it is good value in comparison and much more than just visiting Father Christmas
The ice was very wet so little ones really need to be in waterproof outfits for that – we were prepared so we had a great time
Overall LaplandUK is a truly magical day out and a wonderful way to celebrate the festive season with family. We give this incredible place a Mummy Fever rating of 4.5 out 5!
If you need to stay overnight the Macdonald Windsor Hotel is not far away (15 minutes drive) and in a lovely location.