With Half Term here next week and the Easter school holidays fast approaching too, having a few quick, cheap and easy ideas of things to occupy the children at home can be really useful.
As nice as days out in the holidays are, these are costly and you can't be doing this all the time. Sometimes it's also just nice not to have to race off anywhere for a change and spend some time at home.
So here are a few of our favourite creative play ideas, the things we do most frequently and the things that my children enjoy the most.
Stone decorating
If you are near a beach, a quarry or any other pebbled area, pop out and collect a bag full of pebbles. You can get a pack of stone decorating pens on Amazon for around £10.99, depending on the brand you go for.
We really like these DIGIELE ARTS pens. They've lasted ages and taken a real battering. Even when the children have left the lids off for a while they seem to come back to life, so these are a really good buy in my opinion.
Stone decorating appeals to children of all ages. Our children range from 5 to 13 and they all love to take a bit of time to sit and do this. If you are having a play date this is a great activity to set up – you might even get to enjoy a hot drink!
Gingerbread decorating
This is very simple and also very cheap. You can buy 60, yes 60 gingerbread men from Tesco for £3 – add in a pack of icing pens, available in Home Bargains for 99p and a bag of Smarties, chocolate chips or sprinkles and you've got a fun an tasty holiday activity!
Double win with this as it prevents the continuous request for a snack parents are oh so familiar with, especially during the school holidays!
Paper plate decorating
Paper plates are often something we have lying around. You might have odd ones left over from a birthday party for example? Round up all your left over crafting bits and bobs or get a few paints out and let the kids go wild.
Top tip – Paper plates are great for making masks!
Home made play dough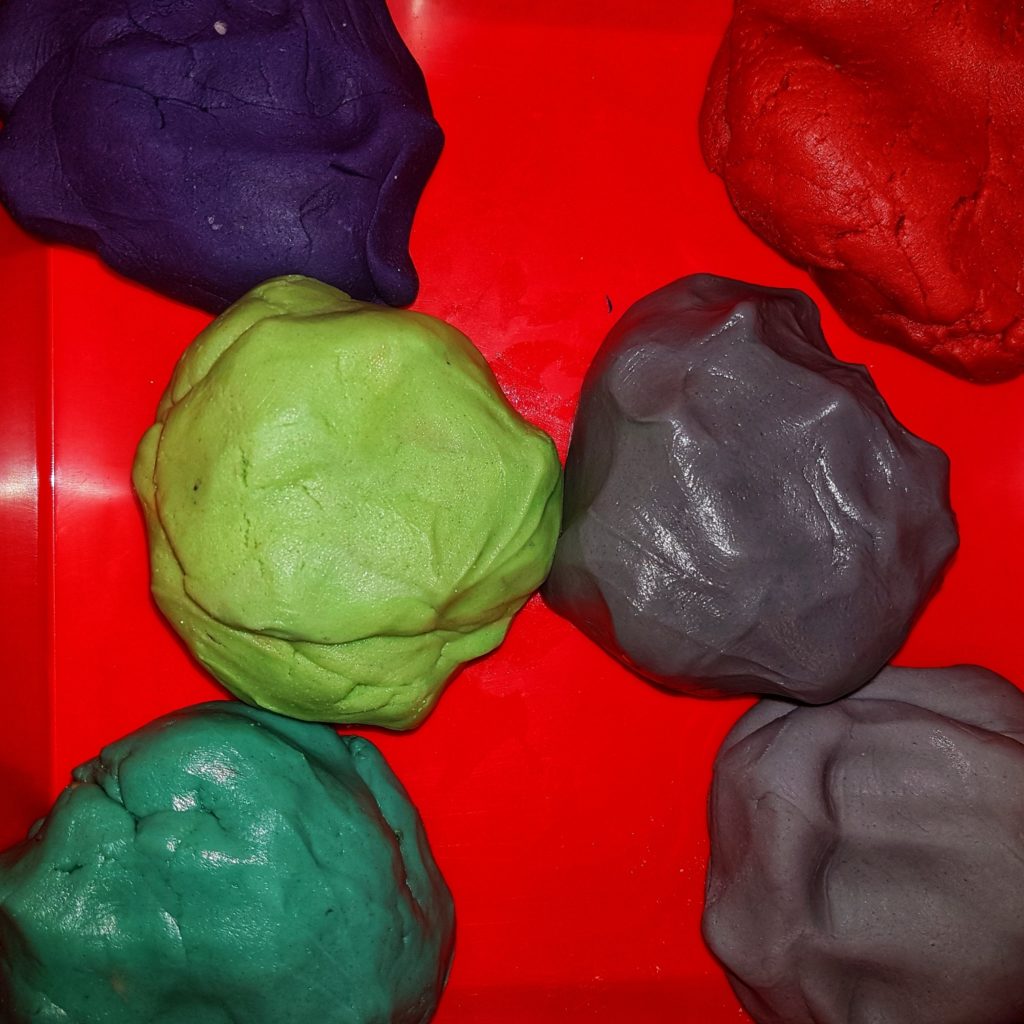 Something we love to do is make play dough. I find this is two activities rolled into one. There is the making the actual play dough part in the kitchen, and then the playing with it bit still to enjoy afterwards. We keep ours in the fridge in a plastic tub afterwards.
There are tons of recipes for play dough. We use a non-cook recipe:
1 cup of cold water
1 cup of salt
2 teaspoons of vegetable oil
3 cups of flour
2 tablespoons of cornflour
food colouring (optional)
glitter or food glitter (optional)
essential oils (optional)
Gather together all your ingredients. Put the dry ingredients in a bowl and then slowly add water. Mix until it forms a nice dough.
It should now be nice and easy to pick up and mould – add more flour if it is too sticky and more water if it is too dry. Some children don't like it sticking to their fingers and others love it, so play it by ear.
Knead it well with your hands – you can add a drop of food colouring and/or glitter at this stage. Knead further to blend in.
Flag stone chalking
Flag stone chalking is another really cheap activity you can do with the children. You can't do this one in the rain and it works better if the flag stones are dry.
The chunky chalks are the best for this. ASDA sell tubs of them for £1.20, or you can get larger tubs with more colours from Amazon for around £5.99.
Give these a try and let me know which was your (your children's) favourite. It's OK – you are allowed to have fun too. I love making play dough!