Back at the start of July, you might remember me telling you about a new health start up called The Restored, passionate about the four foundations of health: Sleep; Nutrition; Movement; and Mindset.
My result with The Restored
After taking their health quiz, my results showed that the foundation of health I needed to focus on was my sleep. This was no surprise to me at all.

As a child I was a poor sleeper, not sleeping through the night until the age of three. Although that improved, I have always been a light sleeper, woken by the tiniest sound.
In the last 13 years as a parent my sleep has been the worst it has ever been. Like so many parents, sleep is negatively impacted by having having children. My issue has been that when I have slept, even the sleep I've had has been poor quality. It is hard to switch off, relax and then when I do sleep I dream so much that I wake up exhausted. I never feel refreshed after sleep.
The Restored have recently launched a range of innovative health products – including supplements, equipment and supporting content, so I've been interested to see how this could help me.
Getting sleep back on track
I've always been dismissive when anyone has talked to me about getting more sleep before. I don't have time to sleep more – what I want is better quality sleep when I do.
In order to try and achieve this I have been trying out The Restored supplement designed to improve sleep quality. Advanced Night-Time Nutrients taken alongside a free online sleep course – has been designed to support and improve the quality of your sleep. The supplements contain the 9 essential nutrients needed for sleep that so many of us are deficient in, including: 5HTP, Tryptophan and Magnesium. These supplements are also 100% Natural, Vegan, Gluten-Free, and GMO-Free.
Based on a survey of 127 customers who took this supplements:
● 97% slept better
● 82% woke up less
● 76% fell asleep faster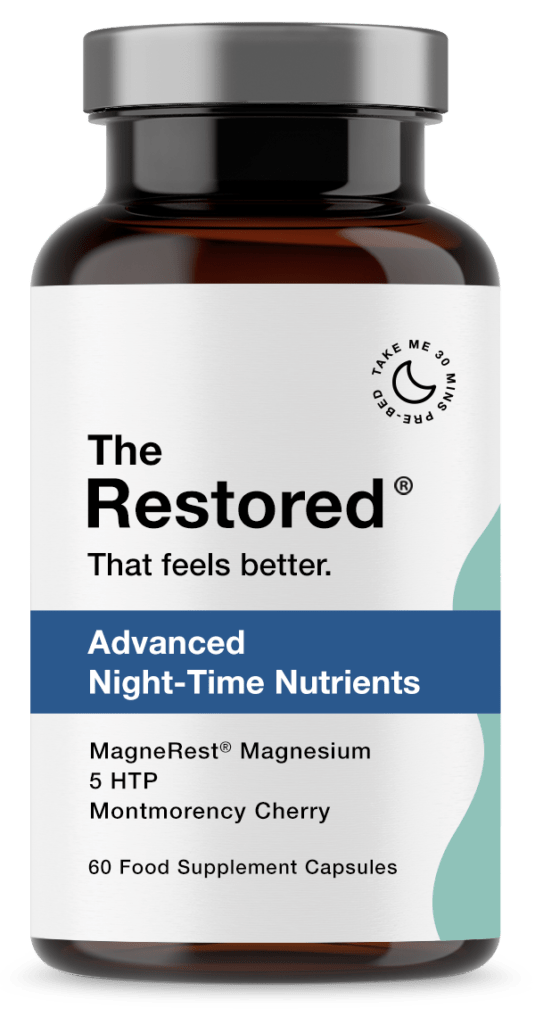 In the last 2 weeks I have taken one of these supplements every night except two (when I forgot). From the first night I took one my sleep quality was better. I would say that every night I have taken the supplement I have fallen asleep faster, not woken up during the night (unless by one of the children) AND, most importantly for me, I have slept better. The following morning I have found it easy to get up and I've 'felt awake' much more quickly. I've not been aware of the vivid dreams and I've felt rested and like I've had a good sleep.
The two nights I forgot to take the supplement I slept as I had done previously – badly!
I'm quite a sceptic when it comes to these things but I'm so impressed by the level of research that has gone into making these supplements, and, more importantly, I've now seen the results for myself.
The verdict
In my experience, The Restored's supplements alongside practical guidance and advice, can help you get back to feeling better.
The benefits are noticeable and over time, I feel they could make a significant difference. It's been a very small change for a huge win from my point of view. Focusing on the 20% of effort that will govern 80% of your results is really important when it comes to improving health and implementing lifestyle habits.
The range
If sleep isn't the primary foundation of health which needs attention in your life, The Restored have other products and advice to help you. You could try their daily multivitamin or their omega 3 supplement.
The other product I'm most keen to hear more about is their probiotic, which hasn't been released yet. I'm very interested in the health benefits of probiotics and their contribution to improving gut health, which in turn can have an impact on overall health.
There are also food and drink products and equipment coming soon. In the meantime, I'm thrilled with the results I'm getting from taking these supplements.
How well to you sleep? Could it be better? With the Advanced Night-Time Nutrients, you are guaranteed better sleep in 7 days, or your get your money back – I now know why they can give such a guarantee!
This is a collaborative post.