The latest national lockdown measures have impacted thousands of local and small retailers across the UK at this critical time of year, with tons of shoppers turning to online giants, such as Amazon, to deliver all their festive requirements.
Save money whilst supporting local
My VIP Card is offering the nation a way to order online, support local and small businesses and save money this year with a network of over 1,000 online small and local shops. Here's how!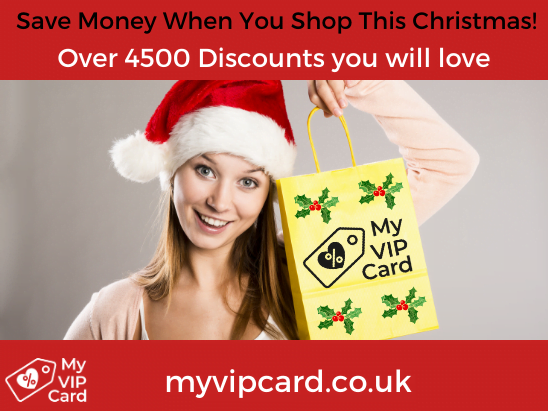 This discount scheme is urging shoppers to support local and small shops through the lockdown and this Christmas by providing a huge array of online discounts throughout the UK.
Local shops need the Christmas shopping season to be fruitful this year more than ever and My VIP Card is hoping the discount card will encourage shoppers to think locally first. The national discount card gives local shoppers access to thousands of discounts, helping them save on average £500 a year while supporting their local high street.
Maddy Alexander-Grout, Founder of My VIP Card, said "I created My VIP Card to help the local high street also give back to the community and this Christmas they need us more than ever. My VIP Card supports small businesses by raising awareness and actively encouraging shoppers to benefit from local discounts. By bringing them all together on our platform we are allowing them to compete with the online giants and hopefully encourage many shoppers to shop small during the lockdown and benefit from some amazing discounts."
Getting Started
If you think that My VIP Card is something that could help you and small businesses, get started by downloading the My VIP app.
You can purchase a digital card for £25.00 per year OR you can purchase a card with a monthly subscription for £3.00 per month. You will get access to the app and all the rewards.
Once you have activated your card you will be able to look through the alphabetical list. You can browse by category, for example "Gifts and Keepsakes" and then look through all the wonderful business listed.
If you then click on a business you want to know more about, so, say for example TCL Melts (a wax melts small business) you will be able to find more information and see the discount available – so, for this business, My VIP customers get 10% off all purchases. 10% discount seems to be the standard discount across most of the business listed with My VIP card, with some offering 15%.
There are currently over 4,500 discounts available for customers. For more information, visit www.myvipcard.co.uk