If you are getting yourself ready to move house, undoubtedly there's plenty of things that are going through your mind – but when we make preparations for a big move, we tend to think only about the practicalities. What about the settling-in process? 
When you make a move to a new neighbourhood, you are leaving a lot of things open to chance. You're hoping that the neighbours will be nice and that the little things won't frustrate you in the long run. Lots of traffic nearby, railways, or even noisy kids can all, over time, increase our frustrations with a place. For the sake of the family unit, adjusting to a new neighbourhood involves a few key components, including the following:
Proper Preparation
You may have signed on the dotted line, and everything is progressing nicely, but while you may be busy packing up everything, you've got to ensure that you are ready for the new location. This is why you need to give yourself time when you make the first trip to your new place to just go and explore.
Lots of people think they should unpack right away for the sake of making the place feel a bit more homely, but there's a case to be argued for just finding the cheapest self storage units around your local area and putting everything in there for a few weeks just so you can get to grips with the home and the neighbourhood.
We need to understand the basics, and this can involve taking the kids around the neighbourhood, finding local parks, eating in local restaurants or pubs, and just introducing yourself to the neighbours. These are all little things that can make us feel more at home far quicker than unpacking a few boxes.
Having the Right Mindset
Moving to a new neighbourhood can often feel intimidating. There is that temptation that we need to fit in rather than be ourselves. Part of the problem with moving houses is that it's a pressure cooker of emotions. Having the right mindset is about some of the following: 
Being patient, for everything will not fall into place right away. Navigating change is about remembering that while there are a number of positives afoot, it will all take some time to embed. This is particularly true if you've got children who are struggling with all of the changes.
Being optimistic. There is a lot of potential in a new community, and even if you move somewhere with miserable neighbours or there is a sense of selfishness, that doesn't mean you need to fall into that mindset. You do you, and have a positive attitude. Ultimately, this is more infectious than a dour approach, and the people you're trying to gee up are your family, not your neighbours.
Being curious. There are plenty of unique features in any location. No matter how far away you're moving, finding those new and exciting things, no matter how quirky they are, can keep a sense of enthusiasm during the initial settling-in phase.
Ensuring the Kids Settle In
In any new environment, we have to expect that our kids are going to feel tentative or even scared. Helping our children adjust is partly to do with open communication and maintaining routines to give them a sense of stability and support during this phase, but in terms of the neighbourhood itself, we should be encouraging and exploring:
Familiarising your children with the area will reduce anxiety, and finding the nearest park might be priority number one for kids of a certain age. When you go to the nearest park, you, as a parent, can easily strike up conversations with other parents, especially as the kids will be around the same age, or if not, regular visits to that park will mean that your children slowly develop their confidence with the other regulars or find other kids to play with. You can then strike up a conversation with another parent, and this means you can slowly get the lowdown on the location.
Additionally, you can start to organise playdates with neighbours or enrol them in local activities where they can meet others of a similar age group. For example, if your children are sporty, finding local gymnastics or rugby groups can help your children feel more at home. It also helps them to focus on something that they know they're good at or have a passion for.
What we have to remember is that our kids are undergoing a wide range of emotions during this time. We can easily be enthusiastic or be too supportive to the point that we are faking it. It's about letting your children slowly come to terms with the new parts of their lives, but also reminding them that it's okay to miss their old home or their old lives. Expressing how they feel is important at this point and at any point in time, and ensuring that you work through these things together will provide a far more solid foundation for the family.
Learning to Love Thy Neighbour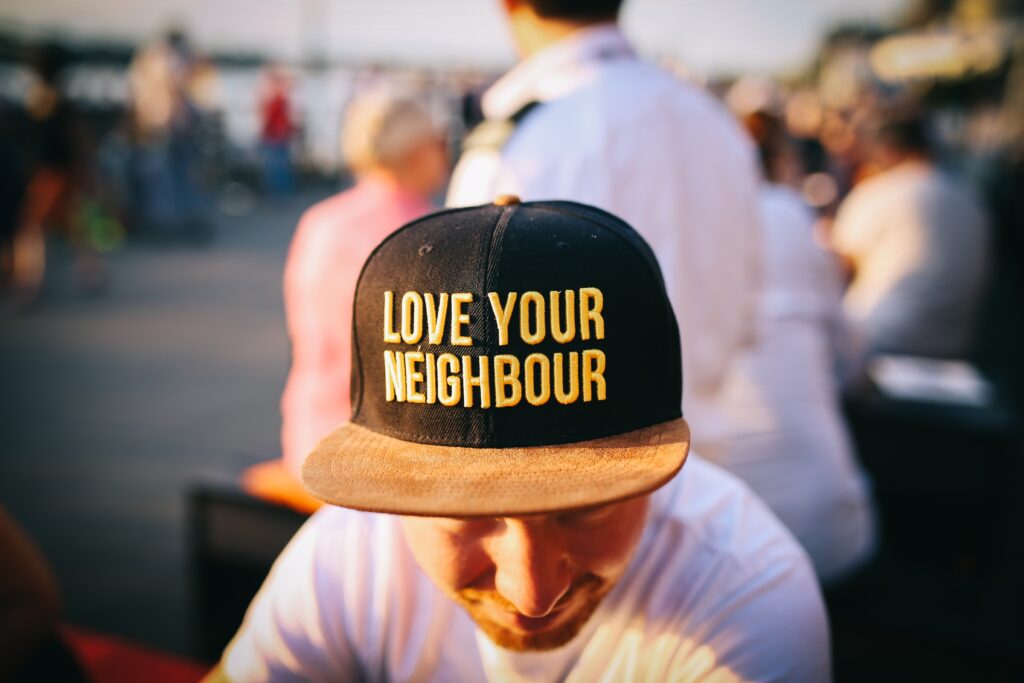 Settling into a new neighbourhood is also about settling into a new community. Being the newcomers with a big moving van means that potentially a lot of people have popped their heads out of the front door to see who it is. We can't help it when we're in quiet neighbourhoods; we can be naturally nosy. And if you feel like you want to get off on the right foot, there are plenty of simple things that you can do:
Knocking on the neighbour's door and introducing yourself is a very simple thing, but saying "hi" will immediately help you understand what type of people your neighbours are. These days we can be very insular and not bother approaching neighbours; however, just saying hello will do a lot here. You might even accidentally meet your neighbour by taking in a parcel for them. Those little things that show yourself as a neighbourly person can go a long way.
Putting the neighbour's rubbish out is another little thing that can show yourself as someone who makes the effort. Of course, the main thing to remember here is that we should always make the effort. Lots of people move to a new place and feel like they want to make a good first impression. But soon this falls by the wayside. If you want to get that sense of community but it's severely lacking where you are, it's important for you to make the effort.
Taking a bottle of wine around to the neighbours when you move in is another thing, and while wonderful neighbours may have already given you a bottle of wine, but you can very easily return the favour.
Giving It Time
There is a lot to deal with, and in this day and age, sometimes saying "hi" to the neighbours can take weeks, if not months! What's important to remember is that when we move to a new community, we focus on getting the most out of the place for us.
We can certainly foster a sense of community spirit by setting an example, but a few months after living anywhere, you soon get to grips with the people who are completely worth your time and who are not. What you will tend to find is that those people who are considered anti-social or unfriendly are few and far between. For the sake of you, your family, and your future in this new place, learning how to settle in is not something that will happen overnight. We've all got to get to grips with certain things, but it's going to all come together quite nicely.