Do you have items in your wardrobe that are looking a little tired? That cold shoulder top perhaps? Maybe you have fabrics that are bobbling for example? Maybe your favourite top has a couple of pulled threads in need of attention? Or maybe you've just re-stocked on a few things and want to make sure they last as long as possible?
One of the most common problems with certain fabrics is pilling. So what is pilling? A pill, also known as a bobble, fuzzball, or lint ball is a small ball of fibres that forms on clothing. Pilling is a surface defect of the textile caused by wearing and washing – generally these balls make clothes look old and tatty.
Here I'm sharing 5 tips for garment care that can help to revive or protect your clothes.
Use a lint roller
Get yourself a lint roller. These are must have items in the home. I first became aware of these when I was a teenager and my grandmother had purchased one for herself and one for my mum from her Betterware catalogue (do those catalogues still exist?). Anyway, I remember being super impressed at how must better a few of my tops looked after using one of these.
These are super cheap too. You can get multi packs on Amazon, or you can pick them up from all the bargain shops for around £1. The supermarkets also sell them, as do many high street clothing stores.
They are easy to use, just peel away the paper and roll up and down the fabric.
Use Duct Tape
If you don't have a lint roller to hand your could raid your garage or cupboard for Duct Tape. This basically has a similar effect as the lint roller. It is more time consuming as you can't cut lengths, stick and strip off as quickly as the roller.
This should be avoided on very delicate fabrics as some Duct Tape can be quite harsh. Having said that, if you've got some stubborn bobbles that won't lift off using the roller, the Duct Tape should be more effective. Once you get into a rhythm with this you can probably cover a bigger area more quickly.
Use a fabric shaver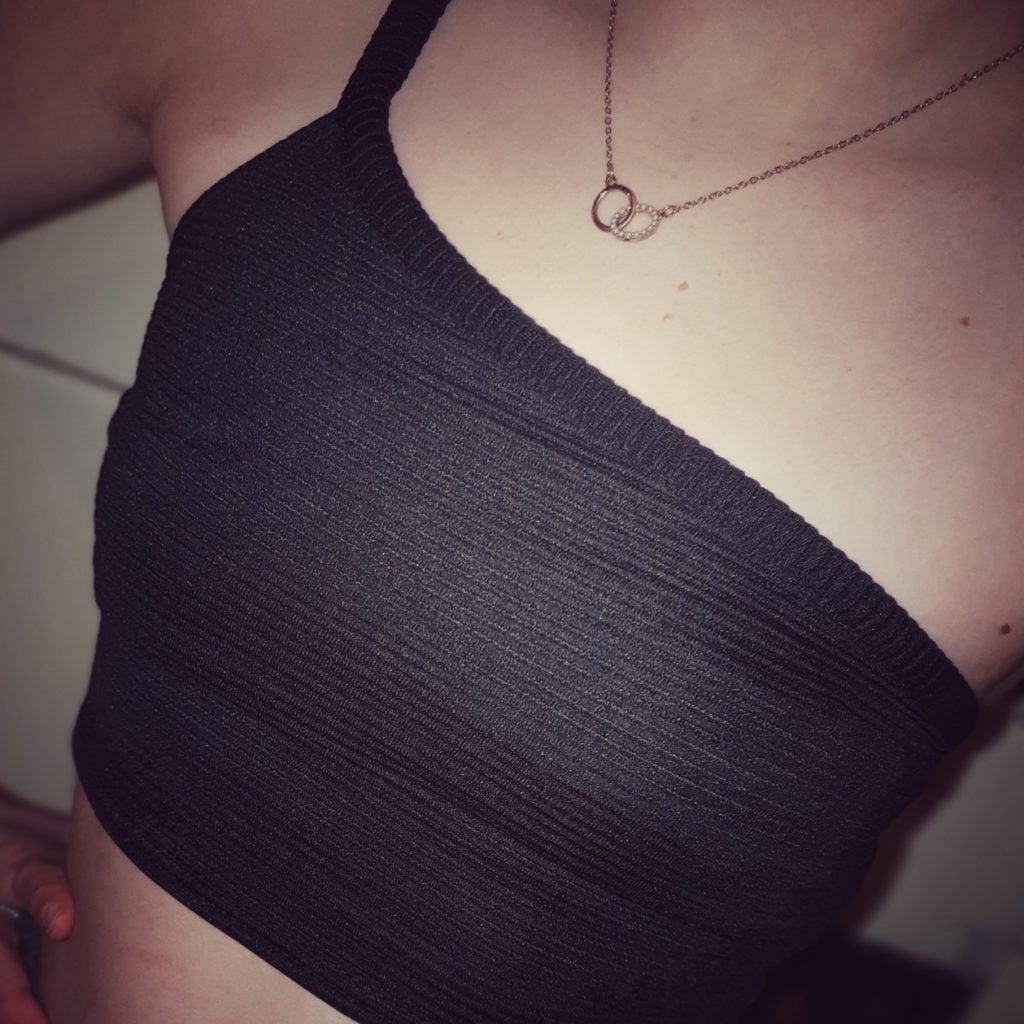 Fabric shaving is another option you could try. You can get little hand held machines for this task, priced around £15. You can also get manual scrapers or shavers that just have a little handle that you drag across the fabric you want to treat. These are around £1-£2 and can be purchased online.
If you don't have anything like this and you are reluctant to purchase anything new, you can try a regular razor that you may well have at home already. Disposable razors are ideal for this purpose and can totally transform the way an item of clothing looks. They work really well on ribbed fabrics like this one shoulder top.
Use Scissors (carefully)
If you aren't keen on any of these approaches, or you don't have any of these things to hand, you could just try using normal scissors. This is much more time consuming as you can't cover a very large area at a time, but it does work very well.
Using sharp scissors, cut the fuzz off your jumper bobble by bobble. Just take care not to get the scissors too close to the surface of the fabric, otherwise you could cut the clothing accidentally.
Lay the garment on a flat surface. Pull up individual pills trim away with your other hand. You can also put your hand inside the garment in order to pull it tight, and then gently trim away the bobbles.
Use liquid detergent
One way to avoid getting pills/bobbles in the first place is to always use liquid detergent in your wash. Powder detergent rubs against the fabric as it dissolves, making it more likely to cause pilling during the washing cycle. Liquid detergents are always the most gentle solution for delicate fabrics, like that mesh one sleeved dress you bought for a party. 
Do you know any other tricks or hacks to remove pilling from your clothes easily at home? Let us know what your tricks are or which method you have tried from the ones mentioned above.
This is a collaborative post.