Christmas party season is in full swing now. If you are hosting anything this year, or if you are staying at home then why not have a go at creating some yummy Christmas cocktails of your own.
You can do wonders with a few bottles of things and some yummy mixers. Why not get in a stash of juices and perhaps some coke and lemonade or sparking water and make sure you have plenty of ice and a can of squirty cream too!
Greenall's Wild Berry Gin
The inspiration for Greenall's Wild Berry came from blackberries growing in English hedgerows, combined with raspberries which are infused in Greenall's The Original London Dry Gin, to give a vibrant, fruity taste, which is versatile and works well in cocktails.
An easy but mouthwateringly delicious cocktail for Christmas parties in a pitcher or jug of Greenall's Wild Berry Flora Dora:
Build 40ml Greenall's Wild Berry Gin, 20ml fresh lime juice, 10ml raspberry syrup over ice in a high ball glass. Top with ginger beer and churn. Garnish with a raspberry and a slice of lime and serve.
It is also really good mixed with plenty of ice, lime juice and cranberry, served with a fresh raspberry on the side.
Greenall's Wild Berry Gin makes a great Christmas present for someone who is looking for a different gin this year. Available from: Tesco's and Amazon. RRP £15.50 for 70cl. ABV: 37.5% .
To finish the evening off, or perhaps to just enjoy whilst watching a spot of Christmas television why not make yourself a Feeney's Hot Chocolate? Hot in temperature and flavour, this boozy treat is sure to satisfy your taste buds!
To make the Feeney's Hot Chocolate at home, you will need:
2½ tsp chocolate powder
50ml hot milk
50ml Feeney's Irish Cream
15ml vanilla syrup (optional)
Squirty cream (optional)
Add the chocolate powder to the hot milk and mix until the powder has dissolved. Add Feeney's Irish cream and vanilla syrup and pour into a glass or your favourite mug. Top with whipped cream, marshmallows and grated chocolate – chocolate heaven! Take your hot chocolate to the next level by adding a scoop of vanilla ice cream – yum!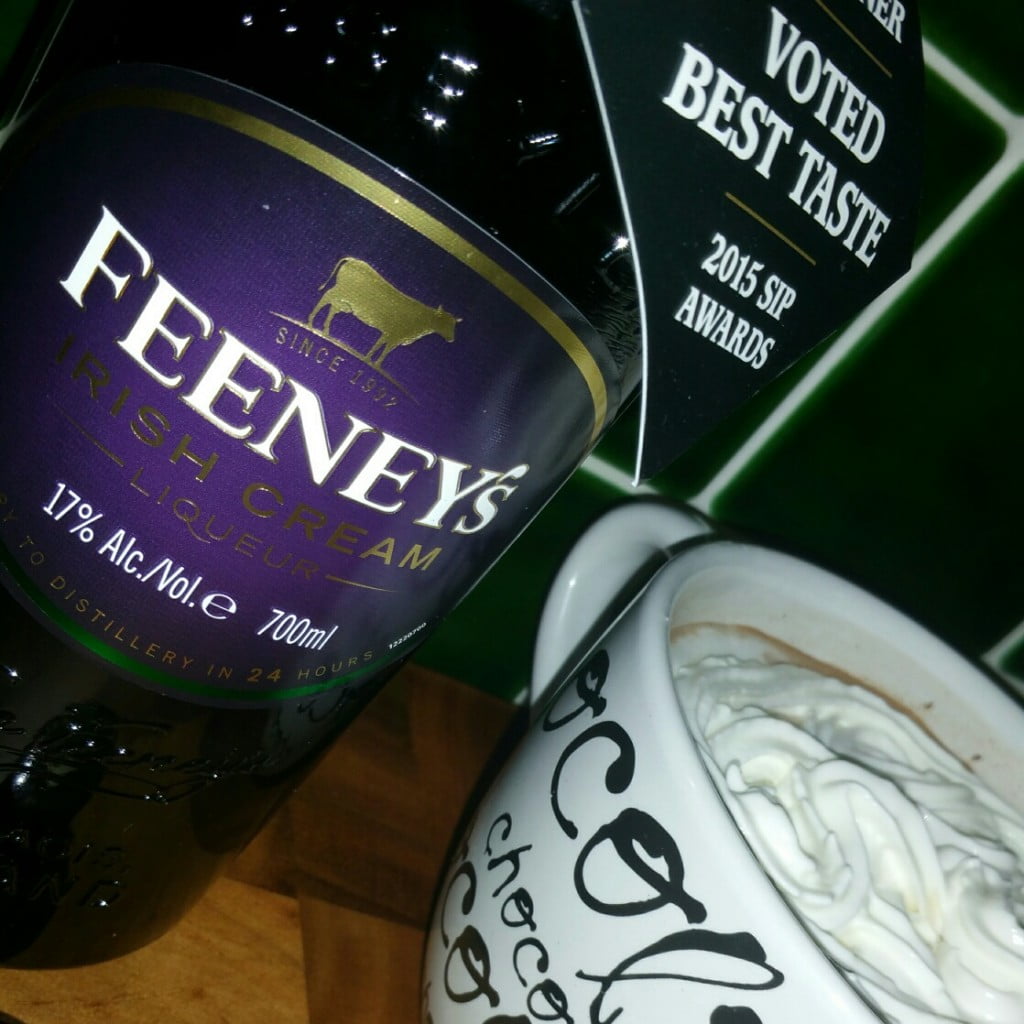 Feeney's is a smooth liqueur made with fresh Irish cream and 100% Irish whiskey. It is distilled in the heart of Ireland and matured for at least three years. It has a rich chocolate creaminess and is extremely indulgent.
Available from Tesco and a number of other outlets, including 31Dover – this is a delicious Christmas treat.
What is your favourite Christmas cocktail?