Have you ever put together a great outfit but felt like something wasn't quite right with the bottoms you chose? Perhaps you mistakenly put on thick leggings when you should've been wearing a thinner pair of tights instead. Maybe you were dressing up for a fancy event, only to realise at the last minute that you mistook your regular tights for your super thin ones.
No matter how long you've been taking your fashion seriously, you're just as prone to make this mistake, and that's alright. Life is busy and who gets it right all the time? I've only recently started wearing tights again, having lived in leggings for much of the last two years during COVID. Leggings, tights, and hosiery are garments that share quite a lot of similarities with each other. Sometimes, it can be confusing to figure out when to wear each item and when not to, and this can make or break your outfit.
Need some help telling these very similar clothing items apart? Here's a comprehensive guide describing each type of garment and what they're usually used for. Read on to learn how to differentiate between leggings, tights, and hosiery.
Tights
In general, people usually only wear tights under skirts and dresses. They can be worn to both formal and casual events, but are never worn on their own.
Practically speaking, you can keep a lot of different tights for all sorts of occasions. This is because the denier of any pair of tights can range from forty to a hundred. All that means is that they vary in thickness from thin and translucent to thick and opaque. The thinner ones are good for hot days, and the opaque tights are good for the cold.
Of course, practicality shouldn't be the only reason to wear tights. That's why they can come open-toed or close-toed depending on your choice of footwear. If you're feeling a little frisky, you can even try footless tights that show a bit more skin. Unlike most hosiery, tights also come in a wide variety of colours, though black and skin tones are some of the most common ones.
The variety of tights doesn't end there, as they also offer lots of different texture options. For the more expressive dressers, patterned tights can add flair to any outfit, resulting in a look that definitely screams "style. The patterns themselves can be as simple as line patterns to something more complex like plaid and animal prints.
I always recommend sizing up in tights. There is nothing worse than having a gusset halfway down your thigh when you walk.
Hosiery
Also called pantyhose, hosiery is usually worn with outfits for more serious or formal occasions. As with tights, this garment is never worn on its own.
Of the three garments, hosiery is the sheerest, with their usual deniers ranging from eight to thirty. As a result, they're much thinner and see-through. This also makes them more delicate than tights, so you really have to take great care of them. You'll usually find them in closed toes variants, though some brands do offer open-toe versions. They also typically come in a variety of skin tone colours.
That said, what they offer over just going bare-legged is a more polished finish for your legs and a feeling of being more covered up/ less exposed. Hosiery comes in different levels of gloss and shine. Depending on the type of finish you choose, it can add just the right touch of sophistication to your look.
For the most part, you'll be wearing your pantyhose under dresses or skirts. Like tights, these are good to wear in cold weather – but if that's all you're wearing them for, you could just wear tights instead.
For that reason, you should save your pantyhose for occasions that need you looking your absolute best without drawing too much attention to your legs. These can range from semi-formal dinners to invitation-only events, such as weddings, ceremonies and parties. Most evening events also call for that sophisticated look. This could be a play at a theatre, or a luxurious dinner with someone special.
Leggings
There's little you have to think about if you're going to wear leggings, as they're the most casual of these three garments. In fact, a lot of people like to wear them like pants because of how stylish and comfortable they are.
The main reason why anyone can wear leggings on their own is because they're very thick and opaque. They aren't supposed to be see-through at all, nor do they even attempt to create the illusion of smooth, bare legs. In a way, they're sort of like skin-tight trousers made out of elastic fabrics. This also makes them very comfortable and flexible to wear.
Leggings come in a wide range of designs and variations. For one, they don't just come in black or skin tone colours. You can find leggings that come in neutrals, bright hues, and muted tones. Some pairs feature prints, patterns, textures, animal prints, and other designs. Certain brands even offer denim, Capri, and denim Capri legging options.
Most leggings are form-fitting and come in different lengths, with some that go down to the ankles and others that reach only below the knees. Some leggings feel tight only up to the knees but feature a straight cut the rest of the way to the ankles. You may even be lucky enough to find leggings with pockets, a feature you won't find on tights and hosiery.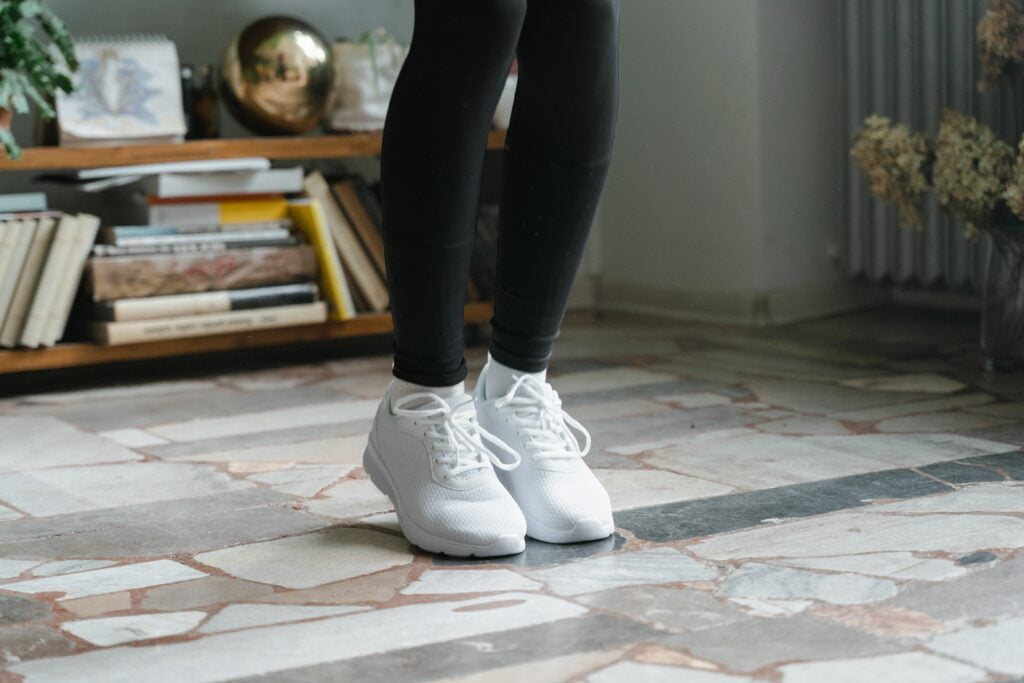 Unlike the other two garments, you don't have to wear leggings under anything special. You can wear them on their own, in most cases. Then again, you really shouldn't be wearing leggings for something special, as they're very casual clothing items. They're intended for days when you just want to look decent enough to go out in public but aren't the best option for any formal events.
After reading this article, you should have an easier time telling each piece apart. The best thing about these garments is that there are plenty of ways to get even more creative with wearing them.