Secure airport parking provider SkyParkSecure is offering a full refund to customers booking airport parking services at Heathrow or Gatwick airports should England lift the World Cup. Those customers partaking in the limited-time offer and booking through SkyParkSecure will have a double celebration on their hands if the dreams of English football fans everywhere come true.
SkyParkSecure compares the prices of more than 300 car parks at 28 UK airports so that it can consistently offer the best discounts for travellers. Working together with car parking providers, SkyParkSecure customers have, to date, saved seven million pounds. Should England triumph in Russia, even more SkyParkSecure customers will have something to smile about. Whilst there's no way to know if England will come out on top in Russia, the promotion gives travellers an extra incentive to back the England team and hope for a successful tournament.
SkyParkSecure works with only the best providers, both airports themselves and independent, airport-approved providers such as APH, Drivefly and Ace and prides itself on the fact that every supplier has been awarded the 'Park Mark Award'. This means customers can rest easy when they leave their car at the airport, whether it's for a long-term break or short-term getaway.
Not happy to rest there, SkyParkSecure collects real reviews from real people via Reevoo, ensuring that its partner car parks are always secure and delivering the very best service to customers.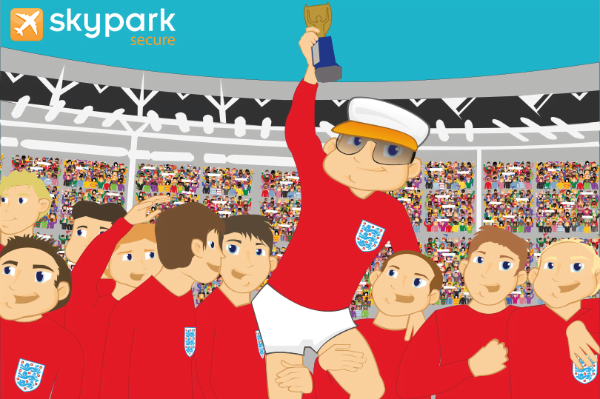 SkyParkSecure Head of Public Relations Ryan Mulholland is excited about the offer and the upcoming World Cup, "At SkyParkSecure, we know how much our service means to customers. It's never easy leaving your car in an airport and not knowing if it's going to be in the same condition you left it in when you return. We like to think we provide peace of mind in our customers and that's exactly why we're so rigorous in vetting the providers we partner with. This offer is a great way for customers to get quality, assured parking and maybe, just maybe get it for free.
"Should the best happen – and there seems to be an air of quiet confidence around this England team – our customers will benefit from secure airport parking and it won't cost them a penny. They'll have Harry Kane and Jamie Vardy to thank, if that's the case!"
The promotion is only available to customers booking parking at Heathrow and Gatwick. To find out more, visit: https://www.skyparksecure.com
SkyParkSecure offers a reliable and secure airport car parking solution. Working only with the best parking providers and undertaking rigorous, continuous vetting, SkyParkSecure is a safe solution for anyone leaving their vehicle long-term or short-term in airport parking facilities.
If you are jetting off soon and haven't yet booked your airport parking, it's well worth a look.