For many women, the underwired bra has been a staple in their lingerie drawer for years. However, wearing underwired bras can sometimes lead to discomfort, poking wires, and restricted movement. Fortunately, there are plenty of comfortable alternatives available that provide excellent support without sacrificing style or shape. In this article, I will explore five alternatives to uncomfortable underwired bras that will keep you feeling comfortable and confident throughout the day.
Wireless Bras:
Wireless bras have gained popularity in recent years due to their exceptional comfort and support. These bras are designed with soft cups that provide a natural shape without the need for underwires. Look for wireless bras with wide, adjustable straps and a supportive band under the bust for added support. The absence of underwires ensures freedom of movement while still offering adequate lift and shaping.
Bralettes:
Bralettes have become a trendy and comfortable alternative to traditional bras. They are typically made with soft, stretchy fabrics and come in various styles, from lacy designs to sporty options. Bralettes offer light to medium support, making them suitable for smaller cup sizes or for those who prefer a more relaxed fit. They are perfect for casual occasions or as sleepwear, allowing you to embrace comfort and style simultaneously.
Soft Cup Bras: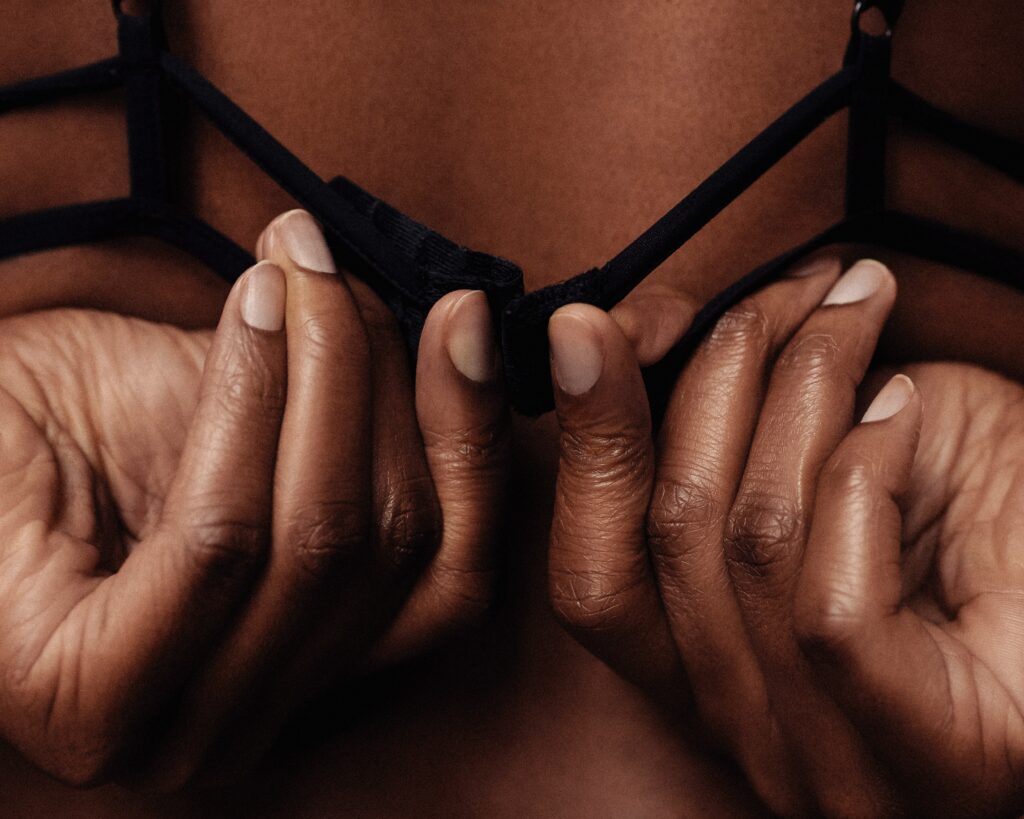 Soft cup bras, also known as non-wired bras, provide gentle support and shape without the need for underwires. They are constructed with supportive fabrics and strategically placed seams to lift and separate the breasts. Soft cup bras are particularly suitable for those who prefer a more natural shape or for those with larger cup sizes seeking comfortable support. Look for options with wide straps and a sturdy under-band for optimal support.
Sports Bras:
Sports bras are not only great for workouts but also offer superior comfort throughout the day. I pretty much live in them these days! They are designed to minimise bounce and provide excellent support during physical activities. Many sports bras now come in stylish designs, making them suitable for everyday wear. Look for sports bras with adjustable straps, moisture-wicking materials, and a compression or encapsulation fit to ensure comfort and support for all-day wear.
Camisoles with Built-in Shelf Bras:
Camisoles with built-in shelf bras offer a convenient and comfortable option for those seeking light support. These versatile garments provide a relaxed fit while still providing a subtle lift. Camisoles can be worn alone or layered under other clothing, giving you the option to show off their stylish designs. Look for camisoles with adjustable straps and stretchy, breathable fabrics for a comfortable and supportive fit.
Final thoughts:
Gone are the days when uncomfortable underwired bras were the only option for support and shape. With these five alternatives, you can prioritise comfort without compromising on style or support. From wireless bras to bralettes, soft cup bras to sports bras, and camisoles with built-in shelf bras, there's a perfect alternative out there for every woman. Embrace comfort and find the perfect bra that will keep you feeling supported and confident all day long. Remember, it's all about finding the right fit and style that works best for you.
*This article contains affiliate links*